Remembering The Day Same-Sex Marriage Became Legal In Mass.
28:36
Play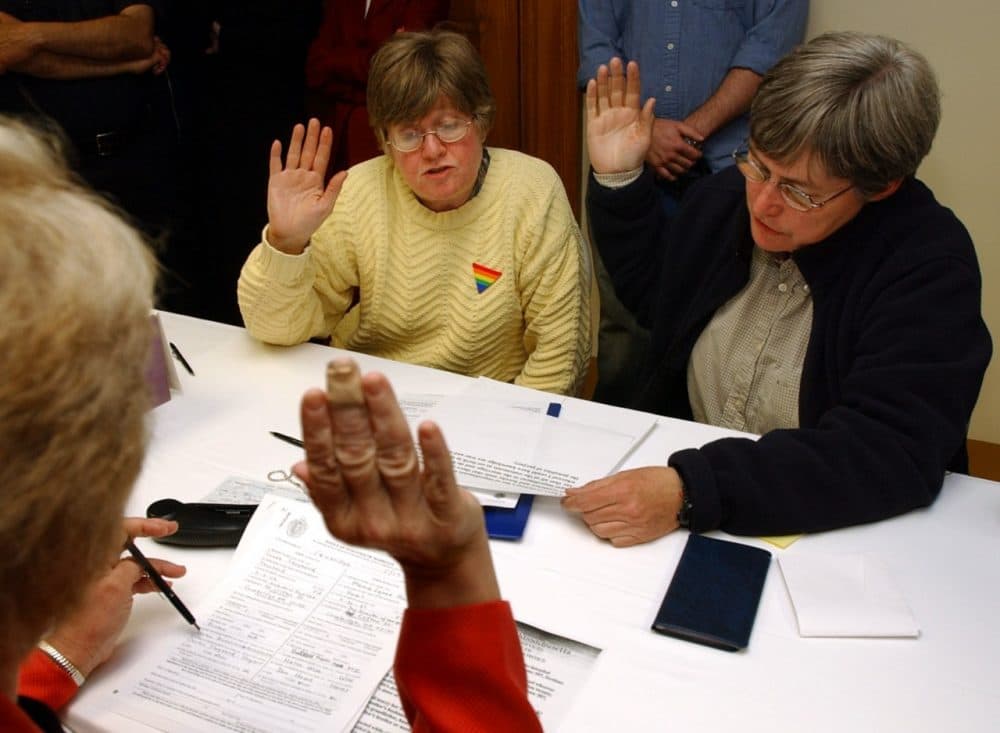 This article is more than 7 years old.
Ten years ago this weekend, a major civil rights milestone in America: for the first time same sex couples were granted marriage licenses here in Massachusetts.
On May 17, 2004, just after the stroke of midnight, the city of Cambridge led the way, issuing the nation's first marriage licenses for same-sex couples.
See a timeline of gay marriage in Massachusetts and hear a profile of Mary Bonauto, the winning attorney in the Goodridge case.
Guests
Susan Shepherd and Marcia Hams, the first same sex couple in Massachusetts to get a marriage license.
Arline Isaacson, co-chair of the Massachusetts Gay and Lesbian Political Caucus.
Your Stories
Susan Shepard:
"We've always said that in a lot of ways this was a much more profound day for [our son] and he keeps reiterating that as time goes by. In fact, the other day we were talking about this, and not long after we were married, Peter came to me and he said, 'Are you going to adopt me now?' And he said one of the best moments of his life was getting me on his birth certificate after all these years. Which is really, he said, now he had a real family that he could go through the world with and you forget how much the kids of our families feel the brunt of a lot of this out in the public. We're used to being gay, we've been gay all our lives and we love our children and I think this was extremely liberating for all of our children. "
Marcia Hams:
"It was so moving to actually be able to have the whole community recognize our relationship. We had never been what I call totally in the closet, but we hadn't really had that kind of recognition from just our son's hockey parents, the parents of his friends, people that we might meet casually. And so, it really was the beginning of that feeling that we could just talk naturally about our relationship as heterosexual couples do and really have that mean something to the people that we were talking to and to ourselves. It's constantly reinforced every day that you say, 'My wife Susan. I'm going out somewhere with my wife, Susan.' Which I'd just ever said before."
Anthony Brooks:
"I remember that so well, and I was sort of dutifully going through the motions of covering what I knew was an important story, to be sure. I don't want to pretend otherwise. But when I came out at about 2:00 a.m. and saw, I don't know, 5,000 or 6,000 plus people really packed up against City Hall in Cambridge and filling up the street, it was only then that the true significance of this event really came home to me and I thought, 'Wow. This is a major, major, major deal for a lot of people.'"
Arline Isaacson:
"In previous battles between LGBT issues, the religious community was always pitted against the gay community. It was either you believe in God or you believe in the gays and it was a silly and nonsensical and ridiculous equation but that's the way our opponents used to try and set up the dynamic. Once, during the marriage fight, we had lots and lots of marriage supporters within the religious clergy and theologians, it totally changed the nature of the debate... Instead of having it be gays versus God, it became one version of God versus someone else's version of God. So, some faiths would say, 'We support same-sex marriage.' Others would say, 'We don't.' And it allowed a legislator to say, 'Gee, I don't really want to choose which religion I prefer.'"
Lindsey from Somverville:
"I was a freshman in high school, and my English teacher was gay and he had been out all year to us and he told us just before the final exam that he was going to miss the final because he had to go get married and we were all very happy for him and it seems even more relevant now because I'm a high school English teacher of freshman and I tell my freshman that story before their finals every year."
Diana from Arlington:
"I remember there being some concern that there might be more protests and looking across the street and just seeing a handful of protesters with kind of outrageous signs and then looking down Mass. Ave. and seeing the police trucks roll up and 20 or 40 police officers in full riot gear marching down the street and turning their backs on us and standing to face the protesters and protecting us from the protesters and for me that was a very powerful moment because that was when it hit home that the state, the government, was finally on our side and was protecting our rights."
Arline Isaacson:
"Hearing all these stories, it's taking me back like a flashback to that night and, as hardened a political advocate as I may have to be at times, it brings tears to my eyes to hear the stories and to think back to the dynamic and the energy that night and the absolute sheer thrill that everyone felt, the emancipation that it felt to be. And knowing that we'd fought so long to finally make it."
Marcia Hams:
"When we got there at midnight, the night before, frankly there wasn't a soul around. And we were sitting there under the awning at City Hall and there were street sweepers going around and you knew that this had been reported around the country and I do remember sitting there thinking, 'Well, I suppose somebody could just come up here and shoot us.' And there weren't any police around at that point. So it was kind of frightening in that sense. So we were glad when more people started coming later on and you always have this in the back of your mind. My son certainly had it in the back of his mind when he came to join us later."
Donald from South Hamilton:
"My husband, Steven, and I were married 10 years ago and we had always dreamed that we would be married on our 25th anniversary. And it was our 25th anniversary and we got married... We're been together happily for a long time. I'm 70 years old and I never thought that I would see this in my lifetime."
Nancy from Newton:
"When the decision came down, one of the supreme judicial court justices was the grandmother of one of my sons little preschool mates. And very shortly after the decision came down, she happened to be dropping her granddaughter off at the preschool, unusually. I went up to her and I said, 'I hate to approach you but I want you to know how thrilled I am because my sister's gay.' And then I burst into tears. And she's like, 'Oh no, dear, I love it when people come up to me. I'm just so happy.' Right after that, when the first marriages were happening, I was at the library, which is right across the street from City Hall, and the parking lot was packed and I was leaving and I saw this car circling, looking for a parking spot, it was two women. I said, 'Are you going to get married?' They said, 'Yes!' The only thing I could think of to say was, 'I would be honored if you would take my parking spot!' And I jumped in my car and moved it. They said, 'Thank you so much.' I said, 'God bless you!' And I hugged them. I was finally able to go to my sister's wedding just this past December in Virginia."
More
USA Today: Judge Strikes Down Idaho's Same-Sex Marriage Ban
"Federal judge has issued an injunction Tuesday blocking enforcement of Idaho's ban on same-sex marriage, saying it is unconstitutional."
The New York Times: Same-Sex Couples In Arkansas Rush To Wed As Court Ruling Provides An Opening
"Gay couples in many Arkansas cities rushed to get married on Monday as the attorney general asked the state's highest court to suspend a ruling striking down the state's ban on same-sex marriage."
This segment aired on May 14, 2014.