Norfolk Aggie, Where Students Love The Animals And The School
10:14
Play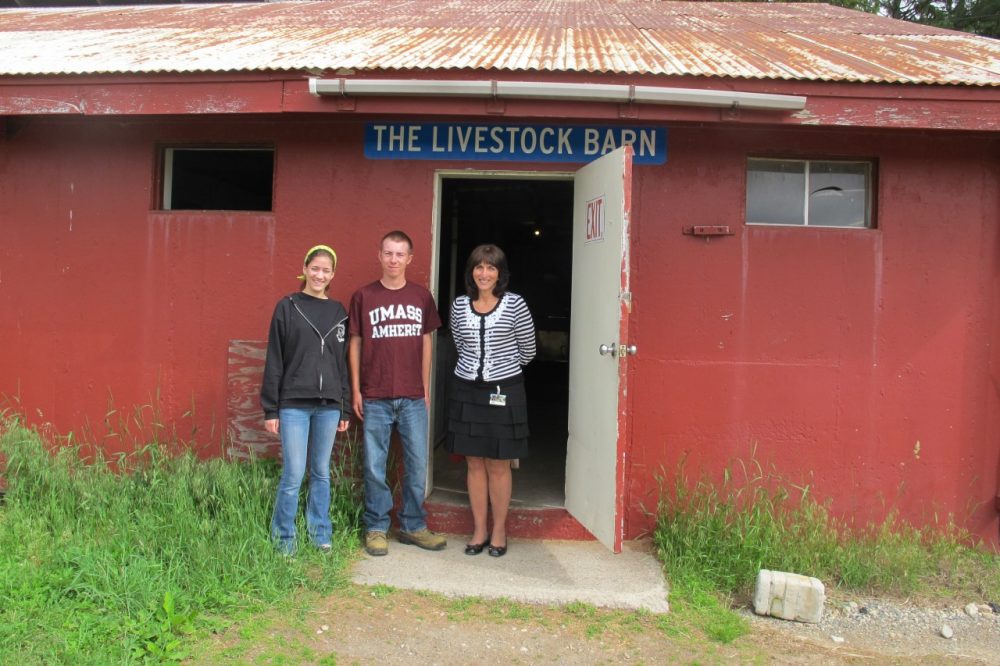 This article is more than 6 years old.
The Norfolk County Agricultural High School in Walpole has been operating outside the traditional public school structure since it opened almost a century ago.
When asked how this school is different than a typical high school, senior Jenna Illingworth is quite clear: "How is it not different from the typical high school?"
Her point that this is not a "typical" school becomes quickly apparent. For one thing, there are animals.
"One class will be grooming dogs, the next class I'll be training my dog," says Illingworth. "I get to bring my dog to school because I'm a canine major. There's a wildlife class. We have livestock on campus. We have horses, cows. We have birds. We have our own little pet shop."
There are also the plants.
"I take different classes ranging from botany in soils, which would be a class more about plant nutrients and what they need to survive and thrive in different environments," says Austin Broderick, another senior at "the Aggie." "There's landscape management, which would be more of a practical class, learning how to operate equipment like backhoes, lawn mowers, aerators, excavators."
And not every high school has an auto mechanic shop on campus, but the Aggie does.
"It's the coolest thing," says Illingworth. "When your car breaks down at school, you can bring it right down to the shop so you can still go home."
Wanting To Come To School
When Gallup asked American teenagers to choose three words that described their typical feelings in school, the word they chose most often was "bored."
That's a word you don't hear at the Aggie. What comes across instead is that students are actually eager to attend.
"Some students are on the bus at 5:30 a.m., so it's definitely a commitment to come here," says principal Tammy Quinn. "We're very lucky because they want to be here. That's a pleasure when you're a teacher."
"We have a very long waiting list," says Quinn. "One in three students will get in."
When the Norfolk Aggie opened in 1916, it was a school where farmers could drop off their kids during the weekdays.
Today, it's different. The school day is split between academics in the morning — English, math, science and social studies — and vocationals in the afternoon. By their sophomore year, students choose whether to major in plant science, animal science or agricultural mechanics.
Quinn, who was a math teacher before she became the principal, says the Aggie's typical student is one who was maybe just a outside the norm in middle school.
"Kids would say, 'Don't talk to her about snakes 'cause she'll never stop talking about them!' Or, 'Don't mention climbing trees because he'll go on and on.' They love to be outside. They appreciate nature. They might have been a little different and were looking for something else."
"I wasn't too different," says Illingworth. "But I always just didn't feel, like, in place. I could never really join in on all the conversations everyone else was having. I didn't really want to talk about what the typical teenager wanted to talk about. I loved it when we went on a field trip once where we all sat down and talked about beef management instead of talking about going to the mall or the newest movie or something."
And so, the Aggie was the place for her. And she knew it as soon as she got here.
"My first freshman day, it was so easy to go up and talk to someone. You just mention horses, cow, dog, tractor, and you automatically were on a conversation with them."
Planning A Career
Jenna Illingworth is majoring in animal science with a canine specialization. She did an internship with the New England Wildlife Center in Weymouth and got accepted at Framingham State, where she wants to study wildlife biology.
Austin Broderick is heading to UMass Stockbridge in the fall and he has a career mapped out, as well: "I see myself becoming a golf course superintendent and being able to run a golf course."
It's unusual to hear high school students articulating such detailed, professional goals. Principal Tammy Quinn says the the Aggie encourages that, but she's quick to dispel the stigma of traditional vocational education.
"I think years ago it was considered terminal education. Kids who didn't fit into regular high schools were sent to vocational schools, they learned a trade and they went to work. That is not the picture anymore."
Quinn says the Aggie still prepares kids for jobs. But 80 percent of them go on to either a four-year college or a trade school, and she says her students do very well on standardized tests.
"Our MCAS scores, which are so important to the state, are fabulous. Students don't fail."
The school is spread out across 300 acres, which includes farm land, sports fields, classrooms, barns, orchards and a green house. When we visited recently, we couldn't help but notice that there were a lot more girls than boys. In fact, the school is 75 percent girls.
"I think it's the animals, but now we have a new diesel program, a mechanical technology building, and we do think we'll pull in more boys. We just accepted our freshman class and the numbers are different, the boys are coming up."
But for now, students like Austin are part of an endangered species. And he says it can definitely be a good thing.
Learning With Animals
A walk around the Norfolk Aggie campus is a bit of a wildlife tour. From the animal science building, to the kennel, to the aviary, there's a lot to see and hear.
Quinn points out the pet shop, where you can see rabbits, chinchillas, snakes and turtles. Then there's the quarentine room, where the parakeets sometimes end up.
The aviary is home to doves, parakeets and a McCaw parrot named Sebastian.
"My sophomore and freshman year, what we would usually do was we'd clean out the cages, we'd give the birds new food, we'd take them out, handle them, give them some exercise, so basically just management and care of the birds," says Illingworth.
"We want them to feel like they know what they're doing and they're in charge," says Quinn. "We want them to be secure in their knowledge when they do go to work."
There's also a dog kennel — home to dozens of different dogs, including a golden retriever, a border collie, a boxer and a Jack Russell who spend part of each school day here. And most of these dogs belong to the students.
"It's very funny, in the morning, to see the kids get off the bus," says Quinn. "One student, one dog, one student, one dog."
"I love bringing my dog to school," says Illingworth. "It makes that day so much better. Everyone has their dog as their best friend and that's how I describe my dog. It's just also being able to sit on the bus ride with them and then the bus ride home and hanging out with them during class."
Canine majors like Illingworth actually work with their dogs during the school day.
"The canine major has three classes. A grooming class, an obedience class and a showmanship class. I've learned so much. I actually have a job now at a day care and a groomer's and I've done really well there due to all the knowledge that I've learned here."
Serving As A Model
Advocates for schools like this say they could provide a roadmap for other schools struggling to raise test scores and engage students. But the Norfolk Aggie is one of just three public vocational agricultural high schools in the state, and next year that number will be down to two.
Principal Tammy Quinn says all comprehensive schools should have a vocational part to them, but she also believes more schools like this one are needed.
"I turn away so many students that I know we could save — make them like school if we could fit them in our school," says Quinn. "But we're limited to size and numbers. It's the most heart-wrenching thing when you get the phone calls from the parents [who say], '[My] student's on the waiting list. What's the chances?' I hate saying no, but we say no to so many."
Wednesday, Illingworth and her classmates will graduate from the Aggie. When we visited a couple of weeks ago, we couldn't help but wonder if she would have mixed feelings about leaving and moving onto college.
"Even doing this talk, too, is just making me realize how much I love it and how much I'm going to miss it. Because college isn't going to be anything like it. It'll be awesome, too, but nothing like this place. It really is like a family. All the animals here I'm going to miss. The teachers — oh, I'm going to miss them like crazy, too. They're all like mentors, best friends. They've been awesome. This place is definitely like a home."
It's a home that Jenna and her peers will say goodbye to Wednesday, as they walk across the graduation stage and begin the next chapter of their lives.
Guests
Tammy Quinn, principal of the Norfolk County Agricultural High School
Jenna Illingworth, senior at the Norfolk Aggie
Austin Broderick, senior at the Norfolk Aggie
More
Edible Boston: Cultivating Future Farmers
"While it is rare for high school students to know what they want to be when they grow up—let alone five minutes from now —these kids are remarkably focused. Refreshingly, there is no sense that any one of them has chosen a particular class or activity because it will look good on a college transcript."
This segment aired on June 4, 2014.