Chef Of South End's Coppa And Toro Talks Punk Rock, Italian Food And Boston's Best Restaurants
08:36
Play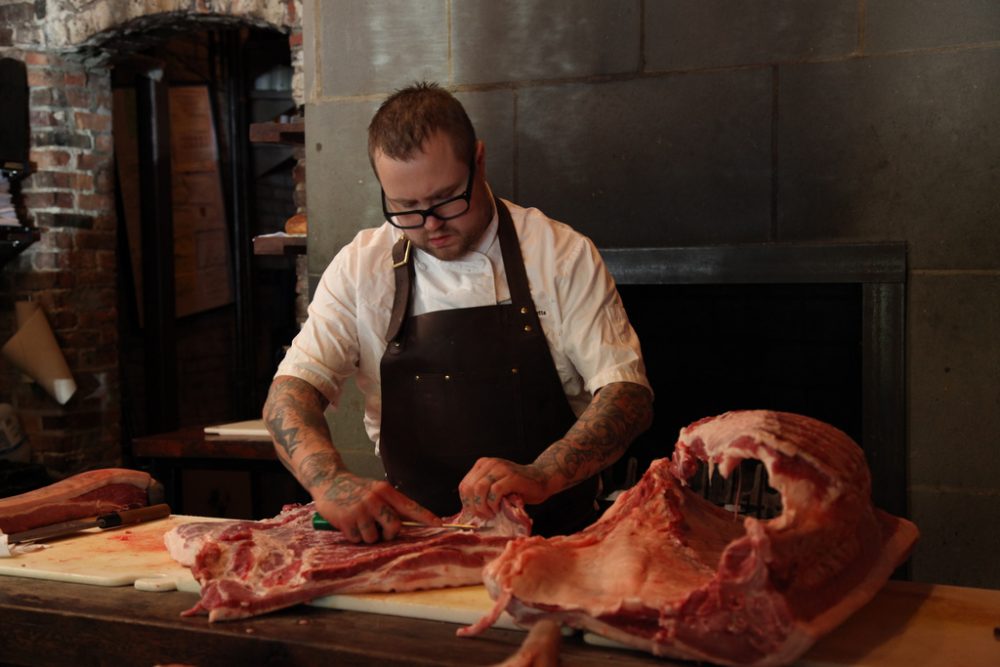 This article is more than 5 years old.
Let's spend a little time talking about food — spaghetti carbonara flavored with sea urchin, rigatoni with pork ragu and sage, wood oven-roasted meatballs and asparagus.
Those are a few items on the menu at Coppa in Boston's South End, which is co-owned by chef Jamie Bissonnette, who last month won the James Beard Award for Best Chef in the Northeast.
It's a pretty big deal, especially for a former punk rocker still covered with tattoos who dropped out of high school, got into fights a lot, and ended up on the wrong side of the law more than once.
"I wasn't really great at playing the base in any bands," says Bissonnette. "I wasn't really a good front man singing. But I was really good when fights broke out and I was really good when food was involved. So knowing that cooking and fighting were the two things I did, it's probably best I found cooking."
Jamie Bissonnette is a reformed vegan who now embraces whole animal, snout-to-nose, cooking. In addition to Coppa, he co-owns Toro, also in the South End.
We sat down with him recently at Coppa, just before the dinner rush, to talk about his road from tough punk rocker to award-winning chef and his life-long passion for Italian food.
Our conversation, lightly edited:
Jamie Bissonnette: "I grew up cooking Italian food and then, in my late teens into early 20s, I just fell in love with the simplicity of it and the passion behind making things with your hands. Pizza, pasta, breaking down whole animals -- that's very primal to me. It's very hands-on. It's a really good stress release and it's great for creativity."
Anthony Brooks: "When it comes to Italian food — and you put your finger on it — simple I just think is one of the best words. What do Americans usually miss about Italian food?"
"There are so many things that Americans miss about Italian food. They're always looking for more garlic when there really shouldn't be that much garlic. And the misnomer, 'Oh, there's so much basil in Italian cooking.' But when you do finally go to Italy there's more mint than anything else. I feel like the Italian-American hodgepodge that happened in the '50s to late '70s kind of made Americans think of Italian food a little bit differently than it is. A lot of that was Italian immigrants coming to states and not being able to get beef that made a broth that made the creaminess that a bolognese would have from Bologna. So in the states they added milk to it, where in Bologna you would never add milk. And now that we're more educated, that people are more traveled and are looking for more authentic stuff, now we're able to go back and say, 'You know, what, actually, this is more what Italian food would be in Italy. It's a lot less than the primavera and the eggplant parmesan that people want."
"What's the pasta dish here with which you connect with the most fervently?"
"For me, it's the carbonara. When I learned how to make carbonara for the first time, it was at Billy Grant's restaurant, Bricco, in West Hartford, Connecticut, and Billy's grandmother's recipe. It was, obviously, no cream. It's egg, pasta water, onions, lots of black pepper, pancetta, fresh pasta, Parmesan and a little bit of butter. Having that, I was just like, this is so great. I was playing around with it, and one thing I noticed is if I ate it every day I would get bored with it. I always wanted something a little bit different in it. And I started adding sea urchin to it to give it a little funky, a little sour, a little salt. I'm sitting here now looking around and I can see three tables eating it, so it's one of our most popular."
"I want to ask you about the James Beard award that you won. Second time you were nominated. Has anything changed since you won this prestigious award?"
"After it was announced, I walked up onstage, Barbara Lynch announced my name, Daniel Boulud put the medal around my neck. We went backstage, Barbara started crying, I started jumping up and down. And then all she kept saying was, 'This is so good for us' and 'This is so good for Boston.'"
"Barbara Lynch, of course, won best restaurateur. You won best chef [in the] northeast. What does that say about what's going on in Boston in the restaurant scene?"
"It gives us more culinary credibility, which I think we already have. Our city hasn't changed; it's just the perception looking in. And I think that's what this award can do for the city."
"You've worked in different places — Paris, San Francisco. I know you're also working in New York, now, with Toro New York. Why did you decide to settle in Boston?
"I grew up in Hartford, Connecticut, and I was coming up to Boston a lot for punk rock and hard core shows, going to The Rat, going to The Channel. I fell in love with it up here. I met a lot of people that became friends. I left school a little bit early, not of my own volition, but sometimes you have to leave. I got my GED and found a culinary school. I started my first day of culinary school in the middle of July. I've always felt that Boston was my home."
"When did you decide that what you really wanted to do was be a chef?
"When we were in punk bands in high school. We would have practices after school. It was every Wednesday. And every Wednesday was also the food section. I would get to practice reading the food section, we would play a couple songs, we would take a break, I would go cook us some lunch, they'd start playing again, I'd finish lunch, I'd go down, we'd eat, and we'd play again. I realized that I wasn't really learning the new songs. I wasn't bringing anything to the table, musically. But I was thinking about what I wanted to make and eat. One band was like, 'You're out.' I was like, I think culinary school might be where I want to go next. That was my real passion. One of my closest friends growing up, Chris Merschuk, he's a pastor now. He leads ceremonies on Sundays, and one of the things that he always talks about is direction, and he uses me as an example. In the town I grew up in, everybody thought I would be in jail by now, or dead. And if I hadn't discovered cooking, it probably would've been true."
"Did you grow up in a very kitchen-savvy household?"
"No, not at all. Tuesday was a dish that my uncle and my father called 'gross-me-out.' It was sort of like American chop suey — Mueller's egg noodle, three different kinds of canned soup, cheese-smothered, baked, almost kugel porridge kind of garbage. And one of the worst meatloafs. I didn't know that meatloaf could be delicious for years."
"When you're creating a new dish, how do you start? Where does the idea come from?"
"I'd like to say I sit down and write down a bunch of ideas, which I do. And then I bring them to my sous-chefs and chefs, they order in all the ingredients and say, 'So you wanted to do the quail with the fava beans and the blood sausage and the peas?' And I start cooking one dish and then I just start grabbing things and throwing it together and making sauces and usually it's really on the fly. I may come up with a dish that has nothing to do with the original idea. But I do the best work in the moment. I think flavor is key. Tradition is there for a reason, but rules are made to be broken at the same time."
"You're only 36 you've won this big award. You're involved with three restaurants now. What's the next frontier for Jamie Bissonnette?
"I don't know. I wish I could say I've got that planned out. With the new restaurant in New York, it's been really interesting and very time-consuming. But now that I'm coming back to Boston more and more often, I think next will be a haircut a shave and a massage."
Guest
Jamie Bissonnette, chef and co-owner of Coppa and Toro in Boston's South End and winner of the James Beard Award for Best Chef in the Northeast. He tweets at @Jamiebiss.
More
First We Feast: The 8 Dishes That Made My Career: Jamie Bissonnette
"Jamie Bissonnette is well-known today for his knuckle-to-toe tattoos (a ham bone on his hand says eat offal), proficiency around a pig carcass, and the lines out the door of his two perpetually packed Boston restaurants, Coppa and Toro. But before the rave reviews, the James Beard nomination, and the Food & Wine People's Best New Chef award, Bissonnette was a Connecticut punk-rock kid, straight-edge and vegan."
The Boston Globe: Jamie Bissonnette Is At The Top Of His Game
"With a buzz-worthy New York restaurant that opened last September and a James Beard Foundation Award for Best Chef Northeast last week, Jamie Bissonnette, 36, has been garnering serious attention in the food world. But the Boston-based chef takes success in stride. 'Everything we make today is going to end up in a toilet tomorrow. How seriously can you take yourself? It's all in how you get it there and having fun,' says Bissonnette."
Boston Magazine: Jamie Bissonnette On Winning A James Beard Award
"When someone emailed me that I was on the long list of James Beard nominees, I wrote back, 'very funny.' Then I started getting blown up on Twitter and I just became swollen with pride. When I moved to Boston, I remember meeting Joanne Chang when I was buying bread for a restaurant I was working at as a line cook. I remember being wowed and wanting to learn under her some day. To be standing in the same room as her 12 years later was dreamlike."
This segment aired on June 6, 2014.