'Do You Have PTSD?' What Not To Say To Veterans
18:53
Play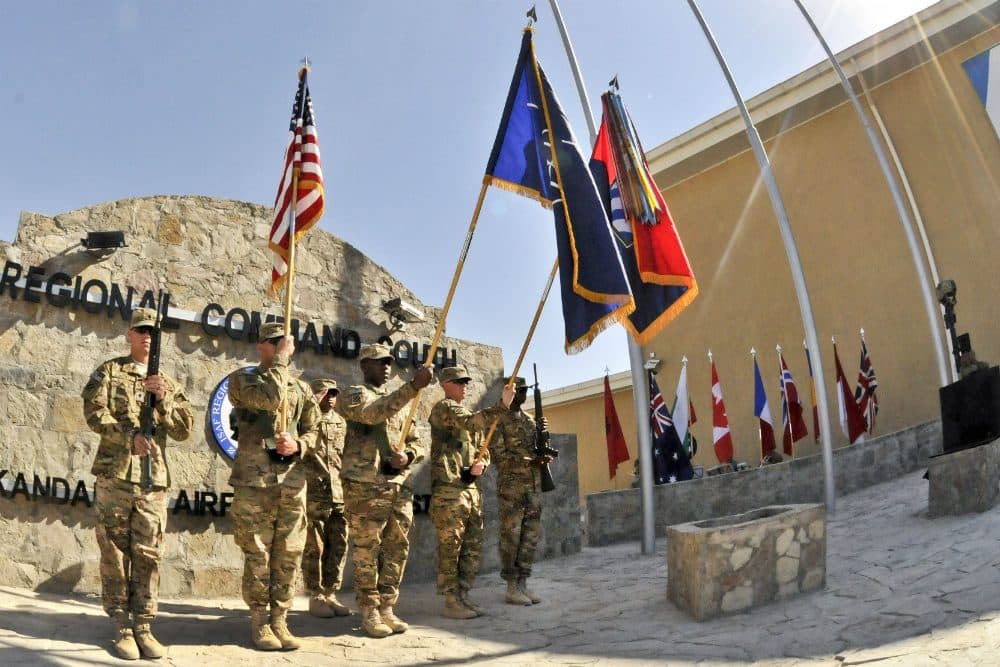 This article is more than 6 years old.
Independence Day is coming up Friday and, along with beer, barbecues and fireworks, come expressions of patriotism — and perhaps gratitude to those who serve, or who have served, in the armed forces.
But with less than 1 percent of Americans with military experience, there's often a big disconnect between returning veterans and the rest of society.
Sometimes talking to veterans, especially those who have just returned from places like Iraq and Afghanistan, leads to some difficult or awkward questions like, "Did you kill anyone?" Or, "Do you have PTSD?" Or, "Thank you for your service, but," insert political belief here.
Those are three things on a list of what not to say to a veteran, compiled by Dr. Paula Rauch and Tommy Furlong, who wrote recently about this on WBUR's CommonHealth blog.
Guests
Dr. Paula Rauch, program director of the family team for the Red Sox Foundation and Massachusetts General Hospital's Home Base Program.
Tommy Furlong, associate director of outreach for the Red Sox Foundation and Massachusetts General Hospital's Home Base Program. He's a former U.S. Marine Corps Infantryman who served in Afghanistan in 2010.
Highlights
On why it's important to ask the right questions:
Dr. Paula Rauch: "So many Americans haven't had the chance to learn from military families and service members. I feel like the conversations are kind of stilted and uncomfortable. We're doing a much better job than we did back in the Vietnam days when, sadly, so many of our service members returned to real hostility. Many Americans have the idea that they can say, 'Thank you for your service.' But then they're not too sure where to go from there. So this is kind of an open invitation."
On the disconnect between veterans and civilians:
PR: "People need to check their assumptions at the door, especially here in New England where we don't have big installations. People often feel like they don't have experience with veterans and so they're free to make assumptions about combat experience — as if a combat experience would be like a video game or something you'd see on TV."
On the question, "Did you kill anyone?":
Tommy Furlong: "I feel like everybody kind of has the morbid curiosity — you drive by the accident, you slow down, you turn your head. You hope you don't see anything but a little piece of you kind of hopes you do see something — a little bit of action. When I first came home, I spoke at an elementary school, and that was the first time I was asked it. I was expecting that question, but even after having rehearsed my answer, when it was actually asked, I kind of took a pause. I said, 'Really, how do I want to answer this question?' And I started asking myself, 'If anyone's going to ask me anything personal or something very much in-depth like, 'Have you ever killed anybody?' I was very open about my experiences but asked them first, 'Are you going to be comfortable with the answer that I give you? And if so, I'll be more than happy to have this conversation with you.' But it's not an easy yes or no answer."
On the question, "How could you leave your children?":
PR: "It's not really a question. It's a very thinly veiled criticism. The assumption is I, the asker, I wouldn't leave my children. But you, you people over there, you would leave your child because you don't care enough about them when, in actual fact, many of the people that serve do so because the security of military service and the benefits are going to benefit their families. It often keeps people in the National Guard and Reserves because they recognize the ways in which their service is going to support their children. I come at this from the family vantage point, and how difficult is that for a child to be hearing that message from other people's parents or other kids' parents or teachers? It's a terrible assumption, and it's so far from true. Military parents, like most American parents, adore their kids."
On what it's like to be a returning veteran:
TF: "Personally, when I first got back, I wanted to be left alone about it. My military experience was very personal to me. I had a very unique experience, along with all the Marines and Navy personnel that I served with. I felt like that was for me to think about, for me to reflect on and it wasn't anyone else's experience but mine. And I think that boundary needs to be respected as well. People sometimes do need time. Now, I feel very open about my experiences. If I do get asked those questions, I'm oftentimes going to provide you with an answer that you don't want to hear. As Dr. Rouch was saying, they're conversation stoppers and not starters."
More
CommonHealth: 'Did You Ever Kill Anyone?' 5 Things Not To Say To A Veteran
"Oftentimes, people hear the word "military" and immediately think of warfare. In reality, that is just one of the components. The military puts a lot of its resources toward humanitarian efforts. And if you list almost any civilian job, that same position can be found in the military."
NBC News: Your 'Thank You' To Veterans Is Welcomed, But Not Always Comfortably Received
"On the national holiday reserved to give veterans our most heartfelt and public appreciation, six current and former service members revealed to NBC News that hearing 'thank you for your service' routinely leaves them feeling uneasy. Their reasons vary."
This article was originally published on June 30, 2014.
This segment aired on June 30, 2014.