10 Grilling Tips From 2 Of Boston's Top Chefs
24:31
Play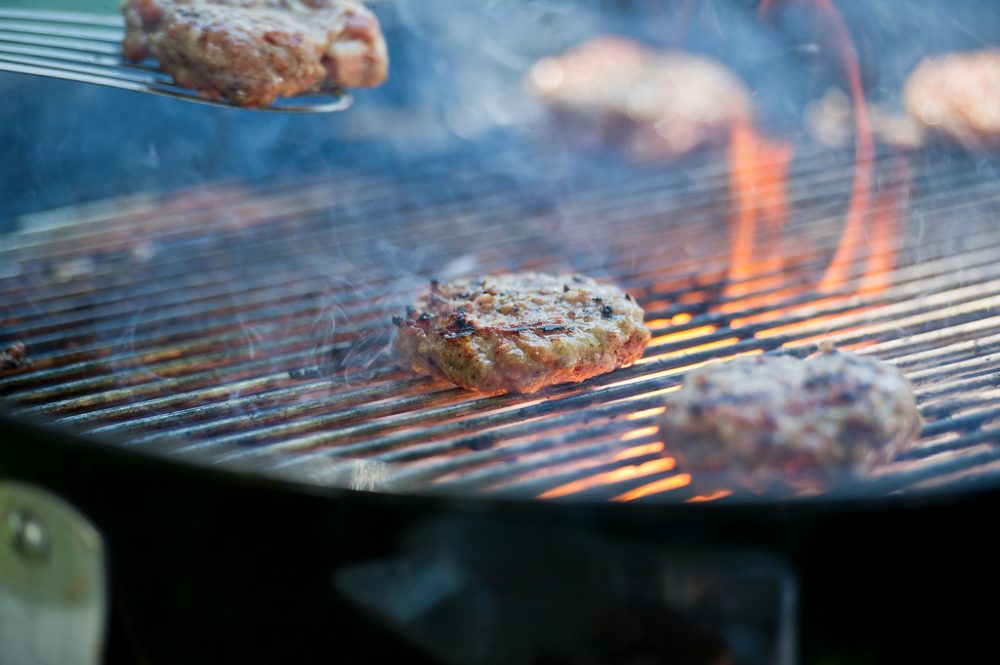 This article is more than 6 years old.
What are you grilling this summer? And how do you feel about your grilling skills? The summer season is flying by, but there's still plenty of good grilling weather left, so we're going to spend a little time now talking about the dos and don'ts of grilling — and the passion for cooking with fire.
So what ignites your appetite? Wood, charcoal or gas? Porterhouse, salmon or fresh corn on the cob hot off the grill? How about grilled striper fillet with summer corn succotash?
Guests
Andy Husbands, chef and owner at Tremont 647 and author of "Grill to Perfection." He tweets @andyhusbands.
Tony Maws, chef and owner at Craigie on Main in Cambridge. Chef and proprietor at Kirkland Tap and Trotter in Somerville. He tweets @tmaws.
10 Grilling Tips From 2 Of Boston's Top Chefs
1. Appreciate the wildness of grilling:
Tony Maws: "There's something about the smell. When we talk about old school, this is older than old school. You've got real, live flame and wood and [there's] just something that's so attractive about it. It's sexy, also, because it's almost uncontrollable. It's different every time. What is scary to some, or why some people use gas grills or they don't use grills at all and they're only cooking in their home, is because you've got this great little dial where you've got a lot of control. And the whole art of learning how to grill is — it's taming, but you're never in control. And it's different every single time, and that definitely has the thrill of the grill. I mean, that's part of the fun."
2. Allow yourself to be humbled by the grill:
TM: "It can be intimidating. You know, I'm an OK grill guy and I'm a pretty good cook and about once or twice a season I come storming into my house with a plate of something completely charred and black, having completely misread what I thought I was doing and it's very humbling. That's what I love about it, though. But the flavor is unmistakable and unmatched. You put something on a grill and you can be very, very simple."
3. Try two-zone cooking:
Andy Husbands: "A big chicken breast — especially if it's on the bone — or a chicken thigh... We'll sear it over the grill, but then off-set it so the fire's on one side and you're getting the radiant heat but not the direct heat because, too often, we'll get it burnt at that point. Also it would help to dome it — to put the lid on it — as well. That kind of creates kind of a hot, roasting environment which is just really, really good. Still going to keep it juicy, just use something that's on the bone."
4. Don't use gas grills or briquettes:
AH: "Briquettes don't burn as hot and don't burn as clean. And gas — everybody says it's easier... I see people at very high-end shopping stores or grocery stores... they go there and they really care about their food but they want to use the gas grill because it's easier and it doesn't make sense to me — there's a disconnect between, here you are spending all this money on this really great quality food or getting stuff at farmers' market, yet you don't care and you put it on a gas grill. The cleaning does not take that much."
5. If you can't use a charcoal grill, get the gas grill hot:
AH: "There are some really great high-end gas grills these days, and we do address that in our cookbook. And also, I know that if you live in Boston, you're on the second floor or the third floor, you can't have charcoal. So, there are some great options out there. I just suggest get it really hot. Turn it on, close the lid and get it just really, really hot so you can get a good sear on it because that's the difference."
6. "Rest" your meat:
TM: "What a lot of people forget, and you hear this word 'resting,' you're supposed to rest your steak. You're taking that off the grill and it still has residual heat on the outside that's going to keep on going towards the center... So, you always have to allow yourself a couple degrees... Because you'll pull it and you'll think it's perfect and your thermometer said it's medium rare and you slice into it and it looks medium and you're like, 'What happened?' The residual temperature was still actually cooking it, off the grill. So you have to give it that time."
7. Cook vegetables to medium:
AH: "The interesting thing about grilling vegetables is, unlike a steak which you're going to want to cook rare, you actually want to cook them to what I would say, like, medium. The best way to do it is to have a medium grill — a medium grill, I would tell you... you can hold your hand above it for five to ten seconds. So, a slower grill would be 10 to 15. Once you do that, you want to lightly oil your vegetables. Not too much, the oil will drip and you'll see that flare-up. That actually imparts bitter flavor. You want to go very light oil, season it as you will — salt and pepper, spices. You want patience. Just let it cook slowly. After about three minutes, maybe take a peek. It should be getting golden brown, you'll see grill marks. And then flip it over. It's going to take probably about four to six minutes totally, combined both sides."
8. Try new rubs for your meat:
TM: "I'm not a big fan of the marinades because I think the acid does some weird things to a lot of the meat, but rubs, absolutely... You go into the market right now and there are a lot of really neat rubs that you haven't heard of before — you can go into the Middle East and find something like za'atar or something like that which is really fantastic on chicken or maybe vadouvan, which is like a French-inspired curry with a lot of garlic and shallot and stuff like that — I really like that on grilled chicken."
9. Try an herb slurry for your meat:
AH: "I'm a big fan of... now, in August, getting a bunch of fresh herbs, putting them in your blender, a little bit of olive oil, maybe your favorite acid, which I mean, like, balsamic or red wine vinegar or lemon juice, to make a slurry. Just rub that on your chicken. Let it sit for 30 minutes before and grill it up."
10. Utilize every part of your grill:
TM: "If you're putting your chicken on... the hot part of the grill, well, then think about how else you can use it at the same time. We talked about big bok choy... That's fantastic. You might take some beautiful potatoes that are on the market right now — they're super fresh and young and just — olive oil, salt and pepper — wrap them and put them right next to the coals and then you're cooking three different things at the same time."
More
WBUR: The Past Is Where It's At For The Future Of Barbecue
"If you really want a juicy, tender slab of barbecued meat, the secret lies in old-school steel ovens and wood. The traditional way of cooking meat is ironically the future of barbecue, argues Daniel Vaughn, the barbecue editor of Texas Monthly."
Bon Appetit: How To Grill With A Crappy Grill
"When the urge for fire-cooked food calls, sometimes, you have no choice but to answer it. And sometimes, the only thing you have to use is a tiny portable grill that you found in your garage. But that's okay."
This article was originally published on August 05, 2014.
This segment aired on August 5, 2014.