EMILY's List President Works To Elect Pro-Choice Democratic Women
11:51
Play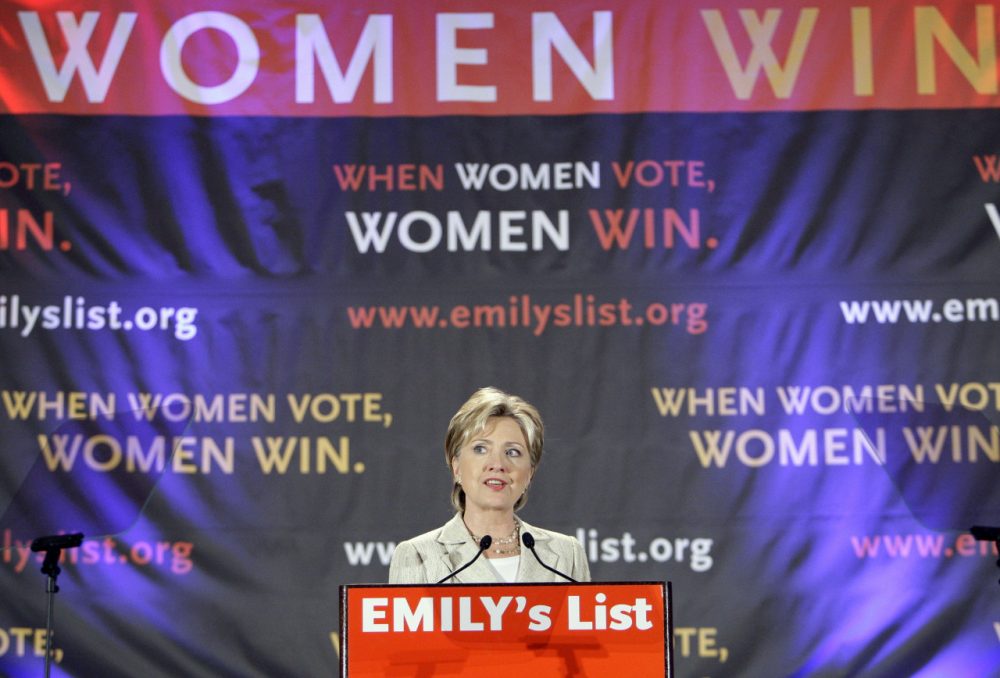 This article is more than 6 years old.
A number of high-profile female politicians have been elected by New Englanders in recent years — in Massachusetts, we've seen Elizabeth Warren and now, Democratic candidate for governor Martha Coakley. In New Hampshire, there's Jeanne Shaheen and Maggie Hassan.
All of those women also received endorsements from EMILY's List, a major political action committee with a mission to elect pro-choice democratic women to office.
But voters are also increasingly irked by outside money in politics — in fact, in 2012, then-Senate candidates Elizabeth Warren and Scott Brown signed the "people's pledge" and Martha Coakley has said she would sign the pledge as well, all of which puts groups like EMILY's List in a somewhat tricky spot.
Guest
Stephanie Schriock, president of EMILY's List. She tweets @Schriock1.
Highlights
On the challenges female candidates are up against this election cycle:
Stephanie Schriock: "So many women don't think they should be running. And so, the work that we do at EMILY's List is really to encourage, inspire and then ultimately recruit Democratic women to step up and run. And over nearly 30 years, EMILY's List has had great success...When you look at the Democratic caucuses in Congress, we're close to 30 percent women in those two caucuses. Much of the work that's been done has been on the Democratic side by EMILY's List."
On whether EMILY's List's focus on "pro-choice, Democratic women" is too narrow:
SS: "No, we don't think so at all. I mean, the Democratic party is clearly a pro-choice party and the Republican party has continued to move further and further to the right. I mean, even so much as having...debates about access to birth control in the last few years, which I'm still stunned about...We still believe that our best opportunity is to focus in the Democratic party and find women in the Democratic party because, truthfully, we believe the Democrats are the party where they provide opportunities for women. Not just women candidates, but American women, to succeed and have a fair shot."
On whether EMILY's List is more focused on female candidates or candidates who support women's issues:
SS: "Until we have a Congress that has an equal number of women and men sitting at our decision-making tables, until we have a country where 24 states elect their first women governors — 24 states in the United States have not elected women governors ever, from either party, not just Democrats, either party — we have a long way to go. I mean, we still live in a country that, worldwide, is...77th in the percentage of women in elected office. So, one, we don't have enough women running on either side of the aisle. EMILY's List works every day to continue to inspire and recruit women to run on the Democratic side. But, if you look at all the campaigns — and we have a great success story here in Massachusetts right now — but we don't have women running in every single race. But there are men running in every single race. So, we have a lot of work to do, still, to inspire more and more women to take up the mantle — the challenge — to run for office."
On EMILY's List's support for the "Elizabeth Warren wing" of American politics:
SS: "We recruited Elizabeth Warren to run. And, by the way, if you look at 2012, it was Elizabeth Warren, Tammy Baldwin — big success story in Wisconsin, [the] first openly gay member of the United States Senate, couldn't be prouder of our support. Mazie Hirono, another victory we had last year in the United States Senate in Hawaii. The one thing I point people to, and I think this is really important here, we did some analysis...a few years ago, at the impact that our Democratic women in whole are making in Congress...It shows that Democratic women, on average, vote more progressively than their Democratic male counterparts across the board. Not just on reproductive issues but on the economy, on human rights and civil rights and education and workers' rights. We really do believe, as we get more and more women into governments, whether it's Congress or legislatures or leaders like governor, that we're bringing a broader sense of progressive issues. Are they all exactly progressive as defined by a few? Maybe not. But as a whole? Women have really changed the debates and they've made the debates more progressive."
On the role of money in politics:
SS: "The reason we started 29 years ago is that women had a terrible time getting access to any resources to their campaign, so much of the work EMILY's List does is actually not independent expenditures and television ads, though we do do those, but it's actually going to our millions of members across the country and saying, 'Invest. Make a personal contribution directly to that candidate.' And EMILY's List, as a membership organization, raised over $1.2 million directly to Elizabeth Warren's campaign. That's really the core of who we are and what we do, in $50 and $100 contributions. And that's what we're doing for Martha Coakley and Jeanne Shaheen and Gina Raimondo in Rhode Island and that's a lot of it. Now, as regard to the independent expenditure work that we do...in places where it's open to, we understand the candidates come first and what they want and the rules that apply under those circumstances are ones we'll follow, and we're thrilled Elizabeth Warren decided to do what she's doing and clearly Charlie Baker in Massachusetts isn't going to take the same pledge."
More
Radio Boston: Democratic Candidate For Governor, Martha Coakley, On Short Sprint To General Election
"With last week's primaries in the rear view mirror, Republican Charlie Baker and Democrat Martha Coakley are now off and running on the short sprint to the general election in November."
The Daily Beast: Progressive Left's Latest Target: EMILY's List
"Long a liberal power broker, the group is dedicated to electing pro-choice Democratic women. So what's the problem? It's caught on the wrong side of the economic populist wave."
Time: Women Could Finally Make Up 20% Of Congress This Year
"With women sitting atop half the Senate committees, it may feel like there are plenty of women in Congress, but the sad reality is only 18.9% of Congress is female."
This article was originally published on September 17, 2014.
This segment aired on September 17, 2014.