How The 'People's Climate March' Could Translate Into Political Action
11:24
Play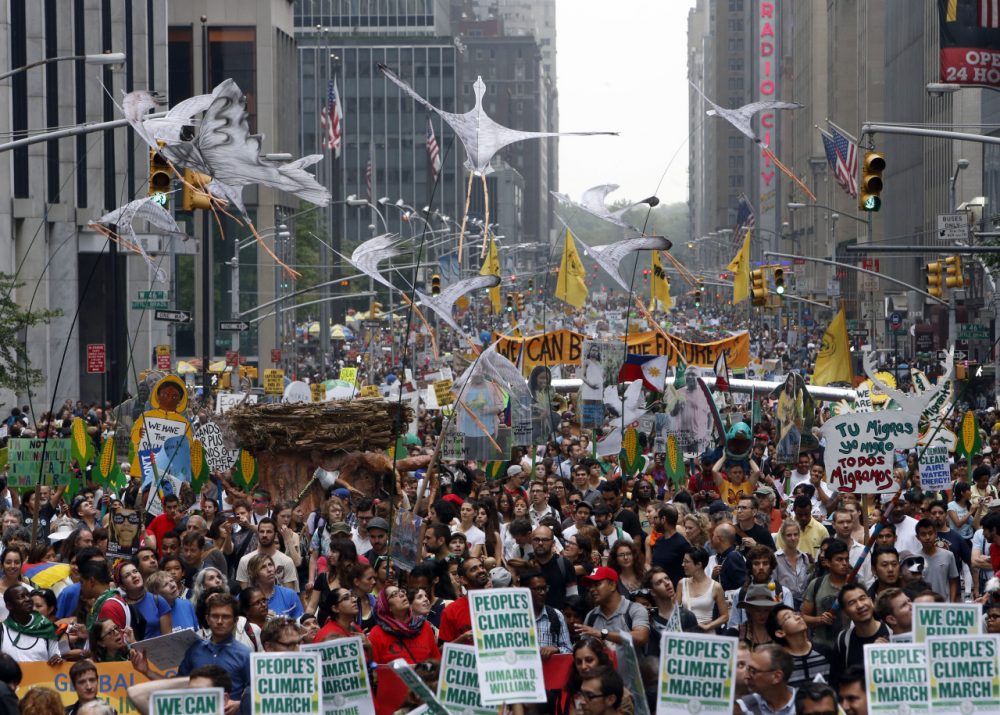 This article is more than 6 years old.
In New York City Tuesday, more than 120 world leaders gathered to talk about emissions reductions and work toward a new climate treaty.
"Yes, this is hard. But there should be no question that the United States of America is stepping up to the plate," said President Obama Tuesday at the summit. "We recognize our role in creating this problem, we embrace our responsibility to combat it."
Weighing on the summit was what some have called the largest rally about any issue in the United States since the 2003 protests against the War in Iraq. An estimated 300,000 to 400,000 people gathered in New York City Sunday to demand that political leaders act more quickly to reduce carbon emissions and fight against global warming.
Guest
Hahrie Han, associate professor of political science at Wellesley University and author of "How Organizations Develop Activists: Civic Associations and Leadership in the 21st Century." She's also a founding member of Mothers Out Front. She tweets @hahriehan.
More
Vox: 7 Charts That Help Make Sense Of This Week's UN Climate Summit
"The main obstacle here is that there are still deep, deep divisions among different countries about how best to tackle global warming."
WBUR: Rockefeller Brothers Fund Forsakes Its Legacy
"The Rockefeller family made its vast fortune in the oil business over a century ago. Now the Rockefeller Brothers Fund is planning to divest itself entirely from fossil fuels. Yuki Noguchi reports on how the family's giant philanthropic foundation is parting ways with its business legacy."
The Washington Post: U.N. Climate Summit Is High-Profile, But Some Of World's Most Important Leaders Will Skip It
"As impressive as that guest list is, what's more interesting is who is missing. Notably, Chinese President Xi Jinping and Indian Prime Minister Narendra Modi are skipping the event."
This article was originally published on September 23, 2014.
This segment aired on September 23, 2014.