Joe De Sena Wants You to 'Spartan Up!'
11:13
Play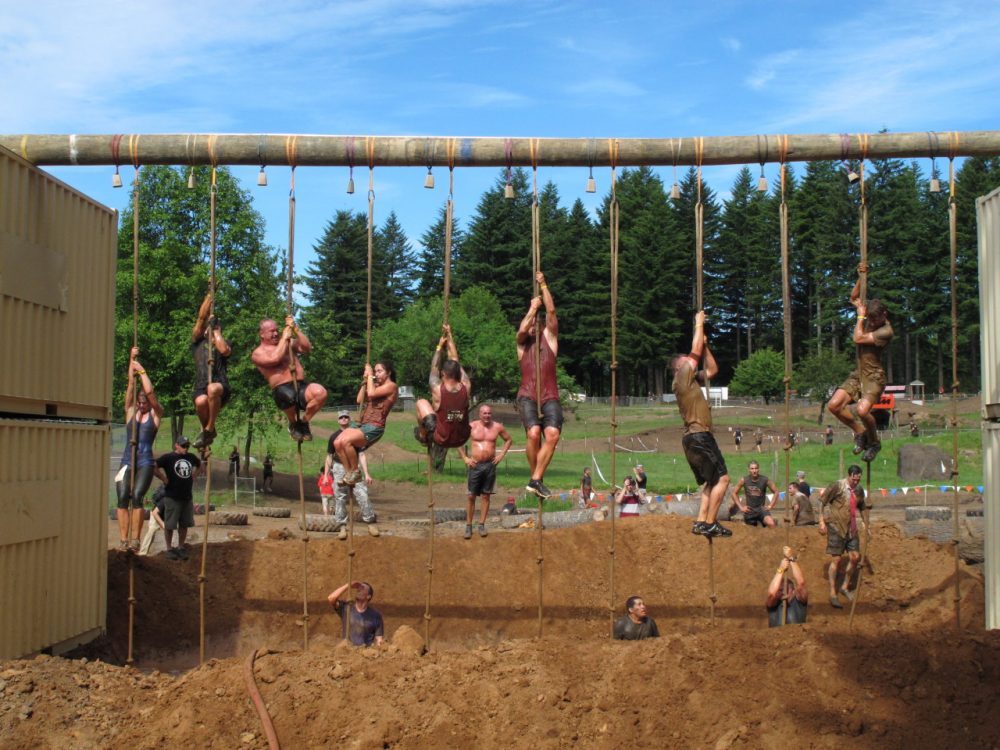 This article is more than 6 years old.
This weekend, hundreds of people will gather at Amesbury Sports Park in northern Massachusetts to climb hills, crawl under barbed wire, run through mud and water and jump over fire. It's all part of a Spartan Race — a grueling, obstacle-course-style race designed to push people beyond their limits, and maybe even beyond that.
Millions of people across the country participate in Spartan competitions. And, according to Outside Magazine, obstacle course races may be the fastest growing sport in American history. Among the biggest forces behind it is Joe De Sena, an entrepreneur and longtime endurance and adventure racer. He's the founder of the Spartan Race, now a thriving industry that he runs from a sprawling farm in rural Vermont.
According to De Sena, "Death is the price we pay for life, so make it worth it." He's completed several 100 mile races within a week, 12 Ironman triathlons in a year, and even a 350 mile, six day race in 30-below temperatures. Another challenge he's recently completed is a book, "Spartan Up! A Take-No-Prisoners Guide to Overcoming Obstacles and Achieving Peak Performance in Life."
Guest
Joe De Sena, founder of the Spartan Race, which tweets @SpartanRace.
Highlights
On how he became interested in "super human" races:
Joe De Sena: "My mom and dad were super humans... They were amazing. My mom was into yoga, meditation and health food in the 70s. My dad was a workaholic maniac... We are products of our environments and I just got very motivated, being around them. And my first business, 13 years old, was a swimming pool and construction business. And I ran that business for about 11 years. After that, I went to Wall Street and I did very well, knock on wood. I had a great run on Wall Street but while there I started to get heavy and out of shape and unhealthy and it was much different than running the construction business previously. And so I sought ways to get healthy and I stumbled, thankfully, upon adventure racing. Very long distance, scenic, ultra-runs. I did the Iditarod by foot. Unfortunately, I didn't have any dogs."
On doing the Iditarod by foot:
JDS: "They were allowing, I think it was about 370 miles they allowed us to go on by foot. It was eight and a half days, it was 30 below. Anybody in their right mind would say, 'Why would you possibly do that?'... The brain, the body, we grow when we're uncomfortable. I think we stunt growth when we're not. It's certainly helped me grow."
On the benefits of adventure racing:
JDS: "We have an abundance of things here in America, most of us. And when you strip all those things away and do something like I just described, you get a new perspective. You change your frame of reference. And so you start to appreciate things more, you don't complain about things as much, you definitely harden... You just appreciate life."
On getting tired:
JDS: "It doesn't matter if you're doing a one hour workout, a one day workout or a 10 day workout, we all get tired. I get tired, the strongest people out there will get tired. The question is, what happens when you get tired? Can you continue, mentally?"
On burpees:
JDS: "I got roped into this idea of doing 10,000 burpees. A burpee was created by Royal H. Burpee in the 40s as a way to test military recruits. It is a jump up, go down to the ground, do a push up, and then come back up. And it's a brutal exercise. I think it's one of the greatest exercises known to man or woman, and I say that because it really moves blood around, it's awful, you get to a dark place very quickly with a burpee."
On the Spartan Race:
JDS: "This year, we'll hit close to one million participants, globally, across 131 events in 17 countries and it's a military inspired obstacle race. It's basically what you might see if you watch the movie "G.I. Jane" or any military going through obstacles, whether it's climbing ropes, climbing walls, crawling under barbed wire, wading through some mud. Just putting people in front of obstacles that appear they're not going to be able to get through and then somehow they break through and they make it to the finish line and they obtain something we coined called 'obstacle immunity.'"
On "obstacle immunity":
JDS: "Those little obstacles in life, the coffee being too cold, the car not starting, the kid screaming, become much smaller obstacles and less stressful... I'm walking through the city today and two people, separately, stop me. And one of them's a grown man who recognized the shirt, it said "Spartan," recognized me and literally started crying in front of me to just say that the race changed his life. It changed the way he interacts with his family, he had a terrible upbringing. That seems extreme, but I get thousands of these emails and I think it's because the obstacles are a metaphor for obstacles in life. I think they help people break through."
On the Spartan race as an Olympic competition:
JDS: "I believe it will be an Olympic sport. I think if ping pong and curling are Olympic sports, there's no reason Spartan Race can't be an Olympic sport. I think it's really the truly natural human sport where we always crawled, climbed, got over walls, this is what we did every day for thousands of years. So, it's natural to us. It feels good and it's just a matter of us getting our act together and putting an Olympic bid at some point."
More
This segment aired on January 2, 2015.