Dorchester Native Dances With Alvin Ailey Company In Boston For The Last Time
12:15
Play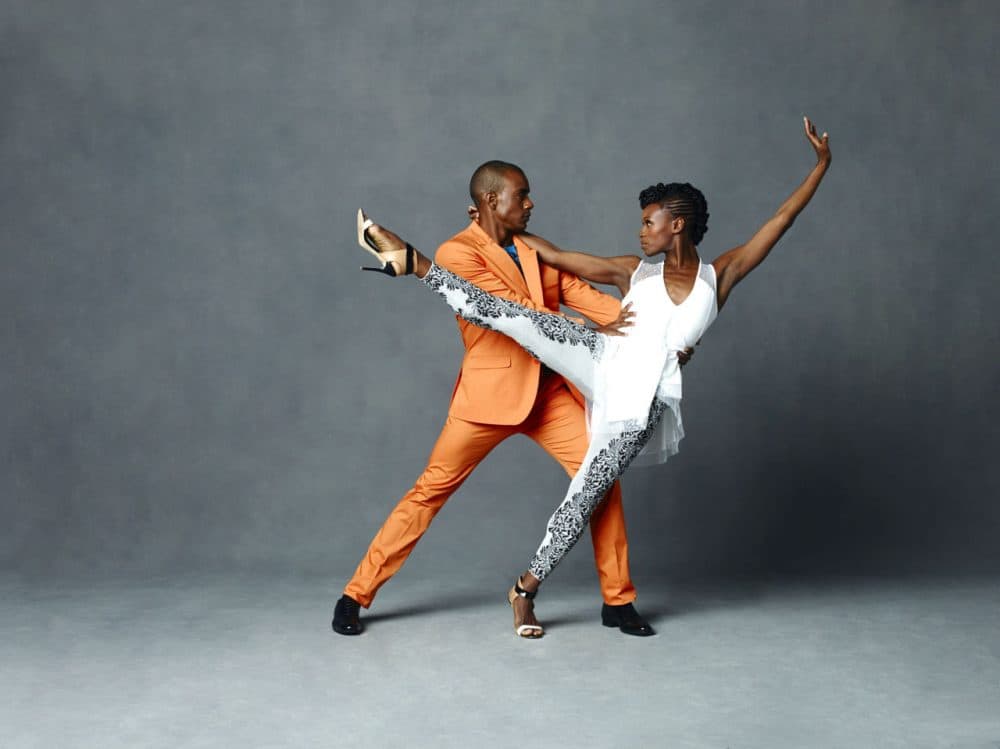 This article is more than 5 years old.
We visited Brookline High School's dance studio for a master class that was being taught by Kirven Douthit-Boyd. He's a Dorchester native and an acclaimed dancer with the Alvin Ailey American Dance Theater.
Douthit-Boyd is just 30 years old. He's been with Alvin Ailey for 11 years, but his love of dance started young. His artistically-inclined family enrolled him in dance classes at the age of 5, which Douthit-Boyd says was fun, but dance didn't become a calling until he turned 13 and saw his first live performance of the Alvin Ailey American Dance Theater.
"The curtain opened and it was just like being transported to some other world," says Douthit-Boyd. "To be able to relate to what's going up on the stage — especially at that stage — you kind of feel like you see yourself up there, you know what I mean? And, I was just so hungry for dance once I saw that initial performance of the company."
That same year, Douthit-Boyd enrolled at the newly opened Boston Arts Academy. The following year, he joined Boston Youth Moves, a pre-professional dance program which he says took his dancing to a new level.
"It's a smaller knit group of dancers," says Douthit-Boyd. "Everyone there really thought that I would be able to do this way before I even imagined that, so that's always been something that has really stuck with me. And, really, in terms of why I want to be so successful in this field is because of them. It was just such a special time in my life."
Then, when Douthit-Boyd was 19, this hard-working, talented young dancer got his chance to audition for the Alvin Ailey American Dance Theater. He made it into the company's junior program. Just six years after seeing that first Ailey performance that changed his life, Douthit-Boyd had become an official member of one of the world's most famous dance companies.
So, where does a dancer like Douthit-Boyd at the height of his powers go from here? Boston dance lovers are right to hope that Kirven Douthit-Boyd might come back home. But, that's not the case. In fact, Douthit-Boyd is ending his professional dance career entirely in July. He's becoming co-director of an after-school youth arts program in St. Louis, very much like the Boston Youth Moves program that helped propel Douthit-Boyd into the Alvin Ailey American Dance Theater.
Kirven Douthit-Boyd is dancing his final hometown performances with the Alvin Ailey American Dance Theater Thursday through Sunday at the Citi Performing Arts Center as part of the Celebrity Series of Boston.
Guest
Kirven Douthit-Boyd, Dorchester native and member of the Alvin Ailey American Dance Theater.
More
The Boston Globe: Kirven Douthit-Boyd Takes His Last Boston Bow
"You know you're a local hero when you come back to town with one of America's premier dance companies and people applaud you just for coming out onstage. That's what's been happening for Kirven Douthit-Boyd during Alvin Ailey American Dance Theater's Boston visits over the past few years."
This segment aired on March 26, 2015.