Was The Charleston Massacre An Act Of Terrorism?
12:14
Play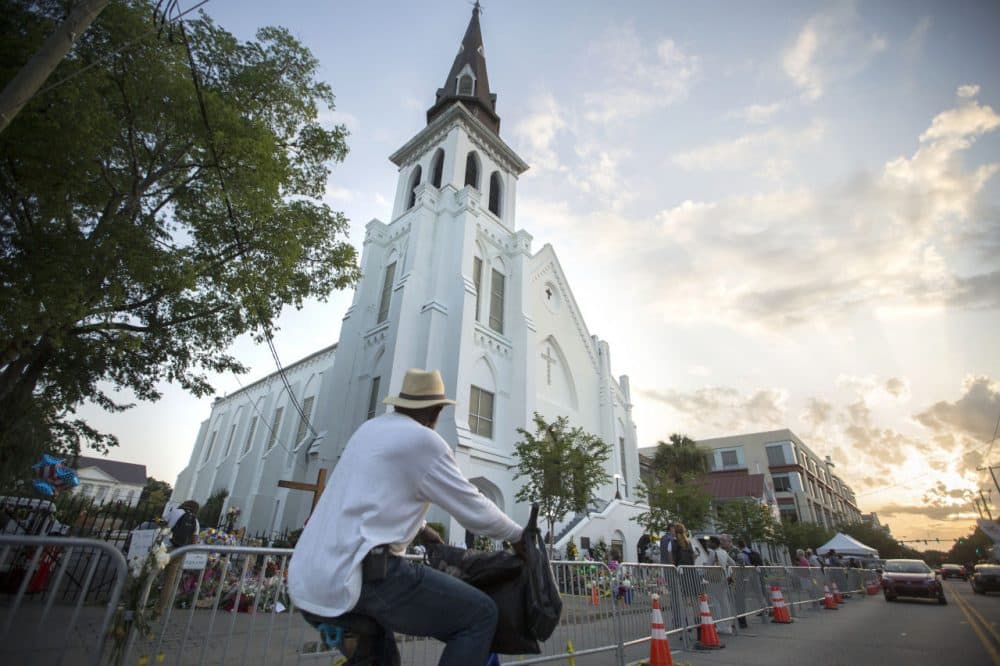 This article is more than 5 years old.
There are a lot of words to describe what happened last Wednesday in Charleston, South Carolina. Horrific. Tragic. An unspeakable hate crime.
But early descriptions of the crime — by political leaders and most members of the media — have avoided describing the mass shooting as "terrorism."
F.B.I. Director James Comey told a press conference on Saturday that he didn't "see it as a political act" and therefore, it's not terrorism.
But the next day, Republican presidential candidate Rick Santorum went on the television show "The Week" to say, "I don't think there's any question this is an act of terrorism."
Who decides what is or is not terrorism?
Guests
Rev. Eugene Rivers, pastor at the Azusa Christian Community. He tweets @EugeneFRivers.
Lisa Stampnitzky, lecturer in Social Studies at Harvard University and author of "Disciplining Terror: How Experts Invented "Terrorism"." She tweets @Stamp.
More
The New Yorker: Terrorism In Charleston
The Charleston police were quick to label what happened in the sanctuary of Emanuel African Methodist Episcopal Church last Wednesday night a "hate crime." Many crimes are motivated by hatred, yet we reserve the term "hate crime" for an act motivated by an animus that has been extrapolated beyond any single individual and applied to an entire segment of the populace. The murder of nine black churchgoers during Bible study is an act so heinous as to be immediately recognizable as a hate crime. But it was not simply this. We should, for all the worst reasons, be adept by now at recognizing terrorism when we see it, and what happened in Charleston was nothing less than an act of terror.
NPR: Should NPR Be Calling The Attack In Charleston 'Terrorism'?
Mark Memmott, NPR's standards editor, told me NPR's policy is to avoid rushing to throw a label on a situation. "We use action words to describe what happened and let the facts reveal whether it was terrorism, a hate crime, or murder," he said. He added, "We're certainly not going to shy away from reporting what is revealed about the suspect and his motivations."
The Atlantic: Was the Charleston Attack 'Terrorism'?
Last week, a historic black church in South Carolina suffered a deadly terrorist attack. And media outlets were correct to hold off on applying that fraught label prior to confirming that the facts about the mass killing matched the earliest reports.
This segment aired on June 23, 2015.