President Obama Speaks At The Rev. Pinckney's Funeral In Charleston
19:10
Play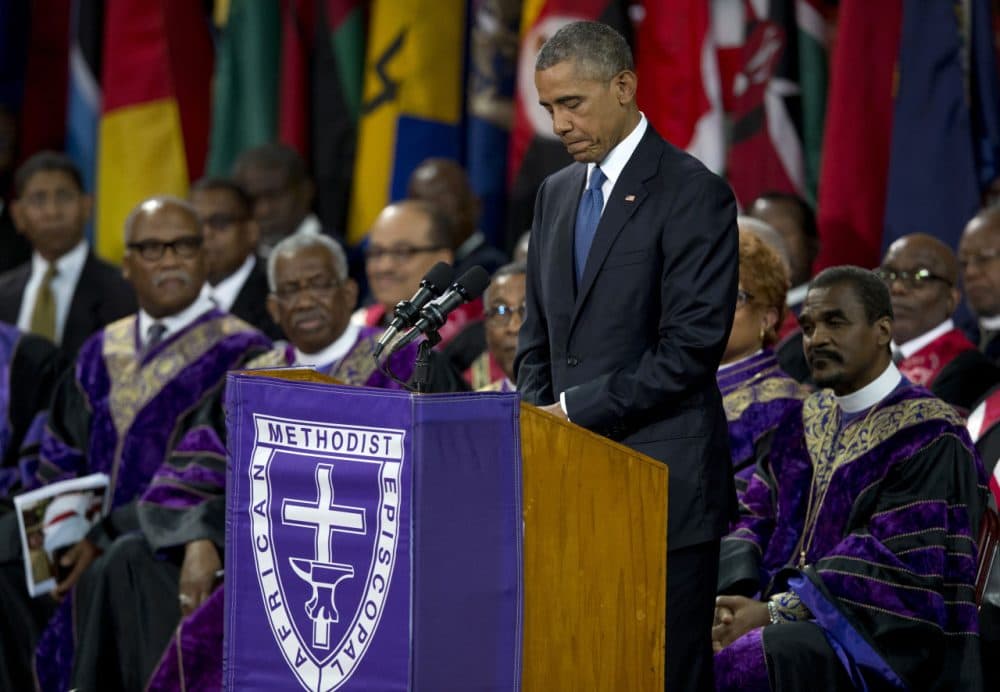 This article is more than 5 years old.
President Obama is in Charleston, South Carolina to give the eulogy for the Rev. Clementa Pinckney, a state senator and one of nine people gunned down at a bible study meeting last Wednesday at the Emanuel A.M.E. Church.
The funeral is taking place a the College of Charleston's TD Arena, which is filled with 5,000 mourners — including friends and family of the Rev. Pinckney. President Obama is there, as well as Vice President Joe Biden and Gov. Nikki Haley.
Clementa Pinckney is being remembered as a man with a powerful voice and conscience. He presided over student government in high school and college. He was ordained at 18. He earned a master's degree in both divinity and public administration. And, at 23, he became the youngest elected black member of South Carolina's legislature.
He was also young when he died — just shy of his 42nd birthday.
He was one of the nine people who were gunned down in last week's brutal shooting. The attack has sparked a national conversation about race, racism, the confederate flag and guns.
Guests
Adam Parker, reporter for the The Post and Courier. He tweets @adamlparker.
Peniel Joseph, history professor and founding director of the Center for the Study of Race and Democracy at Tufts University. He tweets @PenielJoseph.
More
WBUR: Mourners Gather In Charleston To Remember Slain Pastor
"Thousands of people gathered outside a large arena in Charleston, S.C., to pay respects to the Rev. Clementa Pinckney, the pastor of Emanuel African Methodist Episcopal Church and a state senator who was gunned down last week along with eight fellow church members during a Bible study session. President Obama will deliver the eulogy."
This segment aired on June 26, 2015.