Documents Outline Regional Policing Agency's Use Of SWAT Teams, Other Tactics
28:36
Play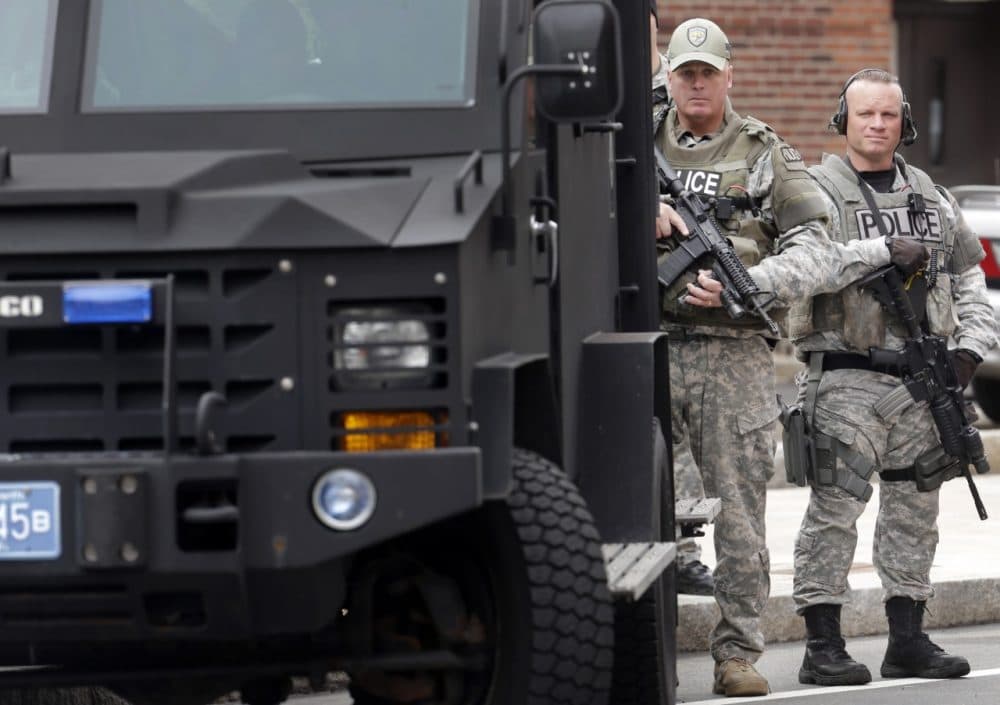 This article is more than 5 years old.
On Tuesday, the American Civil Liberties Union of Massachusetts released new documents about the use by some local police forces of SWAT teams, armored vehicles and military-style assault weapons.
For a while now, the ACLU of Massachusetts has been concerned about the militarization of local police departments, whether it's necessary, and what it costs. So they asked a regional law enforcement group, called the Northeastern Massachusetts Law Enforcement Council (NEMLEC), to release information about what they do and what it costs.
NEMLEC is an association of 61 police and sheriff departments in northeastern Massachusetts that share SWAT Teams, automatic weapons and combat gear to carry out special law enforcement operations. And when they refused to release the information, the ACLU went to court and eventually settled.
Guests
Kade Crockford, director of the Technology for Liberty Project at the Massachusetts chapter of the ACLU. She tweets @onekade.
John Fisher, Carlisle Chief of Police and president of the Northeastern Massachusetts Law Enforcement Council's executive board. NEMLEC tweets @NEMLEC.
More
ACLU of Massachusetts: NEMLEC SWAT Team Documents
"Are SWAT teams, which are trained to deal with hostage, barricade and active shooter scenarios, being used for that purpose? Are these LEC SWAT teams mostly deployed to respond to hostage cases and terrorist attacks? Or do this Massachusetts SWAT team's internal records point to mission creep driven by the failed, costly war on drugs?"
WBUR: Newly Released Records Shed Light On Massachusetts SWAT Team
"The ACLU says the documents suggest the state's SWAT units are increasingly being used for mostly minor drug-related arrests. The council says the documents don't give the full picture."
Boston.com: Here Are The SWAT Documents One Police Agency Wanted Kept Secret
This segment aired on July 7, 2015.