There's Water On Mars! Now What?
11:05
Play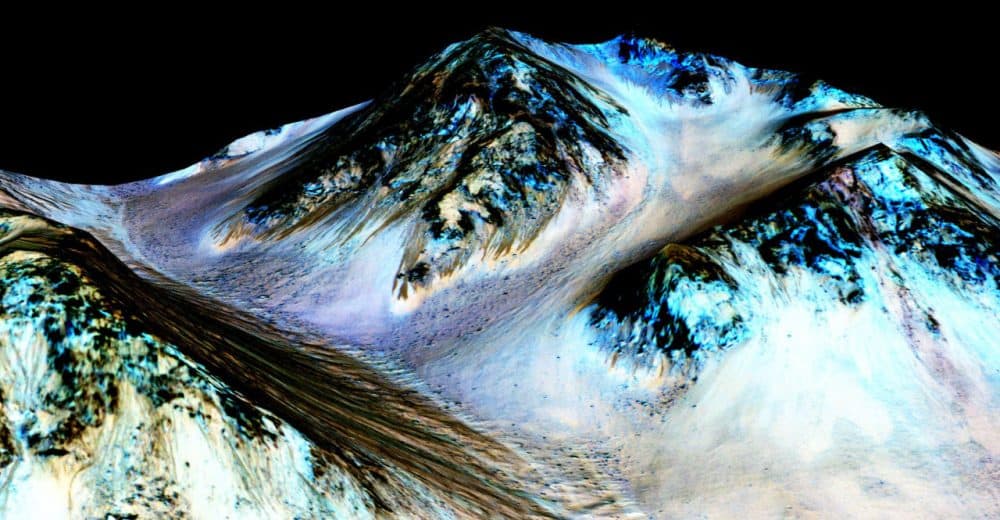 This article is more than 5 years old.
There's water on Mars! That's this week's big announcement from NASA.
Scientists have known for a while that water exists as ice in the poles of the red planet. But now, they've confirmed that liquid water flows on the surface as well.
So, what does that mean? Is there life swimming in that water? Are our dreams of colonizing Mars closer to reality? What's next on the Mars agenda?
Guest
Michael Hecht, associate director of MIT's Haystack Observatory and the principal investigator of MOXIE, a Mars-bound instrument that makes oxygen.
More
"First, we had the mindboggling announcement that there is strong evidence of liquid water flowing on the Martian surface. And, also this week, on Oct. 2, the much-awaited Riddley Scott movie, The Martian — based on Andy Weir's novel and starring Matt Damon as an astronaut stranded on Mars — opens nationwide."
The Washington Post: The Harsh Truth About Mars Water And NASA's 'Journey To Mars'
"Ephemeral brine on Mars! Hmmm. That doesn't quite have the same ring as 'water on Mars!' The latter formulation sounds like a paradigm-buster. Mars was supposed to be a desert wasteland, lifeless, cold, with almost no atmosphere. But Monday NASA announced new evidence for seasonal liquid water on the surface of Mars — after teasing everyone with a press release Friday saying that a 'major mystery' of Mars had been solved."
The New York Times: A Catch-22 For Mars
"The report this week that definitive signs of water have been detected on Mars immediately set off speculation about finding life on that planet. Which raises an interesting conundrum: How best to explore the damp areas on Mars without contaminating them with microbes carried there from Earth."
This segment aired on September 30, 2015.