What Is It Like To Be A Family Member Of A Mass Shooting Victim?
09:13
Play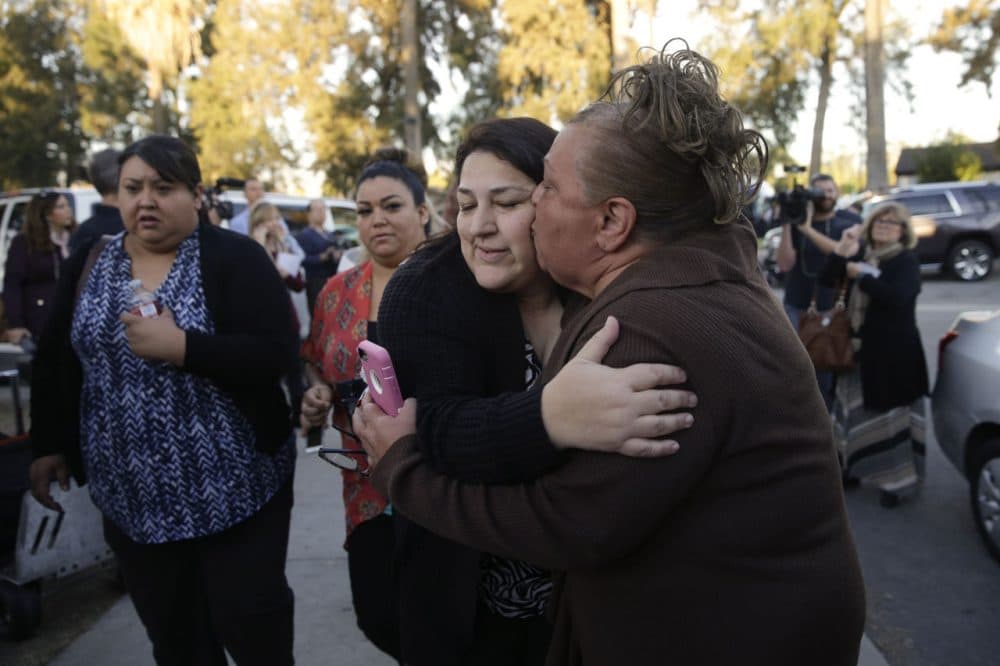 This article is more than 4 years old.
California law enforcement officials are saying that the two suspects in Wednesday's San Bernadino mass shooting had more than 1,600 rounds of ammunition with them when they were killed in a gun battle with police.
14 people were killed and at least 21 were wounded in the mass shooting.
They also say the attack bore the hallmarks of a planned event — investigators say they found 3,000 more rounds of ammunition and 12 pipe bombs at the home of Syed Farook and Tashfeen Malik.
However, the FBI is not yet saying whether the attack was an act of terrorism. 28-year-old Farook was a U.S. citizen who traveled internationally and returned to the U.S. with 27-year-old Malik in July 2014. Their motives are still unclear.
After any attack, family members are left behind. Liam Lowney knows this experience first hand. He says last week's shooting at a Colorado Springs Planned Parenthood — that left three dead and nine wounded — is reminiscent of the 1994 attack in Brookline that took his sister Shannon's life.
Guest
Liam Lowney, executive director for the Massachusetts Office for Victim Assistance.
More
The Boston Globe: A Story That Survivors Know All Too Well
"Those of us who have experienced gun violence have an opportunity to tell our story and ask our leaders one question: "What have you done today to keep guns out of the hands of those who will commit violence?"
WBUR: San Bernadino Shootings: What We Know, One Day After
"After a mass shooting, a police chase and a shootout, a violent day in San Bernardino, Calif., ended in the death of two suspects, authorities say. Syed Farook, 28, and Tashfeen Malik, 27, were responsible for the Wednesday morning attack that killed at least 14 people and injured 21, according to San Bernardino Police Chief Jarrod Burguan."
This segment aired on December 3, 2015.