CommonHealth: The Immunotherapy Medicine Helping Jimmy Carter Battle Cancer
05:09
Play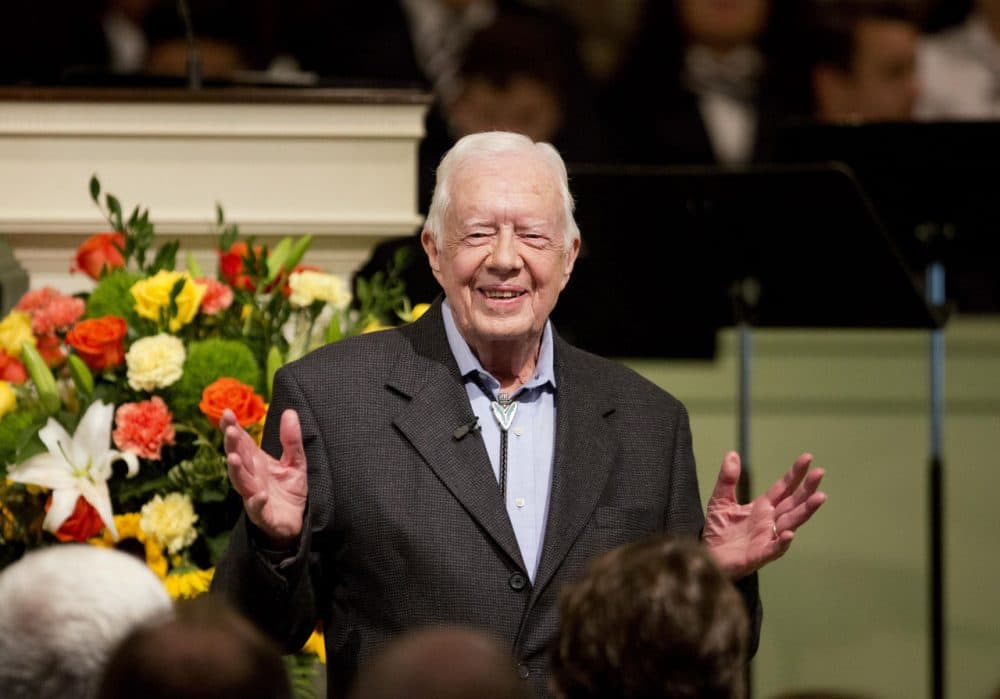 This article is more than 4 years old.
Former President Jimmy Carter announced Sunday that his most recent MRI was cancer free — three and a half months after he was diagnosed with stage four melanoma cancer.
He told the congregation at his Baptist Church in Georgia that the disappearance of melanoma lesions in brain was thanks to a new drug: pembrolizumab, commonly called by its brand name, Keytruda. It was among the first immunotherapy cancer medications to be approved by the FDA last year.
Guest
Karen Weintraub, science journalist and instructor at Boston University's College of Communication. She tweets @kweintraub.
More
CommonHealth: Jimmy Carter's Good News And The Ever-Brightening Outlook For Melanoma
"In August, former President Jimmy Carter announced that he was being treated for melanoma, a skin cancer that had spread to his liver and brain. Now, Carter says that his latest brain scan shows no sign of cancer spots. This is not necessarily a "cure," but it's hard to imagine a more striking illustration of recent progress on treating malignant melanoma, once considered an imminent death sentence."
Stat: When Old Age Is A Boon: How Being 91 Helped Jimmy Carter Battle Cancer
"If Carter is indeed cancer-free, his response to Keytruda has been better than that of most patients in the clinical trial that led the FDA to approve the drug."
Scientific American Blog: The Long Road From Coley Toxins To Cancer Immunotherapies
"Physicians noticed as early as the late 1800s that the body's immune system, primarily evolved to fight off infections, could also attack tumors and kill cancer cells. Dr. William Coley, pioneer of cancer immunotherapy, noticed that cancer patients who got infections after surgery had better outcomes compared to those that did not get sick."
This segment aired on December 7, 2015.