Is A $15 Minimum Wage Sustainable?
15:19
Play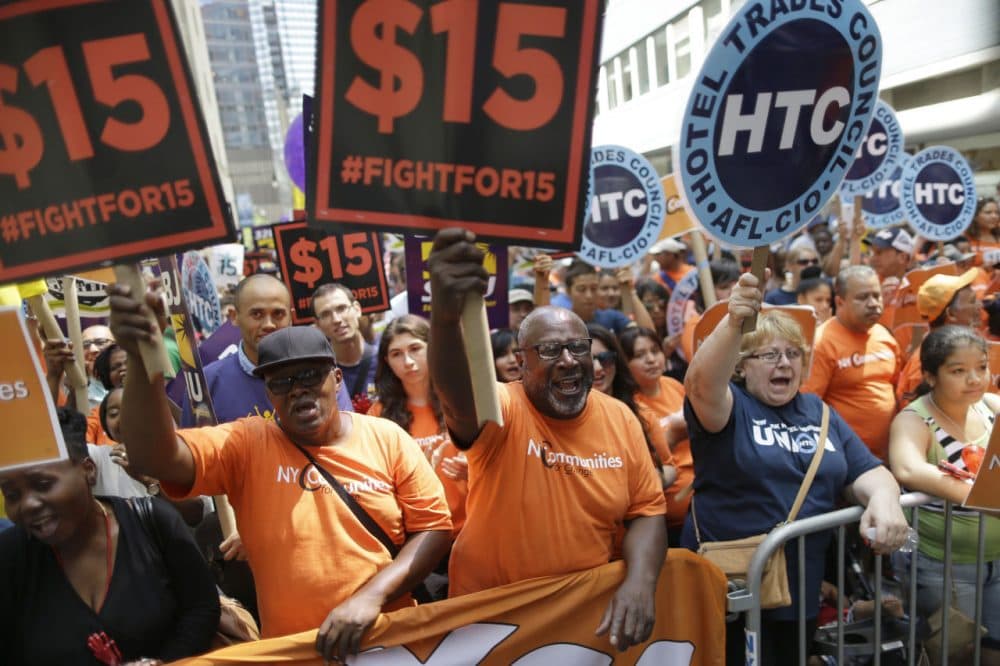 This article is more than 4 years old.
According to a report released earlier this year by the National Low-Income Housing Coalition, there is no state in the U.S. where a full-time, minimum-wage worker can afford to rent a one bedroom apartment for less than 30 percent of his paycheck.
In fact, in Massachusetts, you'd have to work 87 hours per week at minimum wage to realistically afford a one bedroom.
Politicians have thrown out minimum wage numbers from $10.10 to $122 to $15, but where do those numbers come from? Is there a tipping point for our economy, at which raising the minimum wage does more harm than good?
Guests
Arindrajit Dube, associate professor of economics at UMass Amherst. He tweets @ArinDube.
Robert Pollin, professor of economics at the UMass Amherst and co-director of the Political Economy Research Institute, which tweets @PERIatUMass.
More
Bloomberg: Is A $15 Minimum Wage Too High?
"Those who argue for a high federal floor say that $15 won't cost many jobs even in low-wage parts of the country because minimum-wage workers are productive enough to justify much higher pay. The letter signed by more than 200 economists supporting Sanders's $15 an hour says the federal minimum would be $26 an hour if it had risen with labor productivity since 1968."
This segment aired on December 15, 2015.