N.H. Politics: Trump Versus The Union Leader
14:18
Play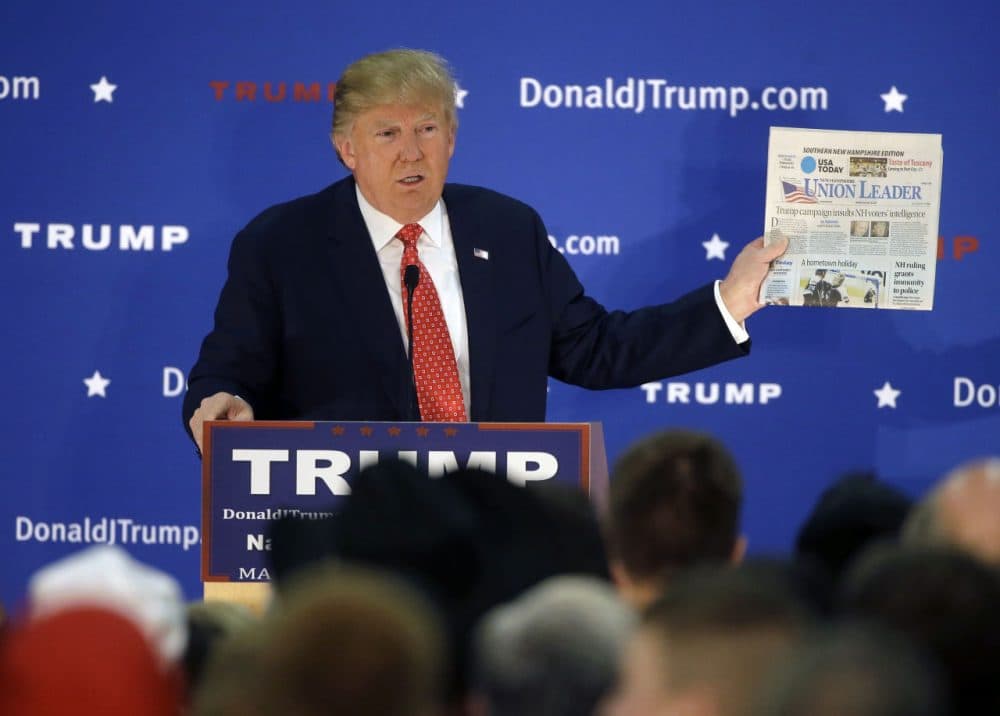 This article is more than 4 years old.
In the contest for the Republican presidential nomination, there's a curious dynamic playing out. The presumed front-runner, Donald Trump, is benefiting from lots of free media attention — largely because of the controversial things he says.
Case in point: the escalating war of words between Trump and New Hampshire's largest newspaper, the Union Leader. The venerable conservative daily has endorsed Chris Christie for president. And, this week, published a front page editorial accusing Trump of insulting the intelligence of New Hampshire voters.
Publisher Joe McQuaid calls Trump "a crude blowhard with no clear political philosophy," and compares him to the grownup bully, "Biff," from "Back To The Future."
Guest
Ken Rudin, former NPR political editor and host of Ken Rudin's Political Junkie. He tweets @kenrudinjunkie.
More
Union Leader: Trump Campaign Insults NH Voters' Intelligence
"Trump has shown himself to be a crude blowhard with no clear political philosophy and no deeper understanding of the important and serious role of President of the United States than one of the goons he lets rough up protesters in his crowds.'"
Union Leader: For Our Safety, Our Future: Chris Christie For President
"Other candidates have gained public and media attention by speaking bluntly. But it's important when you are telling it like it is to actually know what you are talking about. Gov. Christie knows what he is saying because he has experienced it.'"
Radio Boston: N.H. Politics With Anthony Brooks: Dem. Debate, Graham's Goodbye, Can Cruz Trump Trump?
"Can Ted Cruz trump front-runner Donald Trump? What does Sen. Lindsey Graham's announcement that he's getting out of the Republican race mean for the party? And what happened during the Democratic debate on Saturday?'"
This segment aired on December 29, 2015.