Bill Littlefield On Sports: The Ups And Downs Of Boston Hockey
05:14
Play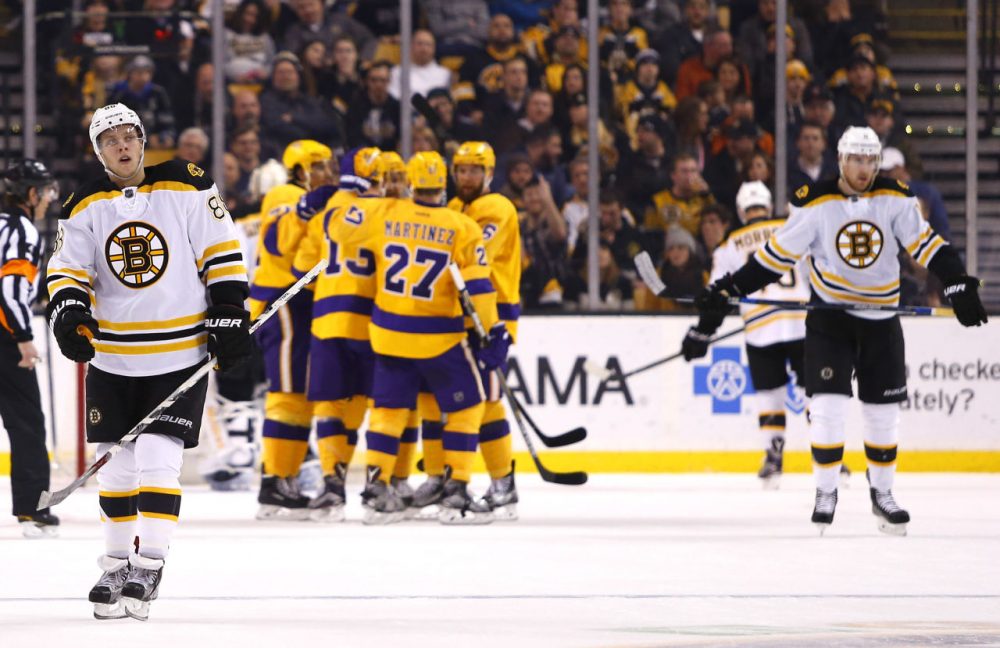 This article is more than 4 years old.
Some historic hockey in Boston this week. On the exciting side: a rare shutout in Monday's Beanpot final, with Boston College beating Boston University 1-0.
On the historically bad side: the Bruins fell to the LA Kings 9-2, giving up 57 shots on goal. It's the first time they've given up 57 shots since March 18, 1965.
Guest
Bill Littlefield, host of NPR's Only A Game, which tweets @OnlyAGameNPR.
More
The Boston Globe: Boston College Makes Beanpot History With 1-0 Victory
"For the first time in the teams' Beanpot rivalry — all 43 meetings, not just the 22 coming in the title game — one goal was all it took. Never before had either BU or BC been shut out by the other in this tournament. In fact, never had any of the first 63 Beanpot finals — or any Beanpot game, for that matter — been scoreless after three periods, the way Monday's was."
The Boston Globe: It Wasn't The Worst Bruins Loss Ever, But...
"'I feel like we got absolutely embarrassed,' said Zdeno Chara. 'Obviously they played a really good game, but we were nowhere near the game that we needed to play. It was embarrassing.'"
Boston.Com: Here's What The Red Sox Packed For Truck Day
"The Red Sox have a list, and they're checking it twice. No, it's not Christmas at Fenway. But it is an occasion that baseball fans look forward to every winter in New England. It's Truck Day, the unofficial start to spring training. The Red Sox' equipment truck is scheduled to depart from Fenway Park on Wednesday around noon for the team's spring training home in Fort Myers, Florida. Starting at 7 a.m., the 53-foot truck will be loaded with more than 23,000 items, ranging from baseballs to bubble gum, for its annual 1,480-mile trip.
Radio Boston: Boston College Men's Hockey Coach Jerry York On Reaching 1,000 Wins
"He was already the winningest coach in college hockey. On Friday, Jerry York — the coach of Boston College's men's team — became the first to get to 1,000 wins. We spoke to him about what the milestone means to him, his approach to coaching and why he's looking forward rather than backward."
This segment aired on February 10, 2016.