Mass. Minority Leaders Endorse Sanders, Clinton Campaigns
15:59
Play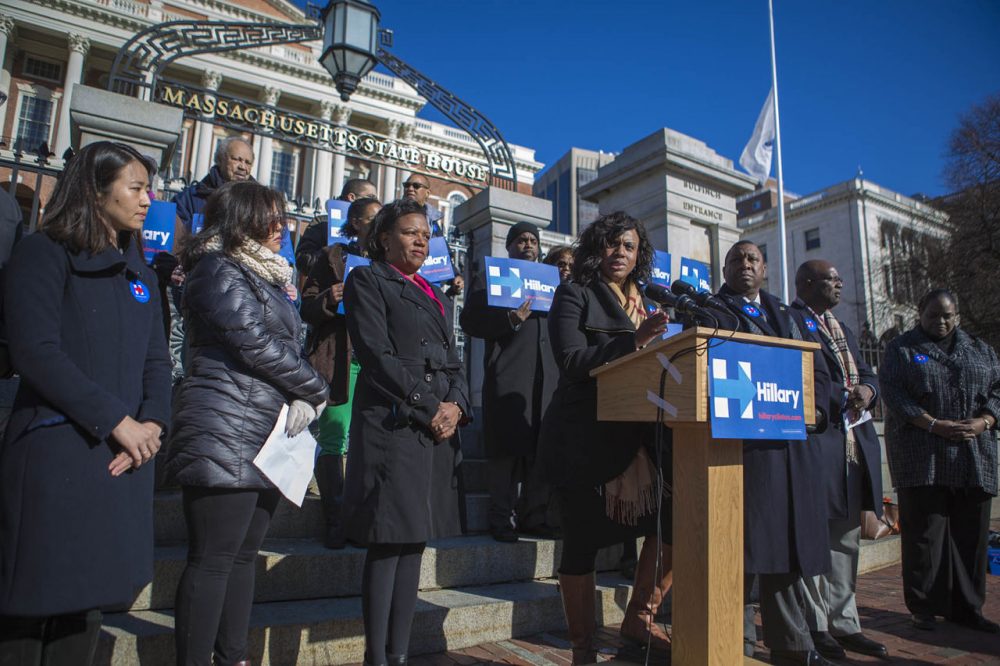 This article is more than 5 years old.
Who will win the support of African-American and Latino voters? Right now, that is the most pressing question in the Democratic presidential primary.
Wednesday, the debate landed on the steps of the Massachusetts State House. Black and Latino leadership groups gathered; each endorsed a different candidate.
"Yesterday in Harlem, Hillary Clinton again called for an end to mass incarceration," said Suffolk County Sheriff Steven Tompkins, standing with other African-American leaders throwing their support behind Clinton. "The inequalities in the system are wrong, but they are also immoral. We must begin by facing up to the reality of systemic racism, we need end to end reform, not half measures, but a full commitment with real follow through. She's right! She gets it!"
Two hours later, the organization Massachusetts Latinos for Bernie, explained why they're backing Bernie Sanders.
"I am, indeed, a Latina for Bernie Sanders," said Maria Elena Letona, executive director of Neighbor to Neighbor. "I am a woman, an immigrant, a person of color, a worker and in all my various dimensions, the one candidate that speaks to my hear is Bernie Sanders. Why? Because Bernie Sanders' agenda is my agenda."
Guests
Felix D. Arroyo, Sr., register of probate and family court for Suffolk County and former Boston City Councilor. He tweets @FelixDArroyo.
Darnell Williams, president and CEO of the Urban League of Eastern Massachusetts.
More
WBUR: Minority Supporters Make State House Pitches For Clinton, Sanders
"Both campaigns know that turning out minority voters for their candidate on March 1 could make the difference between a win and a loss."
The Boston Globe: On State House Steps, A Democratic Divide
"The dueling press conferences on the State House steps Wednesday morning, one for Hillary Clinton and one for Bernie Sanders, were, in part, about race."
This segment aired on February 17, 2016.