'Infinite Jest' 20 Years Later: David Foster Wallace's Boston
04:30
Play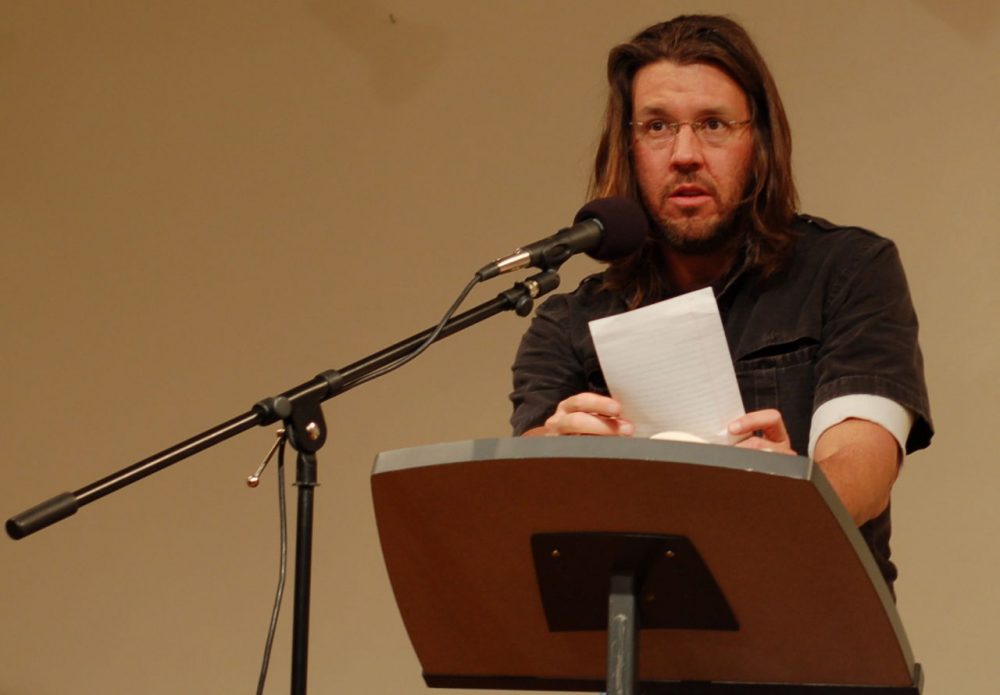 This article is more than 4 years old.
David Foster Wallace's "Infinite Jest" is a novel known for its length and difficulty, its portraits of addiction and recovery and its many, many footnotes. It is also a novel about Boston. The novel's various plots center on a halfway house and a youth tennis academy on a hill in the fictional town of Enfield. In reality, the hill is located on the border of Allston and Brighton, with "a view of ravine-weeds and the unpleasant stretch of Commonwealth Ave.," as it is described in the novel.
Bill Lattanzi helps others discover Wallace by giving informal tours of some of the local places described in "Infinite Jest." He took one of our producers on a hilly walk to see some of the sites, real and fictional, that are central to the book and to Wallace's life in Boston.
The 20th anniversary edition of "Infinite Jest" comes out Tuesday.
Guest
Bill Lattanzi, writer and filmmaker. He tweets @blattanzi.
More
Los Angeles Review of Books: Messing With Maps: Walking David Foster Wallace's Boston
"Wallace must have walked a lot, that's my conclusion. He must have walked from Inman to Harvard and Central Squares as a student and now in Brighton, walked as a recovering addict. Granada was small and stuffed with people ('too full of residents," says the book). Wallace smoked, chewed tobacco. He couldn't drink. His thoughts never stopped. He must have had to get out of there. He must have walked. In Signifying Rappers, Costello said that back in Somerville they walked as a practice. 'In 1989 humanity lacked the great and hungry search tools of today, Google, Yahoo, YouTube, Bing. But on mild Friday nights in dense-packed urban areas, we did possess another life-enlarging search engine. It was called walking.' I think he walked the streets of Allston/Brighton relentlessly. I think the rambles of Lenz and Green were built on streets he'd walk, sometimes for purpose, like walking home, and sometimes for no purpose, to amble, to think, to not think, and, most importantly, to not get high or drunk. I think he walked up the hill and around the back of Brighton High School to the top that had been flattened to make way not for an academically advanced tennis academy but for a monastery."
The New York Times: Everything About Everything: David Foster Wallace's 'Infinite Jest' At 20
"The last time I saw David Wallace, in the spring of 2008, he successfully affected artistic contentment, which I now know was the antipode of his true feelings. Nevertheless, I came away from our encounter excited about the work that was to come, which he'd briefly alluded to. He'd given us one novel of generational significance; surely he'd write the novel that helped us define what the next century would feel like. Our great loss is that he didn't. His great gift is that the world remains as Wallaceian as ever — Donald Trump, meet President Johnny Gentle — and now we're all reading his unwritten books in our heads. David, where be your gibes now? Your gambols, your songs — your flashes of merriment that were wont to set the table on a roar? They're in the books, where they've always been. Will always be. You have borne us on your back a thousand times. For you, and the joyful, despairing 'Infinite Jest,' we will roar forever amazed, forever sorrowful, forever grateful. I hope against hope you can hear us."
This segment aired on February 23, 2016.