What Can Chefs Do About Boston's Line Cook Shortage?
Play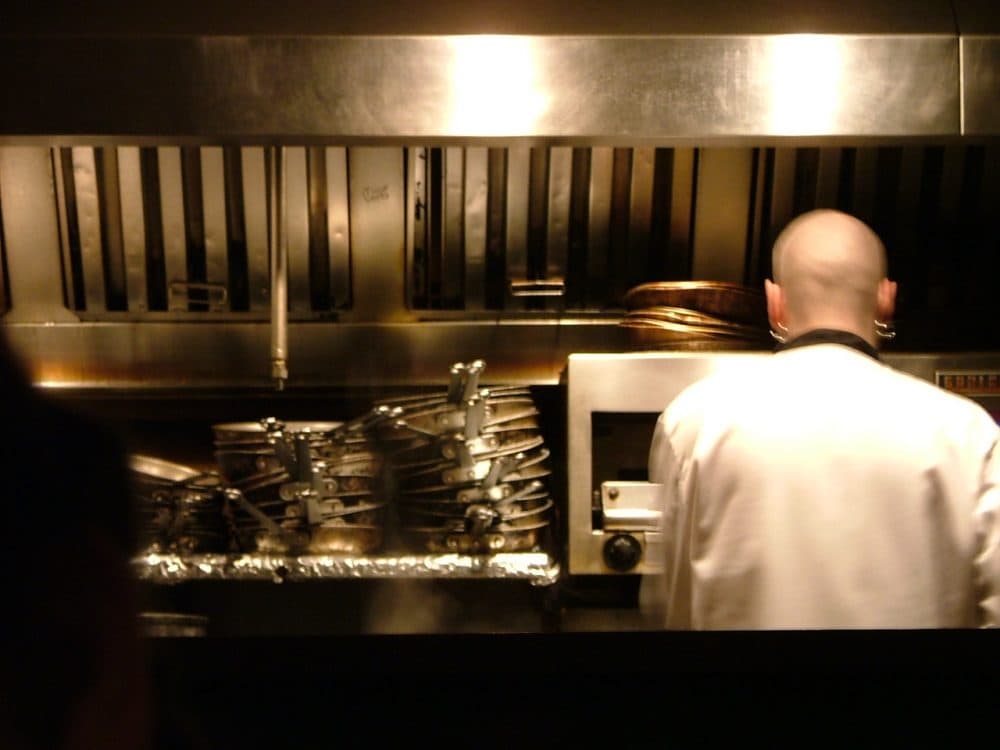 This article is more than 6 years old.
Right now, there's a serious shortage of line and prep cooks in Boston, and it's having an impact on the city's rapidly expanding restaurant scene.
Guests
Amy Traverso, senior lifestyle editor at Yankee Magazine. She tweets @amytraverso.
Michael Leviton, former chef/restaurateur of Lumiere in West Newton.
Joanne Chang, chef/owner of Flour Bakery and Myers + Chang. She tweets @jbchang.
Interview Highlights
On how big the shortage of line and prep cooks in Boston
Amy Traverso: "It's really big, in fact, I remember a couple of summers ago I was eating dinner at KO at the Shipyard, which is a really fun waterside kind of eatery in East Boston, and I was sitting next to a young man, who was working in tech, and we started chatting. And he said, 'I used to be line cook, but I wasn't making any money. I couldn't live on my salary, so I took some classes, and I learned how to code and now I'm coding. I get a call every single week from my former employers asking me to please come back on the line.' He could get a job tomorrow if he wanted to, except he's sort of found an easier lifestyle.
On the burgeoning restaurant boon in Boston
AT: "I was food editor at Boston Magazine 10 years ago, and there were months where we would scramble to come up with a restaurant to review, because there weren't enough new restaurants that merited a review. And now, I can't keep up with the number of new restaurants that are opening. ... I think a big [cause] is the real estate boom. There's two levels of the real estate question. The first one is, there's been so much development of you think of South Boston, Kendall Square, North Allston — all these areas — Fenway, where there are residential or office buildings going up, and they want that first floor restaurant space, because restaurants act as magnets. A good restaurant can create a neighborhood. So you have developers who are scrambling for a buzz-worthy restaurant. ... And then on the other side of that, you do have the high cost of housing. So you have a labor pool that's not making a lot of money. ... It's harder to live in Boston if you want to work your way up from a kitchen."
On not being able to afford line cooks
Joanne Chang: "It's always hard to find great people, but when I first started out we could always find people. And now we can't even find people. I think for a lot of the reasons that Amy mentioned. I think that the cost of housing is really high, and so the people who can afford to be here are looking for much, much higher than we can afford to pay. Again, like Amy said, I think there are so many new restaurants opening up. Every day, I open the paper and read about one of my colleagues whose opening a restaurant — which is great, but does make it hard to find qualified help.
Michael Leviton: "Five, 10 years ago, if we put out an ad, we got a stack of resumes. Over the past few years, we were lucky to get a resume. And generally those were from people who had been at four restaurants in six months. So finding talent is nearly impossible. Just finding bodies is the problem."
More
The Boston Globe: Chef Shortage Leaves Restaurants Vying For Help
"On the Fort Point Channel area's emerging restaurant scene, people like James Bourassa are in high demand. The 27-year-old line cook jumped last fall from Blue Dragon to Pastoral, where he manages the pasta and dessert station. Though he's not looking for another change, eateries are scrambling to lure workers like him, he says."
The Boston Globe: Joanne Chang Won't Rest Until Everything Is Perfect
"Chang has a no-nonsense approach to management. If something is bothering her, she says, 'I'm not going to pussyfoot around -- I'm not going to sugarcoat it.' Over the course of her career, Chang soaked up insights from Shire, Katz, Adams, and her husband. But it was Mistral's Jamie Mammano, she says, who introduced her to the 'Perfect will be just fine, thank you' approach to leadership (though she notes the line is always delivered with a smile)."
This post was updated with interview highlights at 1 p.m. on March 17.
This segment aired on March 14, 2016.