Boston School Department Faces Tough Budget Choices
12:01
Play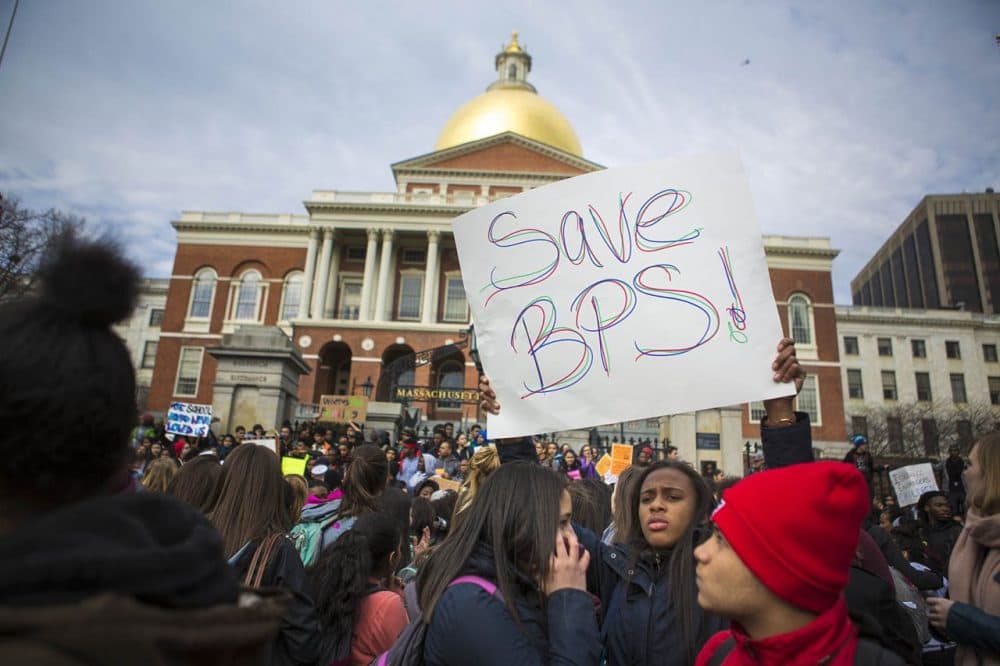 This article is more than 5 years old.
Cuts to education funding are never popular, and that's certainly true of the proposed reductions to the Boston Public School budget, which is facing a shortfall of up to $50 million next school year.
Last week, thousands of Boston High School students walked out of class to protest $10-12 million in planned budget cuts. In response, Mayor Marty Walsh decided to get the cost-savings by delaying some new programs and pulling money from other school budget items.
However, the school budget is still $13 million higher than last year. Officials have said that funding is not keeping pace with rising costs. We dive deep into the budget to better understand the numbers and long-term, structural changes that might have to be made.
Guest
Sam Tyler, president of the Boston Municipal Research Bureau. He tweets @StylerBMRB.
More
City of Boston: Boston Public Schools Operational Review
"The system is overextended with declining dollars stretched over same number of buildings and declining student count. Consolidating schools could reduce annual spend by $1.7-2.2M per school consolidated ($700K from non-teaching changes)...Right-sized system would concentrate more dollars in fewer schools, improving quality and breadth of student resources."
The Boston Globe: After Student Walkouts, Walsh Moves To Block Budget Cuts
"Instead of making significant cuts to high school budgets, the School Department will delay about $6 million in new programs and pull dollars from district-wide budget items, city officials said. In the end, high schools are expected to receive slightly more money next year, according to the officials."
Learning Lab: Boston Public School Students Stage Walkout Over Proposed Budget Cuts
"Boston Public Schools is facing an up to $50 million budget shortfall for the 2016-2017 school year. As a result, individual schools across the district are bracing to lose teaching positions, extracurricular activities, librarians, language programs and music and arts classes."
Education Week: Boston's Revamp of Teacher Hiring Sparks Gains, Costs
"(T)he pool of excessed teachers without placements has increased. The district began both of the last two school years with more than 400 teachers without positions...The excessed teachers are still involved in instructional duties, such as academic enrichment and tutoring, and they are even evaluated annually."
This segment aired on March 22, 2016.