Why Are Patriots Fans Suing The NFL For Inflicting 'Emotional Distress'?
12:00
Play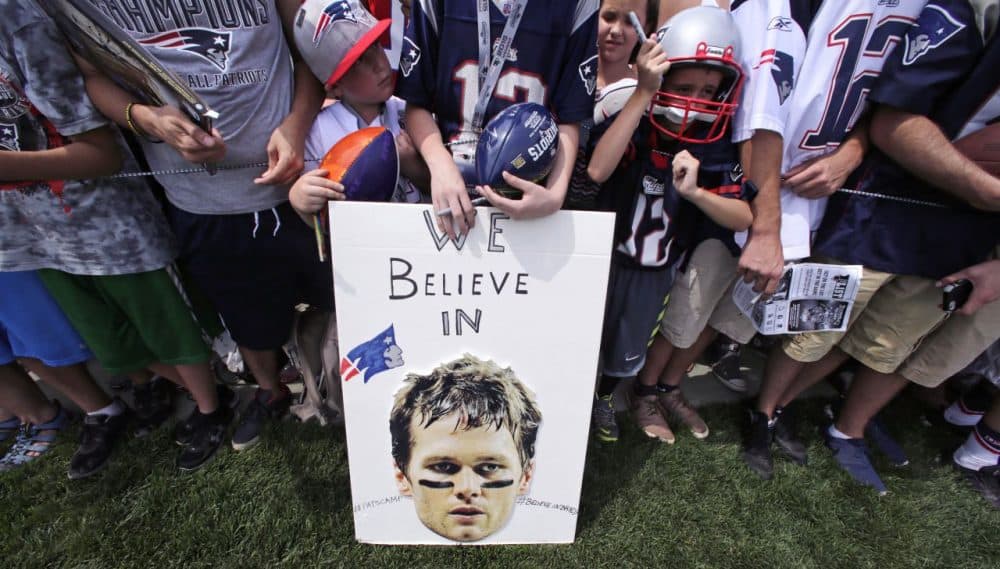 This article is more than 5 years old.
Orsatti v. NFL is a federal lawsuit that was filed in Massachusetts district court earlier this week.
"This case is brought by New England Patriots fans," reads section one of the preliminary statement of the case, "on behalf of all Patriots fans who believe the New England Patriots professional football team were harmed by the Defendants' arbitrary and capricious decision to revoke the Patriots first round draft choice," for alleged participation in a cheating scandal popularly referred to by the media as "Deflategate."
In other words, a group of fans claim that, by virtue of being fans, they've got a legal interest in the NFL restoring the Patriots' first round draft pick, that Robert Kraft and Roger Goodell have violated that interest and, in doing so, they've caused the fans extensive emotional harm, including, "embarrassment, ridicule and depression due to the rest of the country who is jealous of the Patriots 'piling on' and criticizing the Patriots and their fans for being 'cheaters.'"
Guest
Dan Lebowitz, executive director of the Center for the Study of Sport in Society at Northeastern University.
More
WBUR: Fans Want Patriots' Draft Pick Restored And Sue NFL To Make It Happen
"A group of die-hard Patriots fans went to federal court earlier this week trying to overturn the team's punishment for Deflategate."
Sports Illustrated: Patriots Fans' Deflategate Lawsuit Has Almost No Shot At Succeeding
"With the 2016 NFL draft just three weeks away, seven New England Patriots fans on Tuesday petitioned a federal court to give the Patriots their first-round pick back. The case—Orsatti v. NFL—is akin to a Hail Mary pass and will most likely be batted down by a court."
Boston Herald: Patriots Fans Sue To Get Draft Pick Back, Cite 'Emotional Distress'
"A group of New England Patriots fans are fighting in federal court to get back the draft picks their favorite team lost as part of the ongoing 'Deflategate' saga."
This segment aired on April 8, 2016.