Sports With Littlefield: Should David Ortiz Reconsider Retiring?
07:59
Play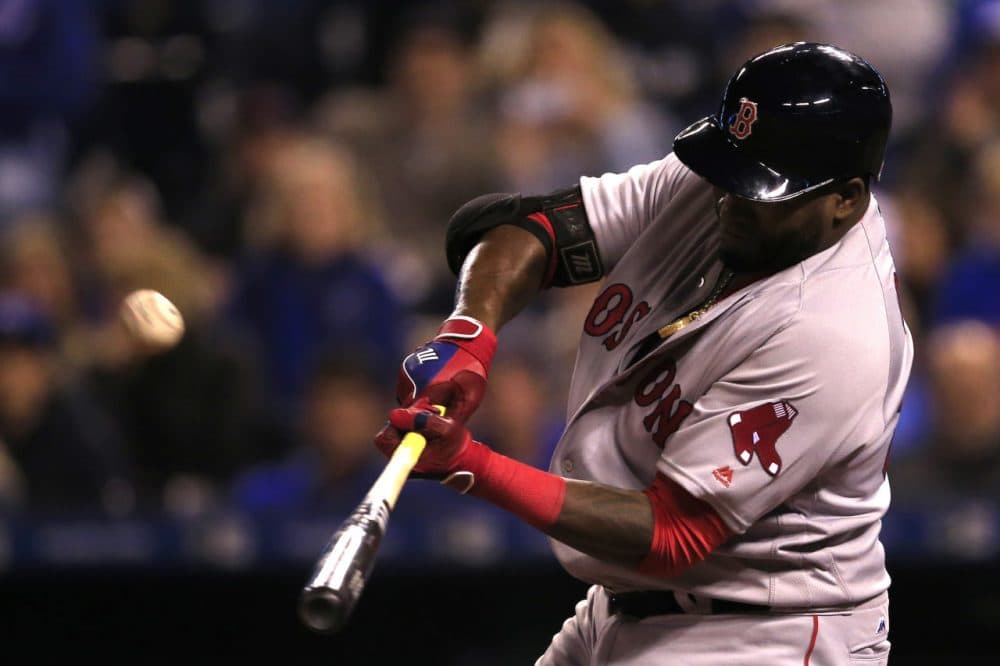 This article is more than 4 years old.
The Red Sox may have lost 8-4 Tuesday night, but the season's numbers tell the whole story: the Sox lead the American League in runs scored, team batting average and runs batted in. Xander Bogaerts and Jackie Bradley Junior respectively have the fourth and fifth best batting averages in the league. David Ortiz, 40-years-old and in what he says will be his last season in the majors, already has 10 home runs and 33 RBIs.
Where do the Sox go from here?
Guests
Bill Littlefield, host of NPR's Only A Game, which tweets @OnlyAGameNPR.
Anthony Brooks, WBUR's senior political reporter and amateur SABRmetrician. He tweets @anthonygbrooks.
More
The Washington Post: David Ortiz Should Rethink Retirement
"Here's what Ortiz stands to achieve, should he consider returning for at least another season: Tie or surpass Tony Phillips in career walks (1,319) for 40th all-time, collect his 2,500th hit, cross the plate for his 1,500th run, smack his 1,800th RBI, jettison his 550th home run, and join a group of 55 players who participated in more than 2,500 games. Ortiz has nothing left to prove to anybody. His name is heading to Cooperstown whether he retires at the end of the season or not. Boston looks to be a formidable team for years to come, though, and should he decide to stay along for the ride, Farrell would be glad to have his bat in his arsenal."
The Boston Globe: View Of Ben Cherington's Work May Require Some Revision
"When Cherington left the Red Sox following the hiring of Dave Dombrowski as president of baseball operations nine months ago, his record looked...puzzling. The World Series — achieved on the strength of a host of successful free-agent decisions in 2012-13, a winter that featured what has proven to be a terrible free-agent class across the game — seemed like an aberration amidst a run of three last-place finishes in four years. Now, a lineup comprised entirely of players who were in Boston when Cherington left (save for the addition of fourth outfielder Chris Young) is marching to a very different drumbeat. On Sunday, the Sox wrapped up a seven-game homestand in which they scored 73 runs to improve to 24-14 — the team's best opening since its 26-12 start to a championship campaign in 2007."
This segment aired on May 18, 2016.