Fluff At 100: The Sweet History Of New England's Sticky Spread
Play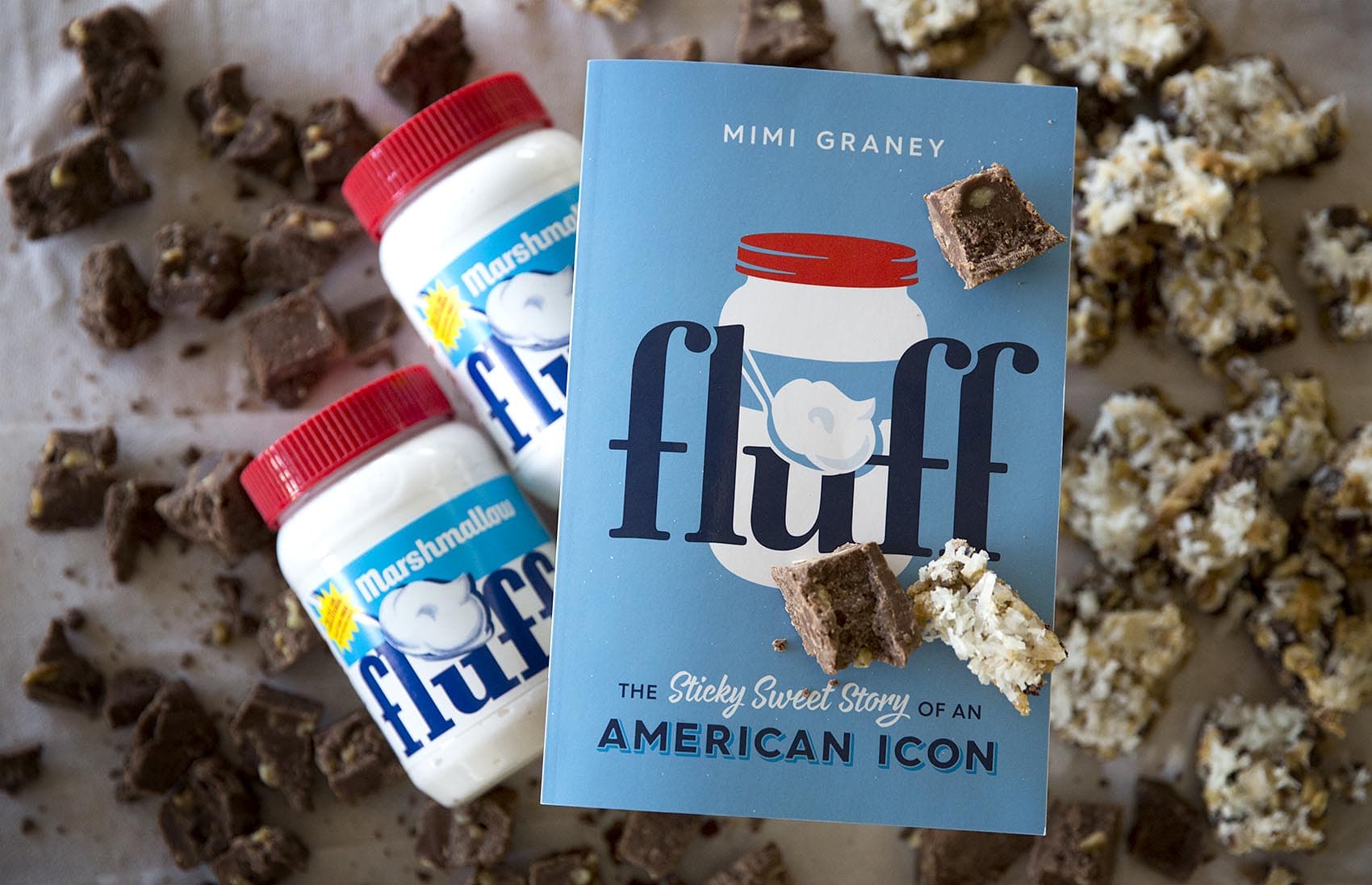 This article is more than 5 years old.
Massachusetts-made Marshmallow Fluff turns 100 this year. Mimi Graney, creator of the "What The Fluff?" festival in Somerville, joins us to talk about her new book, "Fluff: The Sticky Sweet Story Of An American Icon."
Guest
Mimi Graney, founder of the "What The Fluff?" festival in Somerville and author of the new book "Fluff: The Sticky Sweet Story Of An American Icon."
Interview Highlights
On how Marshmallow Fluff was created
"Our specific recipe of marshmallow fluff was invented by Archibald Query in 1917. He was a French Canadian confectioner who had come to live in Franklin when he was 7 and then eventually settled in Somerville and was making fluff and selling it door to door. He had a home-based kitchen. And then during World War I he had, because of sugar shortages, to shelve his product and then another company took it up Durkee Mower, who've been making it since 1920.
"... Durkee more as fluff has sort of taken over the market. People think that they are the only one, but there were a number of other ones. There was the Limpert Brothers in New Jersey, had emerged later on. When Marshmallow Fluff was looking to trademark the name, the Limpert Brothers said, we have the name of Marshmallow Fluff and they eventually came to a decision to share the trademark. But back in the 19-teens there were a number of different ones. For example, Snowflake Marshmallow Creme that was made out of Melrose and that was the biggest local competitor to us."
On where Fluffernutters come from
"That was actually Emma Curtis of Snowflake Marshmallow Creme. She had initially actually lived in Somerville — so we can claim her as our own as well — but Snowflake Marshmallow Creme, she called it a 'Liberty Sandwich.' She and her brother who ran the company were direct descendants of Paul Revere. So we're not sure whether she was naming it for their pedigree or because it was a tribute during World War I to limit your consumption of meat. So this was like a protein rich sandwich."
On the Boston area being a center for confectionery production.
"The very first commercial production of chocolate happened here in Boston with Baker's chocolate. And then because of our transportation and our cool climate, it really made it possible for confectioners to operate their businesses.
"So at the turn of the 20th century, Boston was the number one candy manufacturer in the world, with giant factories with thousand people in them dipping chocolates and make caramels and toffees and all kinds of things. And because we had a number of major innovations in Boston as well — granulated sugar was invented in Boston, the eggbeater, the electric mixer."
On the long history of marshmallow eating
"The origins of marshmallow is really from the marsh mallow plant and that root is very viscous, almost like the sliminess of okra. So back in ancient Egypt, it was mixed with honey and nuts and was food for royalty and for the gods. And then eventually it was used medicinally — so you would do that to soothe your throat and deal with coughs. And then because sugar was medicinal as well, let's add marshmallow root sap and sugar together, and apothecaries started manufacturing them as little tender pillows.
"And then they said, let's forget about the medicinal aspect — they're just delicious. So then they started making them with gelatin and they were incredibly popular. So if you think of the 1970s fondue pot, in the 1920s it was marshmallow toasting parties. The flappers would get together and have toasting parties."
On her favorite way to enjoy fluff
"A big mug of hot chocolate with a spoon of fluff that just sort of melts. As a kid, the hot chocolate was a delivery device for the fluff."
On the company's independence
"Part of why fluff owns the market now is because Kraft bought up a lot of those small businesses that were all those other marshmallow cream companies across the country. [Kraft] bought them out, shut them down, to claim their market share for themselves — for Kraft Marshmallow Cream.
"But in the 1960s, they realized there really wasn't enough money to be made in marshmallow cream and stopped making, sold off that division. But then ... they purchased it accidentally back, so Jet Puffed Marshall Creme is a Kraft product, but they kind of don't market it with the same enthusiasm."
On fluff in space
"[Astronaut Sonny Williams] makes a fluffernutter before every one of her spacewalks. So she's got the record for number of spacewalks and I attribute that to the power of fluff because she can't have crumbs in outer space from slices of bread. She puts it on a tortilla and has it every time."
This article was originally published on March 03, 2017.
This segment aired on March 3, 2017.