Michelle Obama's Speechwriter On Words And Leadership
16:40
Play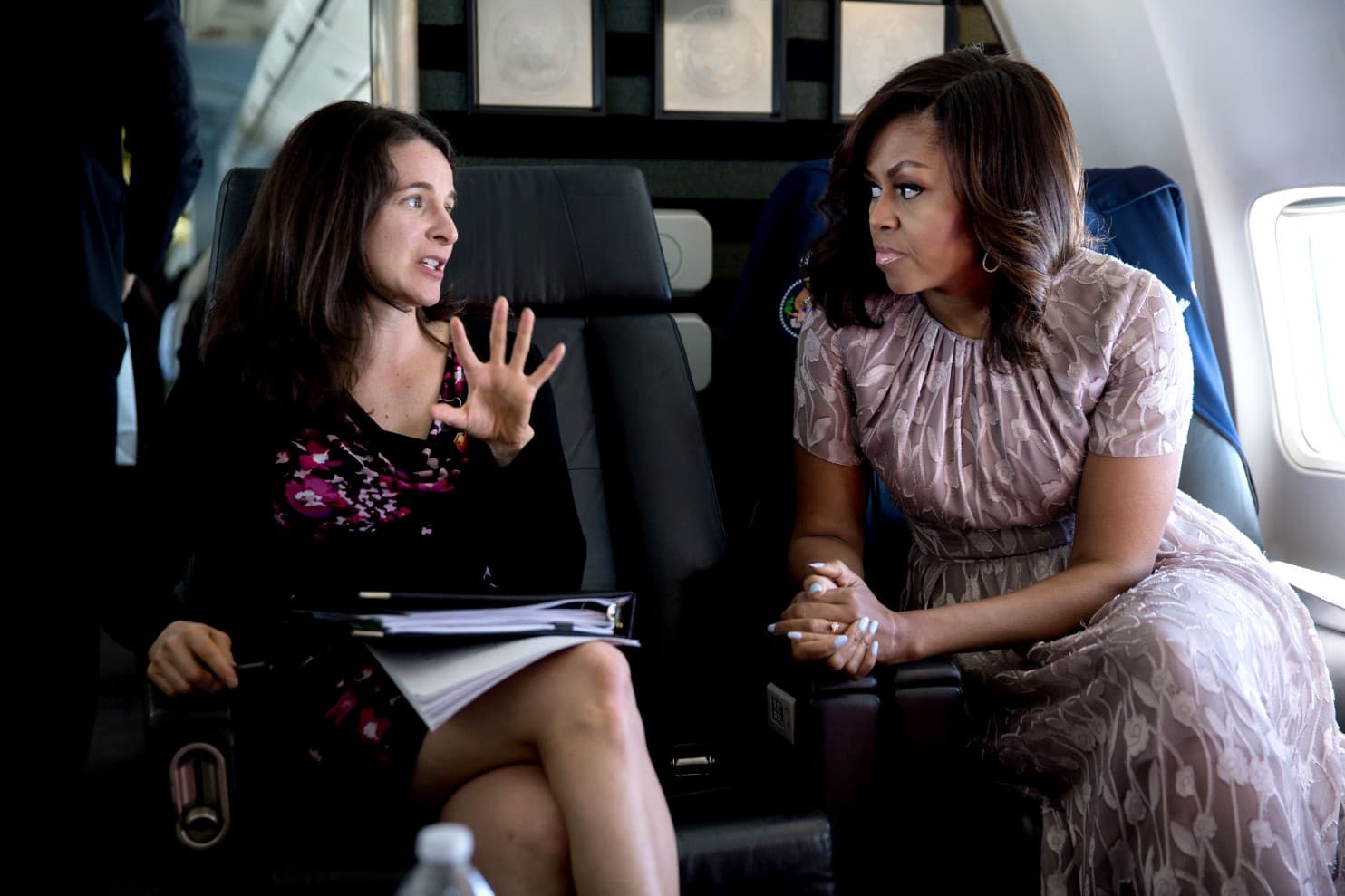 Back at the 2008 Democratic Convention in Denver, Michelle Obama introduced herself to the American people. She told the crowd the emotional story of her upbringing, and touched on some of her and her husband's values.
"That your word is your bond, that you do what you say you're going to," Obama said. "That you treat people with dignity and respect even if you don't know them and even if you don't agree with them."
Michelle Obama worked on that speech with a team of writers, including Wayland native Sarah Hurwitz.
Hurwitz served as the chief speechwriter for the former first lady until the beginning of this year. And during the Democratic primary in 2007, she was the chief speechwriter for Hillary Clinton.
She's now a fellow at the Harvard Institute of Politics and will be speaking this week about using words to lead at the Women's Leadership Forum in Boston.
Guest
Sarah Hurwitz is a fellow at Harvard's Institute of Politics. She served as the chief speechwriter for former First Lady Michelle Obama until the beginning of this year. She'll be speaking on Thursday at the Women's Leadership Forum.
Interview Highlights
On the criticism that Hillary Clinton was unable to connect to audiences
"I think that there were a lot of moments where Hillary really connected with people, where she really resonated ... I think we've maybe lost sight of the fact that 3 million more people voted for Hillary than for Donald Trump … There's something that [Hillary] said in her Democratic convention speech in 2016 … what she said was, 'I spent a career in public service and I'm more comfortable with the service part of that than the public part of that' and I think that, you know, what she was saying was, you know, 'I'm not a show woman ... I'm a true public servant.' "
On the speech writing process with Michelle Obama
"Mrs. Obama ... is a woman who knows who she is and she always knows what she wants to say … A key part of the process is just sitting down with her and saying 'so what do you want to say' and she will just lay it out in no uncertain terms ... she'll lay out the points she wants to make, she'll lay out the themes she wants to drive home, she will lay out paragraphs and paragraphs of really vivid, fresh, moving language.
"I will tell you one of the most valuable assets I had as a speechwriter for her was the ability to type quickly. Very important because, you know, I would really try to take a transcript of what she was saying because she just she like President Obama is truly her own best speechwriter. They just don't have time to sit around writing speeches. So our job is really to channel as much of their voice as possible."
On advice for speakers and speechwriters
"I think the most important piece of advice I can give to any speaker is just to say something true … You know the first most important question should be what is the deepest most important truth that I can tell at this particular moment. I also just advise people just talk like a person."
On the rhetoric of President Trump
"It does suggest that people are ... tired and disillusioned with these kind of bland, poll-tested soundbites. I think that there might be some confusion about kind of mistaking rhetoric that sounds authentic and that sounds genuine with rhetoric that's honest. And I think that what we've seen is that you know Donald Trump tends to say things that are patently untrue.
"What troubles me is that ... if you look back at … the speeches of presidents of both parties in recent memory, you see presidents who really are calling us to our highest aspirations. You know they're calling us to courage and to optimism and to hope and to compassion. I think George W. Bush's first inaugural address is a really great example ... I think what we're hearing today is something different. I think we're being called to fear to blame it to anger to obedience. And I just, you know, I don't think those are American values and I don't think they ever will be."
On her reaction to accusations against Melania Trump for plagiarizing Michelle Obama
"My first reaction was just 'Oh my goodness, this is every speechwriter's worst nightmare.' And, you know, my second reaction was just a feeling of overwhelming gratitude because on the Obama campaign and in the Obama White House we had a very very rigorous fact checking apparatus."
This segment aired on March 14, 2017.