WBUR Poll: In Small Central Mass. Towns, Baker Gets Stronger Support From Democrats
Play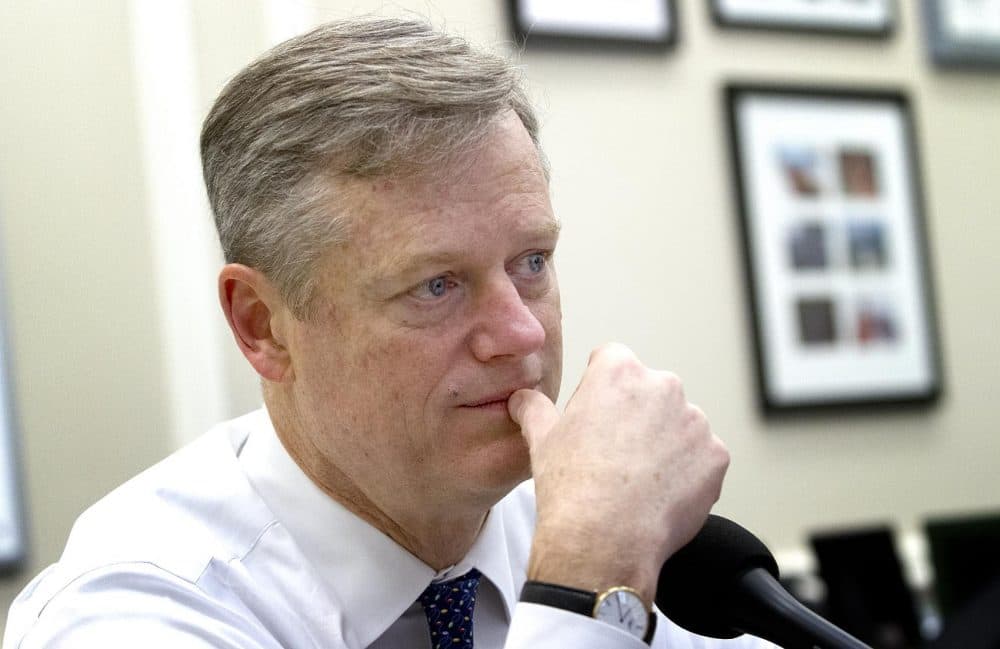 This article is more than 5 years old.
In a line of small central Massachusetts towns that voted for President Trump, Gov. Charlie Baker is popular. Though a new WBUR poll (topline results | crosstabs) finds he's even more popular among registered Democrats than his fellow registered Republicans.
Overall, Baker is viewed favorably by 65 percent of those surveyed in the communities, compared with 13 percent who view him unfavorably.
And among this thin slice of the Massachusetts electorate, 71 percent of Democrats have a favorable view of Baker, compared with 65 percent of Republicans who view him favorably.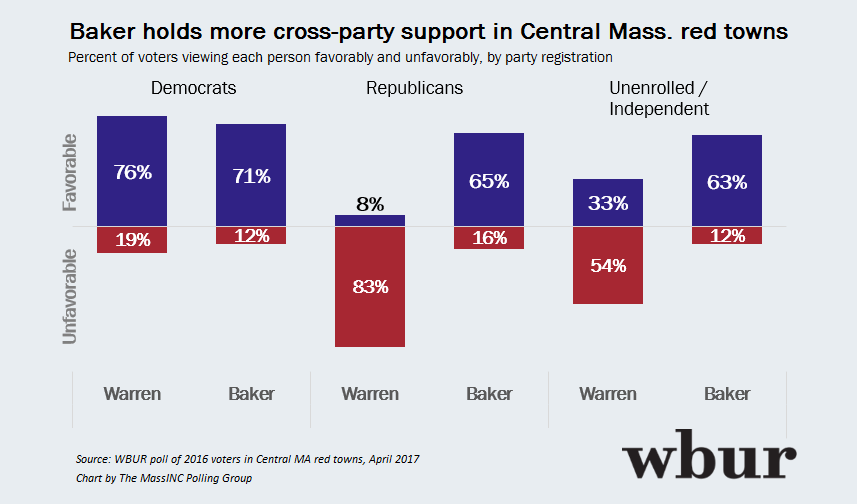 The strong overall views of Baker are not new. A Morning Consult survey released this week found him to be the most popular governor in the country.
Approval in this Republican area of the state is unsurprisingly lower for Democratic U.S. Sen. Elizabeth Warren. She's viewed favorably by 39 percent of voters, and 50 percent view her unfavorably.
And unlike Baker, Warren's numbers in these towns clearly break down along partisan lines. Seventy-six percent of Democrats view her favorably, while just 8 percent of Republicans feel the same way.
Forty-six percent of respondents think Warren has been too critical of President Trump.
The survey was done in conjunction with our series on the "red line" running north to south through central Massachusetts. The poll found a strong majority of Trump voters in these towns have so far stood by the president.
A majority of voters surveyed were registered as unenrolled; that's true at the state level as well. A plurality of voters in these towns said they supported Trump in November.
Conducted from Friday through Sunday, the live telephone poll surveyed 501 voters in selected central Massachusetts communities. It has a margin of error of 4.4 percentage points.
Poll recap written by Benjamin Swasey. Series reporter Anthony Brooks joined Radio Boston to discuss the poll and the series. Listen to the segment atop this post.
Guest
Anthony Brooks, WBUR senior political reporter. He tweets @anthonygbrooks.
This segment aired on April 13, 2017.