Chuck Hagel, Rep. Lynch Respond To Comey Memo Revelations
27:00
Play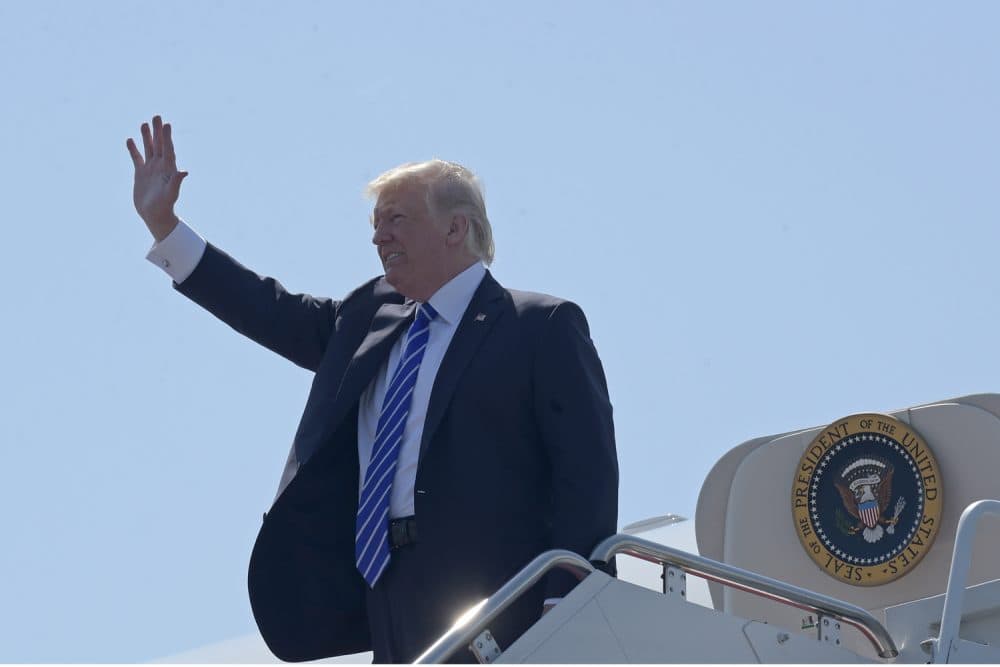 This article is more than 4 years old.
Washington, D.C., is at a virtual standstill after reports that the president privately asked former FBI Director James Comey to drop investigations into former National Security Adviser Michael Flynn.
The White House and Congress are struggling to deal with the fallout from the latest revelation about the Trump administration.
The Senate Judiciary Committee has sent a letter to the FBI and the White House, asking for the memos by Comey and any tapes of related Oval Office conversations, if they exist. The committee wants the tapes by next Wednesday.
Meanwhile, Trump was in New London, Connecticut, giving the commencement address to the U.S. Coast Guard Academy. The president made no specific mention of the current controversies engulfing his White House but criticized the way his administration has been treated.
"Look at the way I've been treated lately, especially by the media. No politician in history, and I say this with great surety, has been treated worse or more unfairly," Trump said.
Guests
Ed O'Keefe, congressional reporter for The Washington Post. He tweets @edatpost.
Chuck Hagel, who served as secretary of defense under President Obama and was a Republican United States senator from Nebraska from 1997-2009.
Stephen Lynch, congressman serving the 8th district of Massachusetts. He tweets @RepStephenLynch.
Interview Highlights With Hagel
On impact of the scandal on the White House's ability to govern
"... They affect our international relationships, they affect our ability to govern. We're paralyzed, completely paralyzed. When you get into one of these situations what happens in the White House [...] there is no energy, resource, services, for anything other than basic survival. …All the things the president talked about and got elected on essentially are gone.
"The other piece of that is the political piece, at the same time you see the fraying [...] of his own political party base. He can't govern that way. Something is going to have to happen here and I don't know how this ends but probably it does not end well."
If the abundance of leaks from Washington signals a government in crisis
"The one constant I have seen throughout my life is [...] this country is made up of very patriotic Americans who believe in their country, in each other and the system. You can't shut them out. We have a system that allows us the outlets to do this and you can minimize that or you can criminalize that or you can say it's unpatriotic or disloyal but you take an oath of office to the Constitution of the United States. You don't take it to a president or to a party. When people feel something bad is going on and it's clandestine, and it's wrong, and it's dishonest, you will find gushers of leaks."
On whether this will have an impact on our democratic institutions
"Our institutions will weather any individual or group of individuals and I truly believe that. That's first. [...] In many ways will come down to [...] Who do you trust? Do you trust the president or Comey on this. What's going to have to happen to is Comey is going to have to produce through subpoena or some way some evidence that proves what his associate have claimed. We are a nation of laws, we are fact based. You can have the politics of it and all the rest of that goes into it, it certainly is imperfect. But, in the end, we have a system that's based on those realities, those facts. I will always bet on the Constitution, the structure of the Constitution, [...] and the very fiber of the American people to get through this and do the right thing.
"I think we're in for a bumpy time here for a while. This is all going on at a time in the world that is volatile and uncertain as we've seen since World War II. [...] That's a world that depends on steady, wise American leadership that people can count on. [...] People have the confidence in knowing and the trust in knowing the United States is steady and most of the time does the right thing. I'm not sure they have they have that feeling about our country today."
This segment aired on May 17, 2017.