Report Finds Inequalities In Boston Public School Assignment System
11:34
Play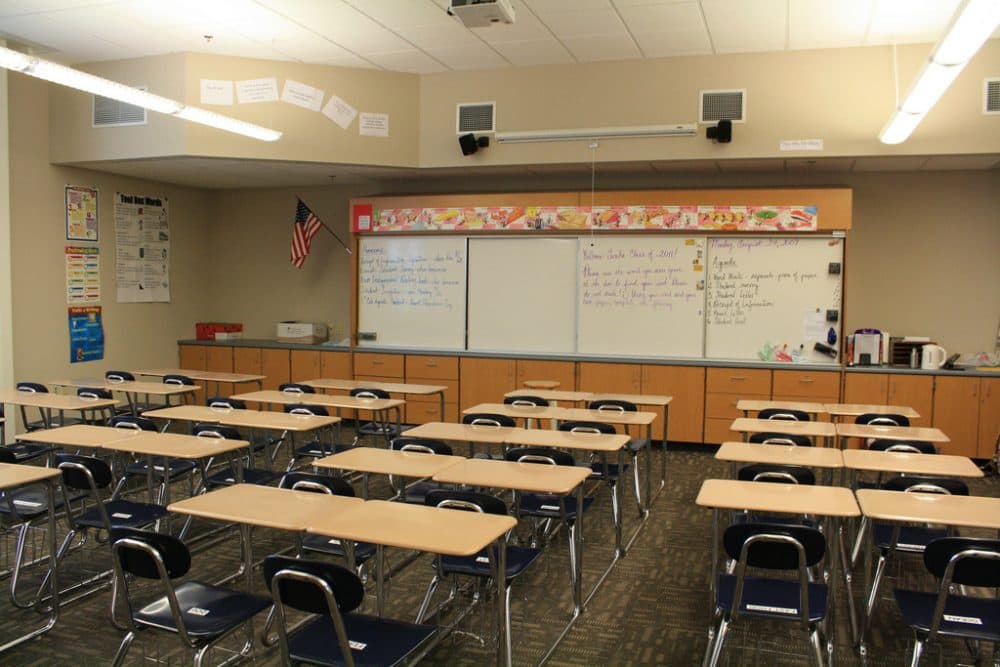 This article is more than 4 years old.
Four years ago, Boston Public Schools began using a computerized school assignment system. The algorithm was intended to reduce segregation in the city's school system, and give more minority students access to higher quality schools. But a report released earlier this week found that didn't happen.
The report, conducted by the Boston Area Research Initiative, found that Boston's algorithm for assigning students to schools is restricting access to high-quality schools for many minority students, and that high-quality schools are disproportionately grouped in the city's historically white neighborhoods. The findings are reflective of the racial and socioeconomic segregation evident in the city's geography.
The maps below illustrate the following:
The geographic distribution of BPS students of different races:


2. The location, tier level and capacity of all kindergartens in Boston:

3. The location, tier level and capacity of all 6th grades in Boston:

Guests
Dan O'Brien, associate professor at Northeastern University and co-director of the Boston Area Research Initiative (BARI).
Kevin Murray, member of parent organization Quality Education for Every Student (QUEST).
Interview Highlights
On what the report's findings mean to parents
Kevin Murray: "The extremes were somewhat surprising, even for us. And my reading of the report is that there are ways in which this new system has made things ... noticeably worse. Part of the report talks about the increasing segregation at the kindergarten and early grade level in certain neighborhoods of the city. This is a very concerning trend, because those trends will move through the system. As those kindergartners become second, third and fourth graders, those classes are not going to become more diverse. They're going to continue to be as segregated or more segregated as they as kindergartners."
On how Boston's existing segregation contributes to education inequality
Dan O'Brien: "The city is de facto segregated, so if you're going to have people going to school closer to home, you're inevitably going to start to separate by race, by socioeconomic status across schools. And I think there has to be a really serious conversation among the Boston Public School community; what is the balance there? Because we also know parents do — and during the process that was spoken about in 2012, parents said "We want to go closer to home, we don't want to get bused across the city, that's not necessarily always equivalent to quality for us."
On how to improve school assignment in Boston 
KM: The MIT people that put together this algorithm were very clear: There is no technical barrier to equitable assignment system. We can create a system in which every student, whether they're in Mattapan or the North End, has equal access to the quality seats that exist. That's a mathematical problem, and one thing MIT people and Northeastern people can do is solve those mathematical problems. The question was, is the city of Boston ready to address the political challenges, the social challenges that that implies.
The assumption is that families like mine are going to withdraw from the system if everybody has equal access to the good seats. That's never been tested. I know hundreds of families that would not withdraw in the face of an equitable system — there probably are some that would. But I think we need to flip this thing and call our system an equity-based school assignment system, and follow that name where it takes us.
DO: "Scholars, data technicians and scientists like those at BARI and other places, we can try to build a more equitable algorithm and we made recommendations on how to do that, but I think the other problem is ... the inequitable distribution of quality schools across the geography of the city. If people would like to go to school closer to home and they're giving them a trade-off there, giving them access to a great school that's two miles away might not be attractive ... we need to be having those two conversations simultaneously, rather than just arguing about the policy on one end and the quality on the other end, they go hand-in-hand."
This segment aired on July 19, 2018.