Kevin Bright, Executive Producer Of 'Friends' And Emerson Alum, On The Show's 25th Anniversary
Play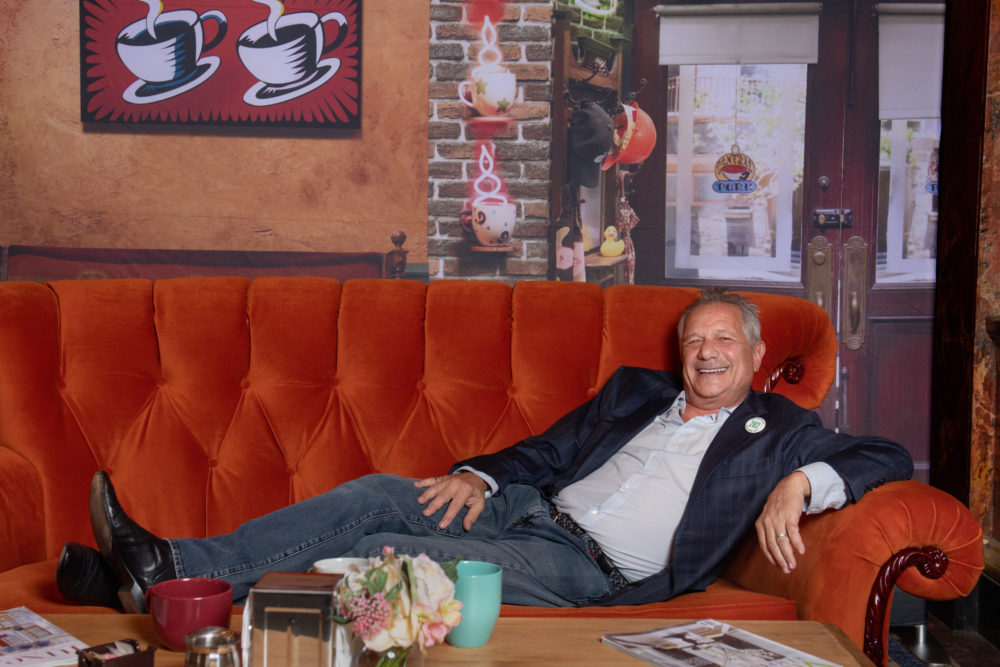 This article is more than 3 years old.
This week marks 25 years since the premiere of the television show "Friends."
Kevin Bright was executive producer and directed 60 episodes of the show. Bright, an alum of Emerson College, also lives part of the year in Boston.
While sitting on a replica of the Central Perk couch at the Cutler Majestic Theater, Radio Boston spoke with Bright about his reflections on the show.
Interview Highlights
On the one with the televised lesbian wedding 
"If we were to do that today, for the first time, and one hadn't been done yet, it would be a very different reaction. What was interesting about the time we did it, it was all about Ross's situation. That his ex-wife was making it official with her lesbian lover. That's the story that 'Friends' fans were invested in. Not 'Oh my God, two women are getting married on television, the world is going to hell in a handbasket.' "
On how they remained focused on the experiences of the six characters 
"I think that was able to happen because the show never really took a political point of view. We weren't about looking at current events. I mean, even after 9/11 happened we subtlety acknowledged it within the set in several different ways, we had an audience come in from New York and see the show that week. But, we didn't make it like all of the friends are bummed out because 9/11 just happened."
On the perception of "Friends" as a very white show 
"It's very difficult to look at something that was made 25 years ago through today's lens. So much has changed. But, in terms of the race question, at least, it wasn't something people were really commenting on being wrong with the show. It wasn't like there was something missing. But, it was something to criticize the show. It was mainly comedians making jokes about what was the content of the show.
"I think if we were doing it through today's lens, I think we would be making a greater effort to have greater inclusively on the show and in the casting."
On how we would characterize the set of the show and Hollywood 25 years ago: 
"During the time we were making 'Friends,' Hollywood was a pretty touchy-feely place. And not in a creepy way, but ... if you do a show for 10 years and literally you're spending more time with these people than you're spending with your family, they become like your family. So, the characterization of some of the touchy-feely stuff being just, you know, overboard and imposed by men — you know, that wasn't our set, at least. Anyhow, I think that today, everything is different.
"I posed for pictures [this week] with a bunch of students and, yeah I did, in my mind, think about 'OK, do I put my arms around them? Is it around the shoulders? Around the waist? Keep them at my side?' You know, these things are important and people's feelings are always important and if somebody said to me 'Yeah, I don't like your hand there.' I wouldn't have a problem [with] that whatsoever.
"But, you know, I am going to be 65 in November and I've been a certain way for my entire life. I consider that to be just warm and embracing and if it offends anybody then I'll immediately be aware of it and never do that again."
On what "Friends" would look in 2019
"I would think there are many things we would have to do differently if we were making this show today. You know, just imagining them sitting in the coffee shop and being preoccupied with their phones just puts a very dismal vision of the show. I think maybe it is a show of its time and maybe that's what people continue to grab on to with it — is just that you want that human contact."
On where he sees the influence of "Friends" on television now
"You saw influence in shows like 'How I Met Your Mother,' 'Big Bang Theory.' But, television has gotten so much bolder. The palette available for stories now is so much broader. We had to fight in one of the episodes to have a condom in one of the actors hands ... and look where we are now. I think some of the things we did by pushing gently on the envelope, have now blown the envelope open."
This segment aired on September 26, 2019.