She Says A Turkey Saved Her Thanksgiving When She Fell On Hard Times. Now She Helps Others Fill Their Tables
Resume
Every year, social service organizations around Boston give away thousands of turkeys to help families fill their holiday tables.
Daphne Lopes says she received her first turkey two years ago from Catholic Charities, when money was too tight to buy the bird herself. She now dedicates herself to helping others receive a full Thanksgiving meal.
Interview Highlights
On receiving her first turkey
"From my community, we are people that are prideful — especially moms — on making sure that two holidays of the year, our babies are served and our families are served. The first one being Thanksgiving; the second one being Christmas. So I've always found a way to scrape something here, pull something there to pull it together. Two years ago I just could not do it ... and I found out my pride was keeping me from actually helping my family."
On what volunteering means to her
"I did meet an older Hispanic lady [last year], and she was very grateful for the opportunity of getting the turkey. ... She told me thank you, that she had come out the year before, she was not able to get a turkey, and she went and she had dog food for her Thanksgiving meal. ... Things like that hurt my heart, which is what makes me go out there on Saturday, and go out there on Friday, and just serve as many people [as I can]. If they're happy on Thanksgiving and they have a turkey on their table, then I'm blessed."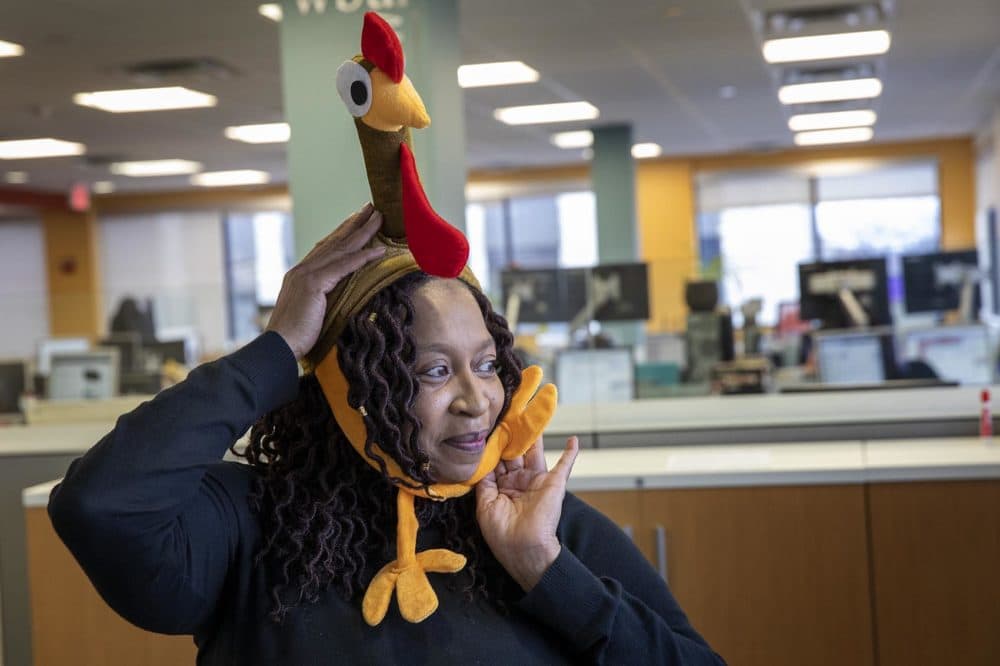 On misconceptions of charity
"I think people think [that people who receive a turkey] are lazy, that they don't care, that they're just looking for something free ... but the people I have encountered are people that are just having monetary issues, have lost jobs, with the economy and the political climate we have ... or have mental health issues that are out there and this is the only way they know to get a meal. So people need to understand that although you may have one thought, there is a human side to it."
On what Thanksgiving means to her
"That [turkey] is what brings the family together. That is the most expensive part of the meal for most families. So if you can get that part donated — then the rest of the family can get together ... everyone is fellowshipping, everyone is getting together, everyone is laughing and it just makes everyone reconnect. We learn from the elders when we're there, we try to empower the young ones when we're there — so it's the one time of the year where, 'Each one, teach one. Each one, loves one.'"
For information on receiving a Thanksgiving turkey, meals over the holidays, or to volunteer, some places you can visit include Catholic Charities', the Salvation Army, United Way, or Rosie's Place. 
This segment aired on November 22, 2019.