Unpacking The Power Of Gospel With Trey McLaughlin & The Sounds Of Zamar
Resume
We unpack the power of gospel music and hear an in-studio performance from Trey McLaughlin & The Sounds of Zamar, a music group from Augusta, Georgia. They stopped by Studio 3 while in town as part of the Celebrity Series of Boston.
Interview Highlights
On how gospel can help Boston and New England confront its historic relationship with slavery
"The creative arts have a way of bringing things or putting things in front of us that we can easily avoid in our day to day. And I do think that hearing this music, hearing the way that we express it and the way that it makes our audience feel, I think that it will definitely bring people to an awareness in general of our history, of culturally where we've come from, and the things that have been endured."
On how to engage non-religious people with gospel music
"That's one of the things I love about doing what I do with [Sounds of Zamar], because it is for people of our same faith, it is for people of our same belief system, of course. But it's also for people who may not necessarily believe the same things that we believe, but who are looking for an experience or who are looking to come together, who are looking for unity. We want those people to be able to enjoy our music as well, because technically, for our faith, for our belief system, we are here to engage all people."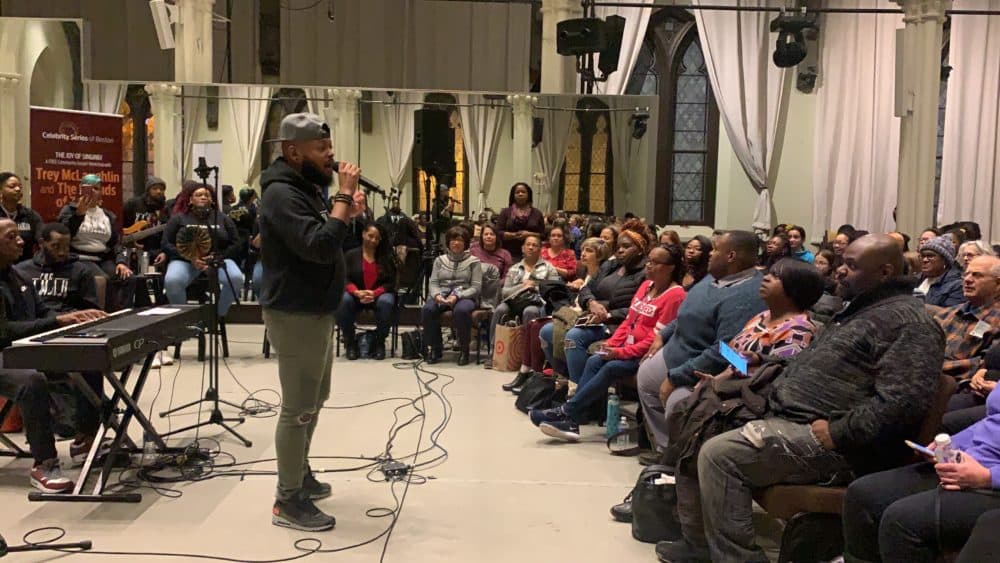 On the importance of community in gospel music
"Community is the most important thing. That has always been the goal of music for African Americans, because that's been the goal of music for Africans. The community is there. The community is singing. It's not a performance. It is a community activity. And I think that we brought that same mentality here with us. So even as the slaves sung, they sung slave songs or work songs in the fields, it was about community, it was about unity. And sometimes they didn't even come from the same tribes, they didn't even speak the same languages. Music is transcendent, and I think community has always been the goal, even before we knew the sacred text. ... To actually join in and not just watch it transcends us. It takes us to another place. I think it's another level of connection."
Listen to an extended version of Sounds of Zamar's in-studio performance:
This article was originally published on February 04, 2020.
This segment aired on February 4, 2020.