Boston Homeless Shelters Hope Re-Opening Of Newton Pavilion Will Improve Care For Coronavirus
Play
This article is more than 3 years old.
Gov. Charlie Baker said Thursday that the state will provide additional services to the Boston homeless population by re-opening the former Newton Pavilion health care center at Boston Medical Center.
People who are experiencing homelessness are especially vulnerable to the coronavirus, in part because those who are at shelters stay in close quarters.
Governor Baker said the re-opening is in partnership with Boston Medical Center, Boston Health Care for the Homeless, a number of area shelters, and the city's COVID-19 response team.
One of the partner shelters is Pine Street Inn, which is overseen by president and executive director Lyndia Downie. Downie told Radio Boston that the decision will relieve some of the burden on shelters in the city.
"Newton Pavilion, in particular, will be used, we hope, for quarantine and for people who are homeless who don't require hospital-level care, but require some care and can't be cared for at home because they don't have a home," said Downie.
Radio Boston spoke with Downie about her biggest concerns going forward.
Interview Highlights
 On how badly more spaces — like Newton Pavillion — are needed:
"It's still relatively cold at night. The city of Boston is still in winter overflow, which means all of our beds in the city are full... Then, we also have cots and mats in our lobbies, both we do and the city shelter does. That means in our men's inn, there's over 400 men sleeping there every single night. We can't do the kind of distance and the beds we like without turning people away — and we don't want to do that.
[Newton Pavillion] will provide an enormous relief in terms of getting people out and getting the crowd into a manageable level where we can do some distancing between beds [and] where we can do some more distancing at dinner time."
On the one resident at Pine Street Inn who has tested positive for the coronavirus: 
"We do have a long term guest who tested positive. He is in the hospital at the moment and we have been doing contact tracing... of our staff who had sustained contact with that person as well as any other guests who had sustained contact."
On the unique challenges of being homeless during this public health crisis: a time when everyone is being encouraged to stay home: 
"It's complicated when you're homeless... If these people had a place to go, we would say 'Go home and self-quarantine for 14 days, and if you get any symptoms: call your primary care provider.' That's not an option for the people we serve. We are working with Boston Health Care for the Homeless to help them quarantine and the medical tent down on Southampton Street [in Boston.] But the reason we're looking for other buildings is because we know that there will be more cases."
[We also] have many people with underlying medical conditions. In fact, in some cases, people are with us because... they had a medical crisis and lost their job and ended up homeless... What is different is the people we're working with have no other options. They can't self-quarantine... They don't have access all day, every day to hand-washing [and] basic sanitation. So their options are really, really limited."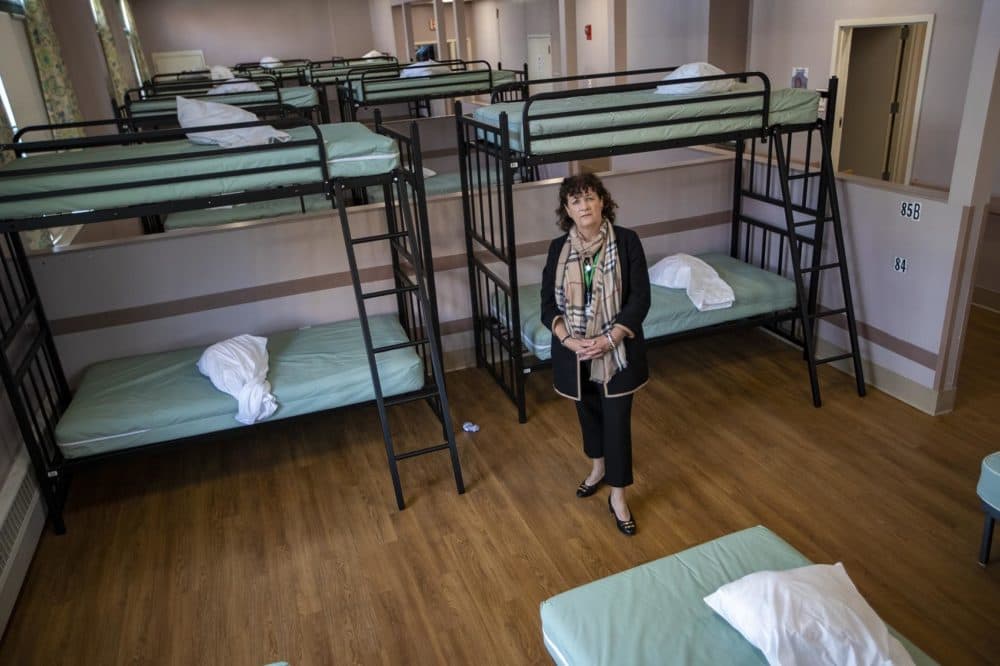 On her worries about the rising unemployment rate in Massachusetts, after nearly 148,000 Massachusetts residents applied for unemployment last week: 
"Many people who are staying with us are working in restaurants. They're working in [the] gig economy... If they lose their job, they're not going to be able to save the money to get out of shelter, which is going to again back us up. I do expect for people who were on the edge and one paycheck away, it's not going to take much... and as good of a job, as everybody can do on getting unemployment checks in people's hands, that's going to take some time given the volume — the ripple effect.
If your landlord will give you a pass for a few months, great. If not, you know, it could drive more people into homelessness. But I have to tell you, right now in Boston, we are full and we don't have [the] additional capacity yet — if more people show up."
On how guests of Pine Street Inn are coping with the crisis so far:
"This will not be a virus of equity. The poorest people will get hit the hardest because they always get hit the hardest because they were already in a very tough situation, to begin with. I would say people are very anxious. People are nervous. I think people's mental health is on a fine thread at the moment. I think people feel cooped up... Having said that, the guests, as always, rise to the occasion and I think they're doing the best they can...
It's a very tough situation. It was tough before this. This is just going to be decimating for some of our guests."
This segment aired on March 26, 2020.