Quarantine Chronicles: Paris Alston
Resume
We're living in a new world now, with so many of us working from home and all of us isolating. That's true for the Radio Boston team, too. One thing we're doing to stay connected is telling stories of how we're passing the time. Radio Boston producer Paris Alston tells us how she's been making it work while working from home - including trying one of her mother's cake recipes.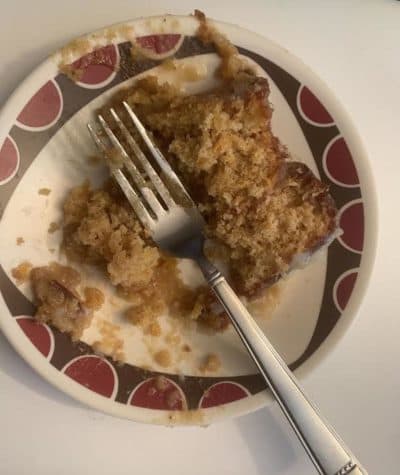 Sweet Potato Layer Cake with Coconut Filling
1-1/2 cups vegetable or canola oil
 1/4 teaspoon salt
2 cups sugar
1 teaspoon cinnamon
4 eggs separated
1 teaspoon nutmeg
4 Tablespoons hot water
1-1/2 cups grated raw sweet potatoes
2-1/2 cups all purpose or cake flour
1 cup chopped pecan
3 teaspoons baking powder
1 teaspoon vanilla extract
1 cup chopped pecans
1 teaspoon vanilla extract
Combine oil and sugar in a large mixing bowl and beat until smooth. Add egg yolks and beat well. Stir in hot water. Combine dry ingredients and sift together; blend into sugar mixture, continuing to mix thoroughly. Stir in potatoes, pecans and vanilla. Beat egg whites until stiff peaks form; fold into batter.
Spoon mixture into three greased 8-inch cake pans. Bake at 350 degrees for 25 to 30 minutes. Remove from pans; cool and spread Coconut Filling between layers and on top and sides of cake. Garnish with whole pecans if desired.
Coconut Filling
1 (12-ounce) can evaporated milk
1 cup sugar
1/2 cup butter
3 Tablespoons flour
1 teaspoon vanilla extract
1 package shredded coconut
Combine milk, sugar, butter, flour and vanilla in a saucepan. Cook, stirring constantly, over medium heat; stir in coconut. Beat until thickened and cooled. (Watch frosting carefully so it doesn't burn at the bottom.)
*Optional: Add more flour or an egg if frosting isn't thickening enough.
This segment aired on April 13, 2020.