District Attorney Rollins Says Killing Of George Floyd Set Law Enforcement 'Back 50 Years'
Play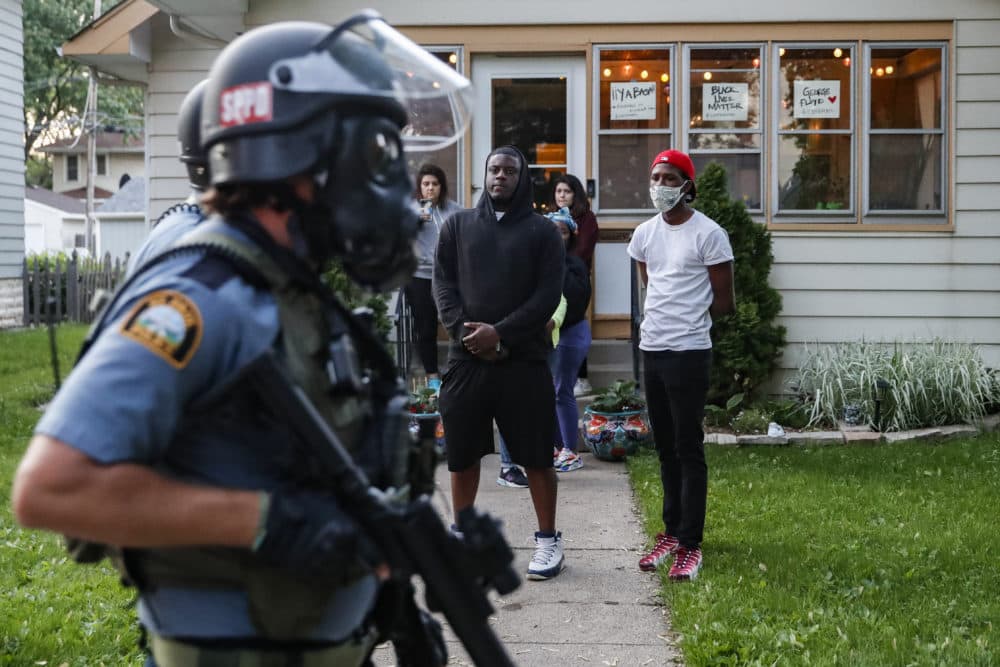 This article is more than 2 years old.
Suffolk County District Attorney Rachael Rollins said she is feeling profound sadness and rage after the death of George Floyd.
Floyd, a 46-year-old black man, died in police custody in Minneapolis. His arresting officer, Derek Chauvin, was recorded kneeling on his neck for over eight minutes.
The incident incited national outrage and led to three nights of protests and demonstrations in Minneapolis, some of which turned violent. Peaceful protests have also taken place in solidarity all over the country, including in Massachusetts.
Chauvin, who was fired after Floyd's death, was charged with third-degree murder and manslaughter on Friday. Three other also-fired officers involved in the incident are under investigation.
"In that eight minutes .. [Chauvin] tried, convicted, sentenced and executed George Floyd," Rollins told Radio Boston. "He set back law enforcement at least 50 years."
Rollins said that the crisis that erupted in Minneapolis could happen anywhere, including in Boston.
"There is fear everywhere as a result of the fact that the police are the only branch of our government that has the ability to kill you without any oversight in a split second," Rollins said.
She also spoke with Radio Boston about the important role district attorneys play in these incidents. The following excerpts have been lightly edited for clarity.
Interview Highlights
On the role of district attorneys, as prosecutors decide when and whether to press charges against police officers in a case like this one: 
It's important as an elected official that you have to be tied [to] or understand the community that you were elected to serve ... I want to see culturally competent [leaders], who have character and dignity and honor and [are] going to stand up and do what's right, whether there are unions or other strong forces in opposition to ever being scrutinized ...
With respect to prosecutors, we're elected. [Where] I find the glimmer of hope ... in these murders that have happened over the last several months — dating back to Feb. 23 when Ahmaud Arbery was murdered — is that I hope people are now paying attention to who their district attorneys are because those charging decisions lie exclusively within our purview.
On how she thinks police leadership in Boston and beyond should respond:
The silence has been deafening regarding white leadership in law enforcement standing up and saying out loud: "We don't condone this type of behavior."
These types of practices, these chokeholds, are prohibited tactics. Essentially, we have not necessarily heard that nationwide. I was really proud to read an article where [Chief Brian Kyes of Chelsea], Superintendent [Richard] Sullivan, who is head of the transit police at the MBTA and a retired colonel from the state police who is a Republican, all denounced what it is that occurred.
Editorial note: Boston Police Commissioner Gross also said the four officers should be held accountable for their behavior.

On how these types of violent incidents could happen anywhere:  
Every place is one incident away from being Ferguson or Minneapolis. Everywhere. No one is free from a crisis potentially happening ... With respect to the leadership in Boston, and we do have a lot of work to do, [but when] we've had officer-involved shootings or [non-lethal] force used by law enforcement — I had four in 2019 and two [in 2020] — we are diligent and transparent.
Within 24 to 48 hours, we usually have met with the family of the deceased. We have met with community stakeholders. We have explained the process. But there is fear everywhere as a result of the fact that the police are the only branch of our government that has the ability to kill you without any oversight in a split second.
On how she thinks about how this incident impacts police officers: 
The overwhelming majority of members of law enforcement are not [Chauvin]. The overwhelming majority come to work and do an honorable job every single day. But it is the outliers, the bad actors, that we need them to speak out against and that we need to hold accountable so that this noble profession can be respected by the community it serves.
This segment aired on May 29, 2020.