'No Matter The Distance, We Can Sing Together': New Voices Children Choir Collaborates With Colombian Group
Resume
For performers, the coronavirus pandemic has created new challenges to making music together. Singing in large groups carries a high COVID-19 transmission risk.
The safest thing to do is to sing separately, at home.
For Nurt Villani, the conductor of Handel and Haydn's New Voices choir, this posed an opportunity. When she was tasked with running a choir of 22 elementary school in Greater Boston over the summer she decided to call up some friends in her hometown of Popayán, Colombia.
"I have this idea, no matter ... the distance, we can sing together," Villani said. "Why not work together with another choir, and I'm thinking with my friends in my country, Colombia, why not work together?"
The New Voices choir's summer season and fall concert was a joint production with the TiTi Ta Children's Choir nearly 3,000 miles away in Popayán.
Popayán had stricter stay-at-home orders than Massachusetts. And Villani's friends, María Teresa Potes and Felipe Estrada, were facing similar challenges running the TiTi Ta Children's Choir. They all needed to keep finding ways to keep the kids engaged from home.
For Angelet Dorvilas Gedeon, a mother of two in Lynn, the program was a godsend in the pandemic.
"It was very hard for me. We could not go anywhere, all our vacation was canceled," Gedeon said. "When I received the email, I was like, 'Oh guys, there's a choir, you want to sing?' "
It is practically impossible for 22 people to sing together in any language on Zoom. Villani says a lot of the work was done by the children and their families, independently. Nine-year-old Oliviah Bernice Gedeon says she preferred that.
"At first I thought it was going to be really hard, but then it was really easy because I don't like singing in front of people. So when you have a camera and you send it to them, I think it was more easier instead of singing in front of people," Oliviah said.
Each week, Villani would send a portion of one song for the kids to learn in Spanish, and they would record themselves performing it and send it back to her.
The choir in Colombia did the same, but with the English portions of the songs.
"We have the same challenge to learn, we have the challenge for English; they have a challenge for Spanish and the rhythms," said Villani.
For the kids, it was also a chance to make friends while stuck at home. Tanoshi Inoata, a 7-year-old in Allston, received letters from new friends in Colombia.
"They eat a little dumpling that has vegetables in it, called empanaditas and they also sometimes dance together," he said he learned from the letters.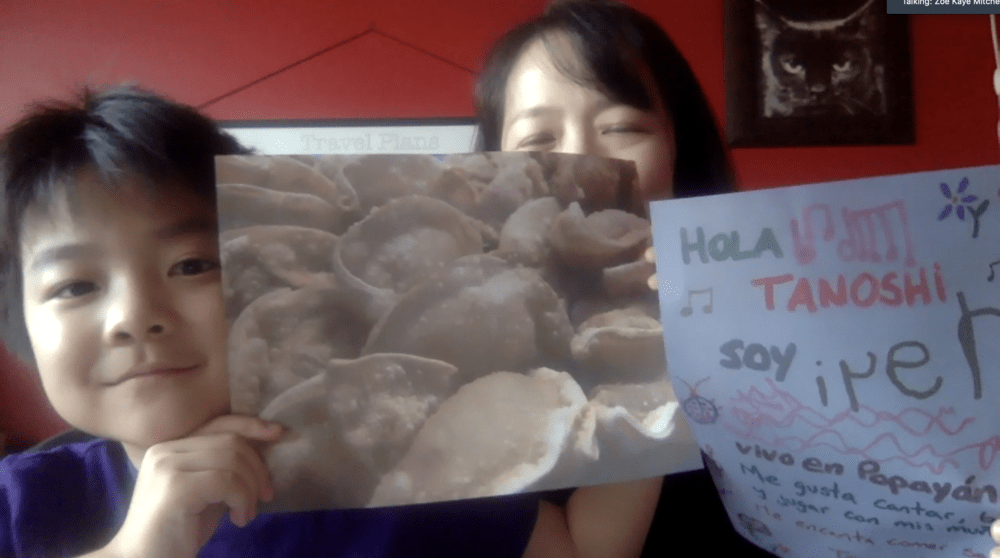 Oliviah's brother, 7-year-old Carter Gavin Gedeon was nervous about connecting with kids far away.
"I don't know if I can make new friends at new schools or other friends from somewhere different," Carter said.
Carter found that in the end it wasn't intimidating and he learned something: "That everybody is good how they're made and we should be nice to each other."
For Villani, that lesson is what this experiment was ultimately about.
"We don't really have differences between the kids here and the kids there. They have many different opportunities, but the desire to grow, it doesn't change, it's the same," Villani said.
This segment aired on October 21, 2020.