Local Researcher Behind Johnson & Johnson Vaccine Reflects On A Year Of Coronavirus
Play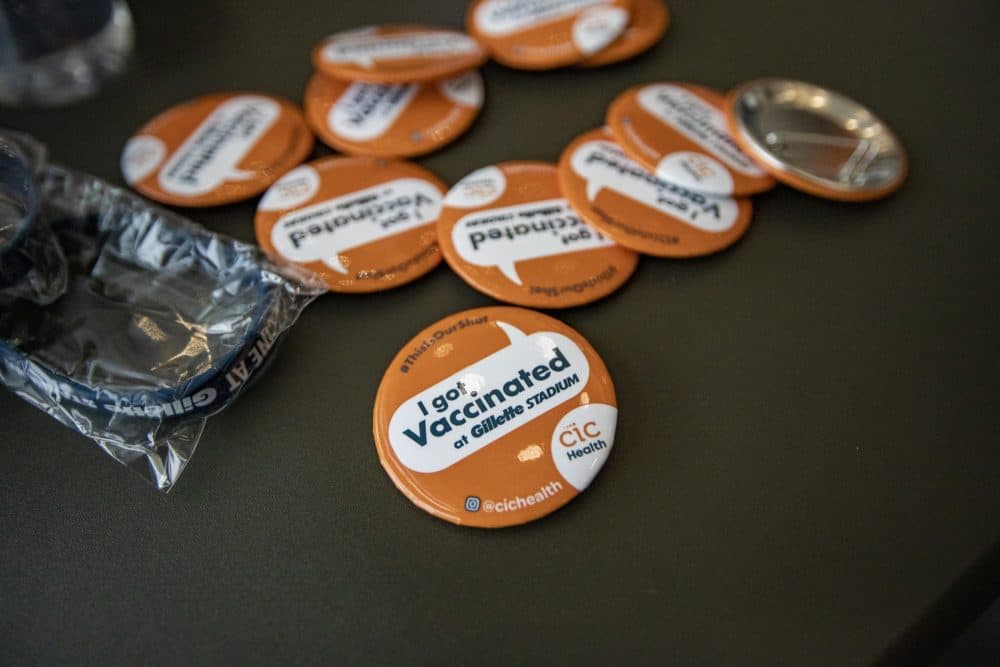 This article is more than 1 year old.
Almost from the beginning, the race against slowing the spread of the coronavirus included a race to develop a vaccine. Dr. Dan Barouch's lab started working on a vaccine against the coronavirus over one year ago, on Jan. 10, 2020.
Barouch is the director of the Center for Virology and Vaccine Research at Beth Israel Deaconess Medical Center. His lab finished developed a vaccine for Johnson & Johnson, which if approved for emergency use, could be the third such vaccine available in the United States.
During a special Radio Boston hour reflecting on this one-year anniversary of the first coronavirus case in Massachusetts, we speak with Barouch on the effort.
Interview Highlights
On what kick-started his lab's work on this vaccine over one year ago: 
"We started working on this vaccine on Jan. 10 of last year. I remember on that day we were seeing the news reports coming out of Wuhan, China, and there [was] a cluster of 41 cases of this mysterious pneumonia and one death. We found those numbers to be alarming. So, just think, in a year we've gone from 41 cases to over 100 million cases and one death to over two million — deaths and rapidly rising — every day.
"It's truly astonishing how a virus can essentially rip through society and change everything we know about the world...
"We had no idea that it would do what it did. But we were concerned enough that we started vaccine efforts essentially immediately and that was the day that the Chinese researchers released the sequence of the virus and basically started much of the world's global vaccine efforts."
"It's truly astonishing how a virus can essentially rip through society and change everything we know about the world."
On how he explains the difference in efficacy reported between the Pfizer and Moderna vaccines and the Johnson & Johnson vaccine. The Johnson & Johnson vaccine had a 66% efficacy versus 80% for Pfizer and Moderna:
"The clinical trials were done differently. So they were not head-to-head clinical trials and the Phase Three study with [Johnson & Johnson] was conducted in multiple regions of the world, including multiple regions of the developing world, such as sub-Saharan Africa and Latin America.
"It's a different pandemic now than it was a few months ago. So any vaccine tested now would have far lower efficacy than a vaccine tested last fall because last fall, because last fall there were no resistant variants."
On whether the efficacy of the vaccine could be affected by these variants: 
"Substantially. We think that probably all vaccines will have substantially reduced efficacy against these variants. We saw last week data from two companies, Novavax and [Johnson & Johnson], both of which showed a substantial reduction of efficacy against the variant that's coming from South Africa.
"Overall, the most important efficacy for the J & J vaccine is the demonstration of 85% efficacy against severe disease and 100% efficacy against hospitalizations and death ... and that includes clinical protection against the variants. So I think that it's actually probably the first vaccine study that shows high-grade clinical protection against the entire population of worldwide viruses, including the most worrisome variants."
On how this vaccine is just a piece of how this pandemic may end: 
"I think that this vaccine will likely be part of the armamentarium of interventions. We hope it'll have a major impact both in the United States and throughout the world. But there's a tremendous amount of work that remains to be done.
"First, we have to understand more about these viral variants ... We have to roll out these vaccines more quickly because now the purpose of vaccination is not only to protect the individual and protect society but, also, the faster we can vaccinate the population, the more likely we can prevent the emergence of the next variants...
On whether he feels exhilarated or exhausted after these clinical trials: 
"I think I've been exhausted and exhilarated every day for the past year simultaneously. ... We have the biggest global health challenge of our times sitting right in front of our eyes right now, and we also have the opportunities to intervene. And the opportunities to actually try to end this pandemic is what's exhilarating, and the gravity and the monumental task ahead of us is what's exhausting."
This article was originally published on February 01, 2021.
This segment aired on February 1, 2021.