Somerville Mayor-elect Katjana Ballantyne talks about her priorities before taking office
Play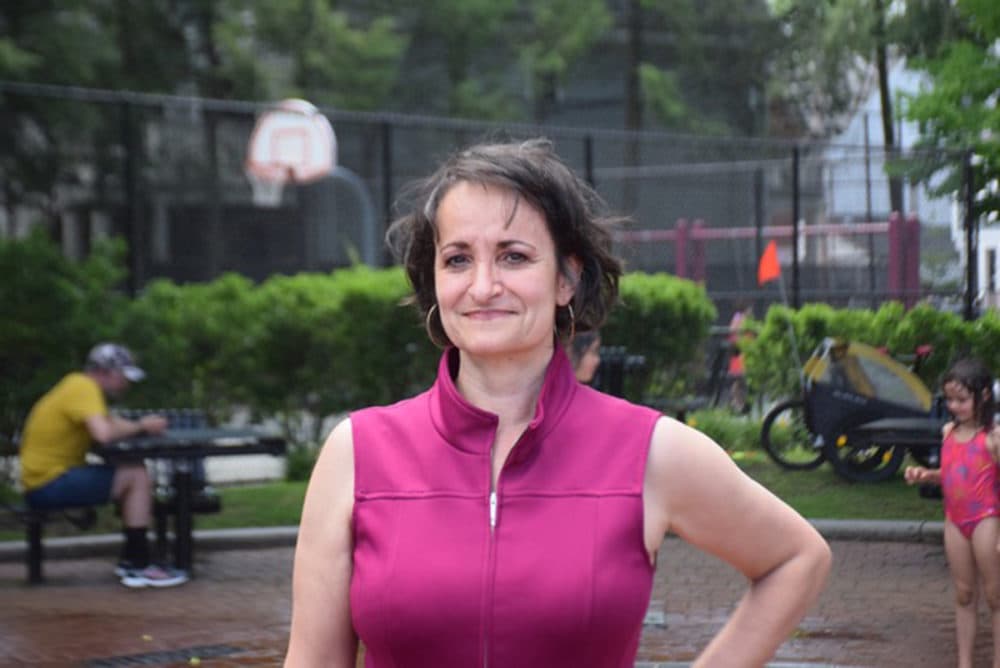 This article is more than 1 year old.
Katjana Ballantyne, Somerville's mayor-elect, is the second woman ever elected to lead the city.
She joined WBUR's Radio Boston to talk about her life experiences as an immigrant, a businesswoman and a politician. Before her successful bid for mayor of Somerville, Ballantyne served multiple terms as a city councilor, including as the council's president.
Born and orphaned in Greece, Ballantyne explained that she was adopted by her father, a Scottish man, and her mother, a Czech and German woman. The family came to the U.S. when she was 4 years old.
"That's when I learned that sometimes people are afraid of differences," she said. "It can sometimes be your accent. It could be your culture. It could be just your foods. And so I learned then to make sure that everyone was included."
As the first and sole member of her family to attend college, Ballantyne said she worked two jobs and took out loans to secure her bachelor's degree and later her MBA. After working for more than a decade in international supply chain management, she said she paid off her student loans and turned her focus toward the nonprofit world, motivated to do "mission-driven" work.
"I was doing all this volunteer work in Somerville," she said. "I sat on the board of an affordable housing developer — as a board member and as a former board president. I was tutoring in the schools. I was a "big sister" or mentor, and I just wanted to do mission-driven work."
Her experience working for Jamaica Plain Neighborhood Development Corporation was a formative one, she said, offering a "development side" view of how cities build affordable housing and ensure people can remain in such homes.
WBUR's Tiziana Dearing discussed a wide-range of topics, including housing, with Ballantyne.
Below are highlights from their conversation, lightly edited for clarity.
Interview Highlights
On affordable housing in Somerville, a dense and diverse city of immigrants, and the idea of lifting the state's moratorium on rent control:
I think that we need to use every tool possible in Somerville to create more affordable housing that's using financing tools, that's using zoning tools, that's using incentives to developers to build more affordable housing.
But you know, at the at the end of the day, when it comes to rent control, the state law doesn't allow us that option. So we need to work with our state delegation to try to do something for that. If the state makes that change, then we have to make sure that renters, owners who care about keeping diversity in our community and preventing displacement are at the table to figure out what's the best way to move forward.
On COVID recovery, small businesses and what local workers need:
On COVID recovery, we need to help small businesses. We need to help families to recover from this, and we need to help making sure that our education system, our schools, are able to to move forward. And I think they're all interlocked.
I was supportive of the small business relief program that Somerville put together. I was supportive of funding $5 million to create a gap between what the federal government was doing with relief and what we could do. Moving forward, I would say it's deferring and forgiving the cost of municipal utilities or licensing or permitting taxes.
It's extending and enhancing the relief funds to include flexible and forgivable financing options and additional funds. It's giving help to small businesses to apply for SBA loans.
We need to use our ability to market our community and remind people who are here to shop locally so that can stimulate the economy. And then, you know, it's constantly talking with our small businesses. It's asking them, what are they seeing? Are they seeing some recovery? What kind of technical assistance do they feel they need? And what kinds of support? We're all in this together, and we should be working together to find the solution.
Somerville Mayor Joseph Curtatone, her predecessor, has held power in the city for 17 years. On how Ballantyne wants the voters and residents of Somerville to judge her work and tenure: 
Every mayor who serves brings something unique to the job: their style, their perspective, set of priorities, or simply, the challenges that can be unique for the time. And I think what stands out most about me is my leadership style, promoting engagement of people from all across the city. I am one who listens.
I am one who uses community input data best practices to act and be bold. ... [Residents] will know that I will be working with them, [and] that I will be listening. I am the mom of two daughters, my youngest still in the Somerville Public Schools. I will be hearing from everybody and moving ourselves forward.
This article was originally published on November 04, 2021.
This segment aired on November 4, 2021.