WATCH: Democrats in attorney general primary race debate
Play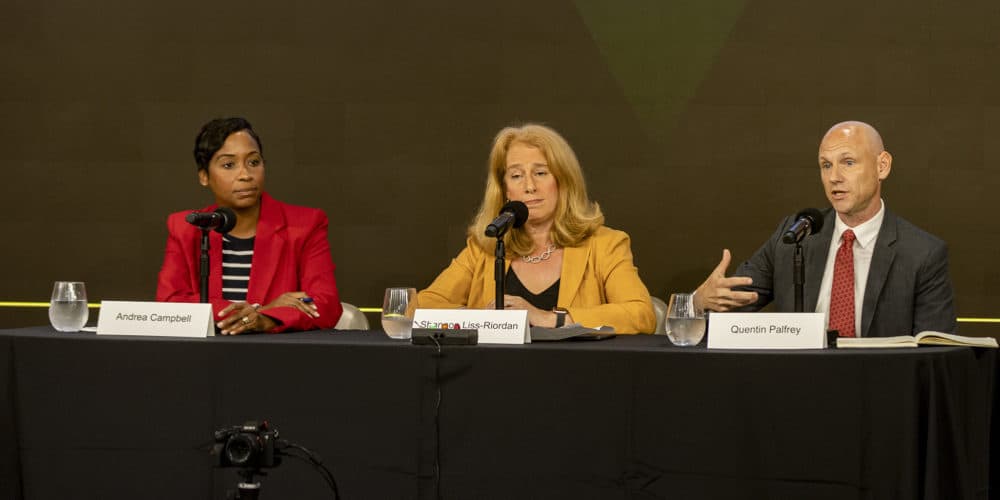 The three Democratic candidates for Massachusetts attorney general met to debate Wednesday at 11 a.m.
Andrea Campbell, Shannon Liss-Riordan and Quentin Palfrey took the stage at WBUR's CitySpace in the hopes of winning voters' support ahead of the the Sept. 6 primary. Incumbent Maura Healey is running for governor, which created space for a wide-open Democratic primary.
Campbell previously served on the Boston City Council, where she pushed for greater accountability around police misconduct and became the first Black woman to serve as council president. Liss-Riordan, a labor attorney, is known for fighting efforts by Uber and Lyft to classify drivers as independent contractors. Palfrey led consumer protections as chief of the AG's health care division between 2007 and 2009 and now serves as deputy general counsel at the U.S. Department of Commerce.
The winner of the Democratic Party primary will likely face Jay McMahon, who is the sole Republican candidate, in the November general election.
This was the third in a series of five debates hosted by WBUR, WCVB Channel 5 and The Boston Globe. The debate was moderated by Tiziana Dearing, host of WBUR's Radio Boston, and WCVB award-winning political reporter Sharman Sacchetti.
Watch the debate below.
Debate Highlights
Here are highlights from the candidates' remarks throughout the debate, lightly edited for clarity.
Opening statements
Liss-Riordan: "Life is not getting any easier for folks in Massachusetts. We need an attorney general who knows how to use the legal system to improve the lives of working people.
"And most importantly, we need an attorney general who will win in court. That is what I have been doing for more than 20 years. I have brought cases and won big in court that have improved the lives of millions of people. I have taken on some of the largest corporations in America — Amazon, FedEx and Starbucks — and I've won. I have put hundreds of millions of dollars back in working people's pockets. I am widely recognized as one of the most effective lawyers in America.
"I'm proud to have the support of the [Massachusetts AFL-CIO] and more than 50 unions."
Palfrey: "I've been a practicing lawyer for 20 years and I'm proud to be endorsed by the Democratic Party in this race.
"As assistant attorney general, I sued predatory insurance companies that lied to patients and denied them cancer treatments, and we kicked them out of Massachusetts. Under President Obama, I fought voter suppression and later served in the White House as a senior adviser. And now I'm running for attorney general to stand up against special interests; fight against the Supreme Court's attacks on our civil rights; and stand up for abortion rights, for Medicare for All, for urgent action on the climate crisis.
"I'll never take special interest money. As a former assistant attorney general, I know we need an attorney general who doesn't have conflicts of interest from millions of dollars of super PAC contributions. We need an AG who can stand up for the people. The attorney general's office is not for sale."
Campbell: "I jumped into the race recognizing that residents across Massachusetts are struggling and frustrated with government. What I've been stressing is that we live in the best state in the nation. And I know it because I am living proof.
"I'm living proof that a girl who grew up in poverty, in a family torn apart by incarceration and trauma, could turn that pain into purpose. I'm the first in my family to go to college, the first in my family to go to law school. As an education attorney, as an attorney for Gov. Deval Patrick, as general counsel for a regional planning agency, and as a local elected official, I have always sought to make sure every resident in this state has access to the same opportunity I was afforded.
"I'm blessed to have the honor and support of Attorney General Maura Healey. I will build upon her leadership to make sure the office continues to deliver for families: an education for their children, a living wage, health care benefits, safe communities and so much more."
On public corruption and campaign finance
Sharman Sachetti: In her seven years, plus, in office, Attorney General Maura Healey has prosecuted zero elected officials, while federal prosecutors have charged four ... Would you do more as attorney general to prioritize public corruption? And if so, how, specifically?
Liss-Riordan: "I am not a politician. I'm not a bureaucrat. I am a lawyer. And the public trust is critical. I have shown through my career I'm not afraid of anyone ... I will not hesitate to use the full power of that office to make sure that our public officials, our elected officials, do not exploit the public trust."
Palfrey: "We need to take on public corruption and it starts with us. This is why I've been so strongly supporting the 'People's Pledge' to keep corporate money out of these elections.
"Andrea Campbell, who's on the stage with me, received $2 million in super PAC support in last year's mayor's race, including large contributions from tech billionaires, from Bain Capital, from Jim Walton, from charter school backers. And we need to avoid those conflicts of interest.
"I'd love to know how she plans to deal with matters relating to Walmart, to Netflix, to Bain Capital, when they come up to the office. Because as a former assistant attorney general, I've seen that you cannot have conflicts of interests of that type. If you take $250,000 in support from, for example, Reed Hastings, the CEO of Netflix, you need to recuse from all cases that relate to that ... Those conflicts of interest are going to be a real challenge."
Campbell: "I am really proud of what our campaign has done and created. We've raised close to $1.5 million from the people. I'm working hard every single day to earn their support. Of our money, over 90% come from Massachusetts residents.
"My opponents? Quentin, is receiving taxpayers state money to fund his campaign. Shannon put in $3 million; she will probably put up to $12 million trying to buy this election. I've always been accountable to the people. I will remain accountable to the people."
Campbell: "On the public corruption piece, the short answer is yes, absolutely, we can do a lot more. And voters want us to do a lot more ... I've always worked with the sense of courage and exercised courage. That won't change.
"And frankly, the AG is uniquely positioned and the only office to really take these issues on, so we can't shy away from it. I won't shy away from it. And when you think about whether it's the Department of Corrections or other agencies that continue to be a black hole, as the state's attorney you represent those agencies but you have tremendous power ... to push them to do and be better, and to hold them accountable."
Liss-Riordan: "I'm very proud and excited about the grassroots support that we've received from across Massachusetts. It's a very cynical view that Andrea has: that the people of Massachusetts can be bought. They are going to vote for the attorney general who they think is the most experienced and will fight and win for them.
"Andrea's donor list is a Who's Who of lobbyists for fossil fuel industries, the Koch brothers. I will not be beholden to wealthy donors and special interests. I am beholden to the people of Massachusetts."
On accountability of the Massachusetts state police
Sharman Sachetti: It is one agency we all know has had its share of scandals — multiple overtime scandals in recent years, the elimination of Troop E over corruption. Now, a number of troopers have since been charged for overtime abuse. What is one specific thing the AG can and should do today about this?
Palfrey: "We need the AG office to take on criminal justice reform, police accountability and oversight — finally, get a handle on the corruption and mismanagement in the state police.
"If you work for the state police, you deserve to work for an agency that's above reproach. And if you're a citizen in Massachusetts, you deserve to have a state police that is working in your best interest.
"There's a big difference in this race between me and Shannon Liss-Riordan on eliminating qualified immunity for police officers. I support eliminating qualified immunity."
Liss-Riordan: "I have not hesitated to take on powerful interests. And in fact, I have a lawsuit that I filed recently against the state police for violating our newly enacted Paid Family and Medical Leave Act.
"As attorney general, I will hold police departments accountable. In fact, I've been working with the ACLU on a transparency project to make sure that police departments are being transparent about their practices, [and] their racial statistics regarding arrests and interactions with the community ...
"So as attorney general, it is important that I will work with DA's across the state to make sure police departments have the resources they need to have proper training. And I will not hesitate to hold all departments, including the state police, accountable when they violate our laws."
Campbell: "There's a lot to do in the context of the state police, but not just state police. Let's not forget municipal police departments, too.
"I'm the only candidate on this stage that has a record of actually delivering on transparency, accountability and expanding diversity in public safety agencies. I worked with Gov. [Charlie] Baker across the aisle to actually bring in funding into the city of Boston for public safety agencies. I crafted the historic legislation where we now, in the city of Boston, have the Office of Police Accountability and Transparency."
On the opioid crisis
Palfrey: "We have to hold Purdue Pharma and the Sackler family responsible. We're not going to arrest and incarcerate our way out of a war on drugs that has failed, that has led to massive over-incarceration and huge racial disparities."
Campbell: "I would continue the leadership of Maura Healey. She wouldn't have endorsed me in this race if she didn't think I was going to take on the Sackler family and other folks who take advantage and profit off the pain of Massachusetts residents.
"But I'm going to take it a step further. I think we are too narrowly focused on just the opioid crisis. We need to expand it to talk about mental health, drug abuse, the uptick in alcoholism ..."
Liss-Riordan: "I look forward to continuing and expanding on the important work that Maura Healey has done, taking on the pharmaceutical industry for bringing us the pain of the opioid crisis.
"Purdue Pharma ... may have reached a settlement, but there are many actors out there ... including these fake sober homes, that are offering solace to people who are struggling with addiction, but they're actually just exploiting them, taking advantage of them, and not providing the care that they promised."
On white supremacy and hate
Liss-Riordan: "I have been appalled at the rise of white supremacist groups here in Massachusetts. They have no place here. I was very proud to stand with activists in Jamaica Plain just a couple of weeks ago who were protesting these white supremacists who intruded on [a drag queen story hour].
"As attorney general, I will work to make sure that we are kept informed of these groups so that actions are taken to keep our communities safe. I would require that my staff brief me weekly on this."
Palfrey: "When I was thinking about running for lieutenant governor a few years ago, there were these awful events in Charlottesville. And I remember seeing this small group of students — some were white and some were Black — they were standing in front of a sign that said 'Students Against White Supremacy.' And all around them, there were people holding tiki torches. Some of the folks in the crowd were members of the Ku Klux Klan. There were some swastikas.
"And I asked myself, 'what are we going to tell our children and our grandchildren that we did in this moment when our American values were so obviously under attack?' I think that we need to stand up and we need to fight back. And I think the AG's office is one of the leaders on that."
Campbell: "I, too, have been appalled ... [Rep. Liz Miranda's] campaign office opening had these neo-Nazis show up. I find them to be cowards, obviously, marching in the city of Boston with masks and hoods on their faces.
"There's a lot the AG can do. One is just on the basic reporting. I think you work with the next U.S. attorney to make sure that we are reporting the data, not just the stories, especially in small pockets where it's hard to get this information.
"And then you prosecute these folks aggressively, and then do the work of really educating our people in the schools in terms of different cultures and backgrounds."
On surveilling and prosecuting hate crimes
Tiziana Dearing: How as AG do you balance [surveilling groups and tracking their activities if they haven't committed a violent crime or criminal acts out of concerns for the First Amendment]?
Campbell: "You can absolutely balance them. And our U.S. Attorney, Rachael Rollins, is doing that right now. The district attorney the same. It's creating spaces for folks to be able to report what they're seeing on the ground, to be able to call a hotline, to call various government agencies ...
"There's a whole bunch of ways in which we can gather that information without violating anyone's First Amendment rights and then working statewide and across the country to track this information, to collect that data, to be able to go after these individuals ..."
Palfrey: "So when I was in the White House under President Obama, I had very high level security clearance and I was asked to be in an interagency group on countering violent extremism. I can't get into what we talked about there, but I will tell you that I have direct experience using the criminal and civil laws, as well as our intelligence information to take on some of these really troubling challenges...
"I do have concerns about some of the tools that law enforcement wants to use in terms of surveillance. I care a lot about our civil liberties and our civil rights. But I agree with Andrea that we can crack down on violent extremists, crack down on white supremacists and protect our civil liberties. We have to do both."
Liss-Riordan: "Yes, it is extremely important that we balance the concerns of privacy rights and First Amendment rights with the needs to keep our communities safe ... I would work with organizations like the ACLU and the Southern Poverty Law Center, who have worked on these issues, who have creative ideas about how to ensure the proper balancing of rights.
"I'm the only one on this stage who has actually taken on these issues from a legal perspective ..."
Campbell: "I'm quickly just going to say, when my opponent suggests she's the only one to take on these issues — I'm a person of color. I don't have the luxury not to."
Palfrey: "Being a class action lawyer is very different from being an assistant attorney general. And this is one of the examples of why it's really important to have, as the attorney general, someone with direct experience as a government lawyer — to crack down on these kinds of problems.
"I hear Shannon say, over and over again, she's the only practicing lawyer. I've been a practicing lawyer for 20 years. I was an assistant attorney general. I was the acting general counsel of the [U.S. Department of Commerce], led a team of 400 lawyers. I've been on Supreme Court briefs ..."
Liss-Riordan: "I am the only practicing lawyer on this stage. This morning, I filed a complaint on behalf of bartenders who had their tips stolen at the U.S. Open PGA this spring in Brookline.
"Andrea Campbell has worked less than five years practicing law in a handful of short- term legal jobs. Her longest legal job was two years at a notorious, union-busting firm that represents management against working people ..."
Campbell: "I started and worked my entire career practicing law before I actually went to law school. I started off as a paralegal. And then post-law school, I represented children for free in education cases. I've worked as an attorney for Gov. Deval Patrick.
"If Maura Healey did not think I had the adequate or requisite legal experience, she would not have endorsed me in this race. I maybe haven't made millions on class actions on the backs of workers, but I've done the work really delivering for residents on the issues they care about and where they need government officials and lawyers to really step up."
On the MBTA
Sharman Sachetti: We are looking at unprecedented, 30-day total shutdown for the Orange Line, nearly a month on the Green Line extension — both set to start this month. What role, if any, should the AG play in making sure people are able to get to where they need to go in a reasonable amount of time?
Liss-Riordan: "I am supporting the Fair Share Amendment to make sure that our transportation system, as well as our education system, has sustained funding to not just do quick fixes, but to keep them going for the long run.
"We deserve to know exactly what the T is going to be doing during this 30-day shutdown [of the Orange Line]. They haven't even posted what their punch list is. We don't even know whether this is going to create the fixes that will make this transportation service safe and available for residents.
"Also the shuttle buses, which we don't even have the details on, are going to be under huge strain. That is why I have called on the buses that connect to the Orange Line need to be made free during this time.
"I believe in free public transportation more generally ..."
Palfrey: "We need a Fair Share Amendment. We need to ask the people at the very top to pay a little bit more so we can invest in transportation and in education.
"We shouldn't have Orange Line trains on fire. Also, this is a civil rights crisis. The attorney general is the chief civil rights officer. The Orange Line represents or serves some of the some of the poorest communities in Boston. And so there's a civil rights aspect to this. We need fair, free transit ..."
Campbell: "I, too, support the Fair Share Amendment and look forward to continuing to campaign in support of that ...
"I live in Mattapan. That's currently a transit desert. I grew up taking the Orange Line. The fact that the T continues to get worse for the next generation is absolutely unacceptable ...
"On the funding and contracts piece, I actually think an attorney general needs to step up when it comes to meeting their diversity requirements. There are a lot of contracts that the T puts out that should be going to women and people of color, and small business owners. That, I think, is a unique role for the AG's office that doesn't usually get talked about in the conversation of the T.
"And then work with our next governor to ensure we have a high quality T service in every community across the Commonwealth, including our pockets of western Mass.
Sharman Sachetti: Who dropped the ball?
Liss-Riordan: "I'm particularly concerned about the outsourcing of much of the work that the T has done. The T has plenty of very knowledgeable workers who understand the system. And bringing in the federal government to try to fix this is not the answer. That's going to cause even more delays than folks who don't know our system.
"We need to support our workers who are there, make sure that they are paid fairly, have good benefits, and have the support and the funding they need to make our public transportation system what it needs to be for all the people of Massachusetts."
Palfrey: "This is Gov. Baker's fault and it's been Gov. Baker's fault for almost 20 years.
"But it's also a fault of the Beacon Hill culture that doesn't work very well. We have a Beacon Hill that is the least transparent of any state government. We have an establishment in Massachusetts that's too cozy.
"And we need an attorney general who is going to be independent, both of corporate interests and of that establishment interest. We need an attorney general who can stand up to Beacon Hill.
Campbell: "I don't like to actually blame folks. At the end of the day, the problems are what they are right now. Residents, I think, are so frustrated with government and, of course, what's happening in Washington, D.C. They want leaders who are going to lead and deliver for them with a sense of urgency and with with immediacy.
"I think in the context of the T ... I think this is an opportunity for the next governor working with the next attorney general — which I have already put out in the universe, will be Maura [Healey] and myself — working together to make sure that the T is adequately funded, that workers there are protected and safe ...
"In addition to that, making sure that pockets where transit deserts exist — that we are expanding upon that."
Tiziana Dearing: Is there a prosecutorial dimension that the AG's office ought to be considering, either with the administration or the MBTA, given where we are with the T?
Palfrey: "Absolutely. We got to look into how we got to this place. People are actually getting harmed ... This is something we need to get to the bottom of and we need the AG to look into it independently."
On tackling climate change
Tiziana Dearing: The Massachusetts Executive Office of Energy and Environmental Affairs recently published the Clean Energy and Climate Plan. That's a strategy for the state to hit its emissions goals, which is to cut [emissions] by 50% by 2030 compared to 1990 levels and cut to zero by 2050. Do you think that's achievable? And what role can and should the AG play?
Campbell: "I'm really honored to have the support and endorsement of the Environmental League Action Fund, and why? In that meeting, I stress we can indeed reach these goals.
"But we have to be more intentional in going into communities of color to get them to understand the importance of climate justice and environmental justice — to say it is about jobs, it's about public health outcomes, asthma rates, you name it. Heat waves. In addition, going into our rural communities that also sometimes feel left out of this conversation to remind them of the same things ...
"At the same time, as we're moving to clean energy, how do we give households the resources they need to be able to green their homes so their utility bills go down and not up? And so, of course, it's not on the backs of these communities that feel left out of the conversation. There's a lot we can do, along with taking on bad actors — not just ExxonMobil — PFAS and others."
Palfrey: "I'm proud to have the support of the Sierra Club and 350 Massachusetts in this race. What we do now or fail to do is going to determine what kind of life our grandchildren and our great grandchildren live. And every level of government, from the international community to Congress to the Baker administration, has failed to meet the urgency of the moment. We need the attorney general's office to make the climate crisis one of the highest possible priorities in all of our work."
Liss-Riordan: "I plan to be a leading attorney general across the country in our fight against climate change. I will take on the big polluters in court, and I plan to use the penalties we'll recover from those legal battles to set up a green fund that will fund clean energy projects and environmental justice project. We've got some good laws on the books now, but laws don't enforce themselves."
Closing statements
Campbell: "I'm really proud because we are building a people-powered grassroots campaign and I'm working for it.
"My entire life, I've always worked. I had a childhood, as many of you know, filled with incredible instability, a lot of loss. All of my biological parents are deceased. All my biological grandparents are deceased, along with my twin brother. I've always fought for those who feel left out and left behind. That will not change as attorney general.
"I'm proud to have the endorsement of Maura Healey, but I'm not taking anything for granted. I'm going to continue to get out here, not to buy the election with millions I don't have, but to work to build a grassroots operation that responds to the needs of constituents and to make sure the attorney general's office, under my leadership, delivers for residents all across the state."
Palfrey: "I loved working as assistant attorney general because I saw firsthand how much impact the people's lawyer can have. But being attorney general is a big job and it would be a hard job for someone to take on as their first job in government or their first job of this kind in government.
"In the Biden administration, I led a team of almost 400 lawyers in a 50,000-person department with a $12 billion budget. And I'll be ready on day one to take on the big challenges we face: fight for abortion rights, urgent climate action, Medicare for All.
"As a clean elections candidate, I won't have conflicts of interest. I'll fight against special interests and stand up for the people of Massachusetts. That's why the Massachusetts Democratic Party endorsed me. This attorney general's office is not for sale."
Liss-Riordan: "As I've been out there campaigning these last eight months, I have heard from voters across Massachusetts. And I know that what they want is a seasoned, experienced lawyer leading the attorney general's office who knows how to fight in court and a win for them. That is what I've been doing for more than 23 years. I'm widely recognized as one of the most effective lawyers in the country.
"I ask all of the listeners out there and the voters of Massachusetts to please put my resume side by side with each of the candidates in this debate, in this race, and ask yourself, who would you hire to be your lawyer? Because this is the job of the lawyer for the people of Massachusetts ..."