Citing 'dire, destructive' housing market, Wu makes her case for rent control in Boston
Play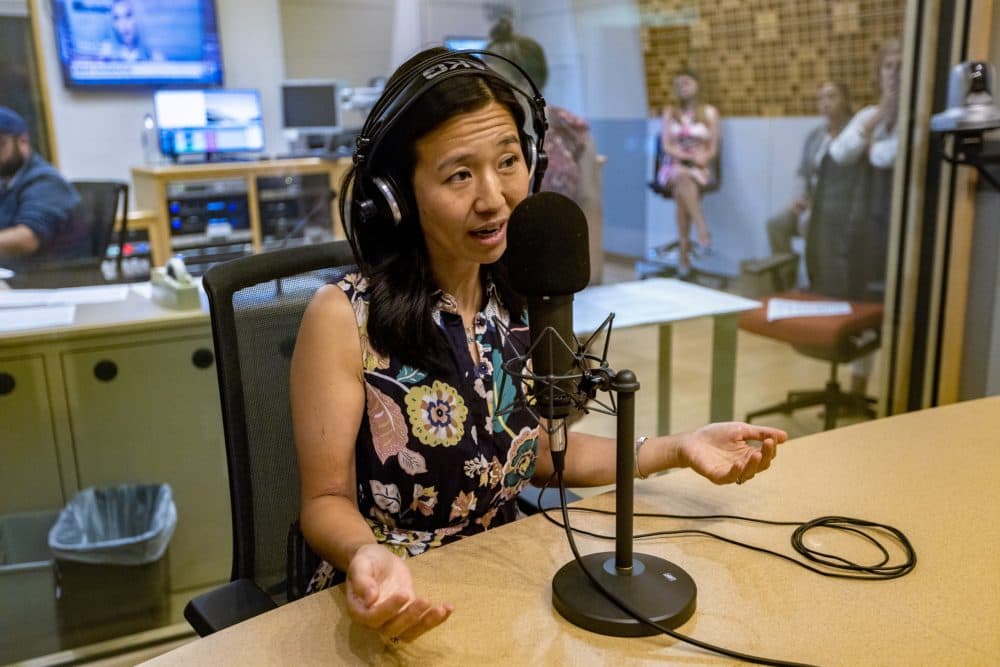 Boston Mayor Michelle Wu made the case for plan to press for modified rent control in Boston, saying the measure is crucial to help keep residents in the city they call home.
"It is such a dire destructive housing market out there right now, with people who have spent their whole lives here, who are raising their kids, who are giving back in every single way, getting pushed out," Wu said during an hour-long interview on WBUR's Radio Boston. "Not because they're not fighting to work and pay for what they can afford, but because that shock of a sudden dramatic increase is just not something you can plan for. It's not something that you can immediately reorient your lives to absorb."
Wu is floating a rent control proposal that would tie allowable rent increases on most buildings to inflation, capped at 10% per year. Buildings made in the last 15 years and small owner-occupied properties like triple-decker houses would be exempt from the proposal.
The proposal is in line with what she's been calling for since her campaign for mayor, but said it's just one piece of what she hopes is a comprehensive strategy to helping the housing crisis in the city.
"The purpose of rent control, of rent stabilization, is very specific," said Wu. "It is to stop the harm that is happening when we have too few affordable housing units to match the number of people. So we need to add more. And in this transition, as we are looking to boost housing supply and boost homeownership and get as much as we can from all different angles. This is one part of a larger strategy, and our goal is to prevent the extreme increases that have been pushing families out of neighborhoods where we have seen double digit rate increases. That should not simply is its it's harmful for our economy. It is harmful for our school system. It affects every bit of what we do."
Wu also talked about youth violence, Boston Public Schools, her upcoming State of the City address, and more. Below are highlights from their conversation, which have been lightly edited.
Interview Highlights
On marking Lunar New Year in Boston in light of the mass shooting that left 11 people dead in Monterey, California:
"In Boston, this will be the first year in four years that we have had in-person Lunar New Year celebrations, because even though the shutdown here didn't happen until March of 2020, many folks were connected to what was happening in other parts of the world. And many of the Lunar New Year celebrations either were already canceled in January, February of 2020, or the businesses were so hit because at that point, sort of generalized stereotyping and discrimination that this was a, you know, Chinese virus or whatever terms were being used ... our businesses were already feeling it that year, even before the virus actually really arrived and was spreading in the United States. And so this year was supposed to be the year of coming back together, seeing our community, our traditions, our our businesses thrive. And the first celebration is tonight (Monday) in Boston, Chinatown. And ... we'll start with a remembrance of the victims lost over the weekend. And it just adds an extra layer of of weight."
On the U.S. Department of Transportation denying a $1.2 billion to realign the Mass. Pike in Allston:
"This is a major priority and necessity for the entire region to have a clear transportation hub and the opportunity to accelerate public transportation access and a new mobility hub there ... we put our our best foot forward with this. It was unusual for the city and state to be jointly together on an application, and we thought it was important to get it into the pipeline because the feedback, even before we applied, was that many of these larger projects and larger grants require several years in the cycle, and many of the projects ahead of us in the queue were further along in their design and planning and had been in the application process for a long time. We thought it was important to ensure that we got our foot in the door and put our design out there, but we'll keep going."
On requests from the Democracy Now Coalition to meet and discuss renaming Faneuil Hall. This, after four members of the group were arrested while waiting outside her office for a meeting:
"[My] team members have met with this group. I am briefed on every conversation and every bit of information that is intended for me from those meetings. And it is just as effective as meeting with me directly. This is not an administration where the only way to get something done is from one person sitting in the mayor's office bottlenecking everything. That is not how I intend to run any part of our work, and it would slow us down on everything. So it's not on my direct list right now and not on my priority because we have a lot of other things that we're working on. But our team has engaged and I continue to be briefed."
On what to expect from her first State of the City address on Jan. 25:
"I'm reflecting on 14 months of what we've experienced as a city and as a new administration. And it hasn't been the easiest of times for everyone in our community. So trying to give an update about what we are working on, but also what's ahead ... the bulk of the speech is likely going to be the kind of what's coming ahead. it's going to focus on the changes ... that we've been working on and will be put into place this next year around our growth development, housing planning and how it can be more integrated and really focused on the big challenges that we're facing right now that are going to have long term implications for our children and their children's children."
This article was originally published on January 23, 2023.
This program aired on January 23, 2023.