Missing For A Decade, Centuries-Old Map Returns To Boston Public Library
01:25
Play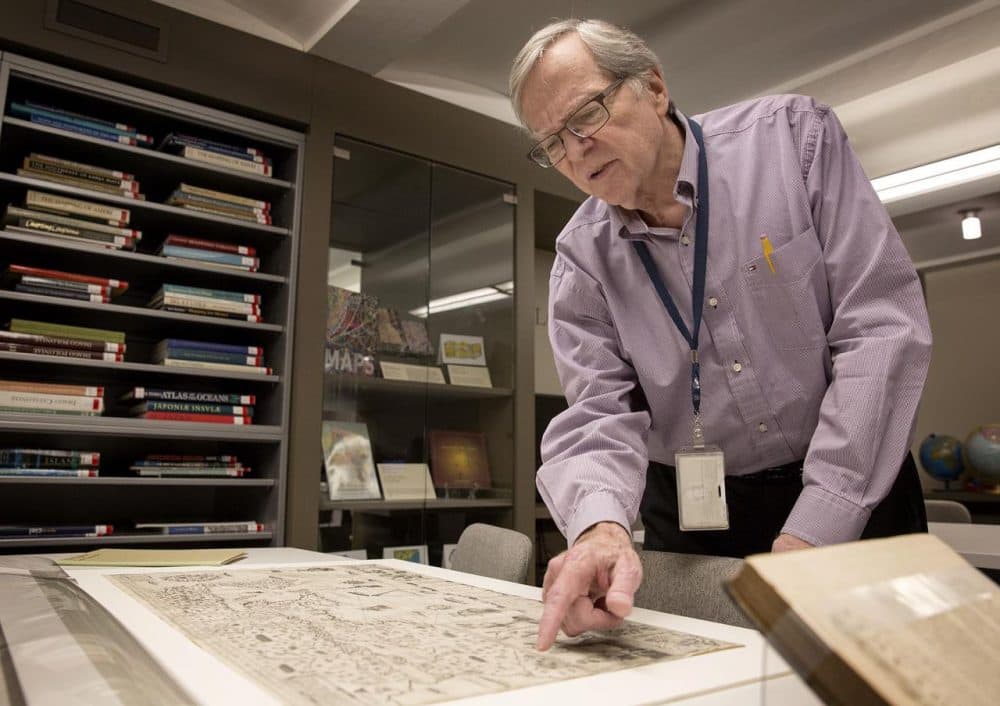 This article is more than 4 years old.
After being missing for more than a decade — and believed to have been stolen — a centuries-old map that depicts 17th century Canada and New England has been returned to the Boston Public Library.
The BPL announced Friday that Carte Geographique de Nouvelle France, which was compiled in 1612 by explorer Samuel de Champlain, was found this summer for sale at an antiques dealer in New York City for $285,000.
Ronald Grim, the curator of the library's Norman B. Leventhal Map Center, found the map and a third party expert confirmed its ownership.
Grim started working at BPL shortly after the map went missing. He said Friday that he's happy to have the piece back.
"It felt like I had concluded a project that had been hanging around for a long time," said Grim, as he stood over the map beaming. "It's sort of like doing a jigsaw puzzle and being able to put in the last two or three pieces."
When Grim arrived at the BPL in 2005, it was soon after the arrest of E. Forrest Smiley, who had stolen maps from Yale University. So Grim began taking inventory in Boston, and it was determined that 69 maps were missing from the BPL. Thirty-four have since been recovered, and Smiley confessed to stealing 34. Smiley later served three years in jail for stealing historic maps from Yale, Harvard, the New York Public Library and other institutions. It' s unclear if BPL's Champlain map is connected to Smiley.
Grim identified the missing map in an antiques publication this summer. He then compared the markings on the map being held by the New York dealer with a 1992 digital scan the library had of the map. The map had prominent tears on the left side and a small hole near two fold lines. (Those markings have since been repaired, according to Grim.)
But how can a map like this go missing for so long?
It's complicated, according to Michael Blanding, the author of "The Map Thief," a book about E. Forbes Smiley.
"Maps aren't like a piece of art that hangs in a museum [where] there's only one copy of it," Blanding said. "This map is extremely rare. It might come up a couple of times in a generation for sale, but it's not a one-of-a-kind item, so whoever has this in their collection may not have even realized that it was stolen, depending on how they acquired it."
It's only that the Champlain map was listed publicly that anyone would even have a chance to check it out, Blanding added. Still, he called it "very disturbing" the map wasn't looked into more carefully by the dealer.
"It's surprising to me that with a map of this value, the dealer wouldn't have gone to the Boston Public Library [and] also to Harvard, which is also missing a copy of this map, and check with them before they put it on sale," Blanding said.
He said after the Smiley thefts emerged, libraries and dealers became more vigilant about checking into the background of pieces they obtained.
In the case of BPL's Champlain map, the antiques dealer in New York had been retained by a third party to sell the map on commission. Grim said he did not know the name of the collector or where the map had been the last 10 years. He said the dealer was dismayed to find the map could have been a stolen item and cooperated with BPL during this process.
"The case is closed in terms of the FBI and since the map [has been] returned to us we have no desire at this point to pursue any legal action" Grim said.
As for the remaining 34 missing maps, Grim said it will be hard to locate them. The library only has a photographic negative for one of them, so if they come up for sale it'd be difficult to prove they belong to BPL, he said.
"The community of map collectors and curators is a relatively small community and I've already received a number of emails this morning just saying, 'Hope you find some more,' and I think other people will help us do that if at all possible," Grim said.
The Champlain map depicts the coast of New England and Canada. It was originally published in a book that recorded Champlain's explorations of the area — some of the first French explorations of the region, according to Grim. The map measures 17 inches by 30 inches, and is adorned with drawings of Canadian flora and Native Americans in the area. Champlain made 20 voyages across the Atlantic between 1603 and 1613 and compiled several maps, but the Carte Geographique de Nouvelle France was his first published map.
The Champlain map is not the first historic item to be recovered by the library this year. In May, two prints valued at more than $600,000 went missing, but, after a police investigation began, were later found to have been misfiled and were recovered.
The library's permanent collection includes 200,000 maps and 5,000 atlases. The Champlain map will be on display at the main branch of the BPL in Copley Square from Friday, Dec. 4 to Monday, Feb. 29, 2016.
This segment aired on December 4, 2015.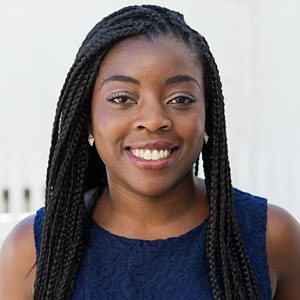 Zeninjor Enwemeka Reporter
Zeninjor Enwemeka is a reporter who covers business, tech and culture as part of WBUR's Bostonomix team, which focuses on the innovation economy.