250 Guitarists Meet For Massive 'Once' Song Session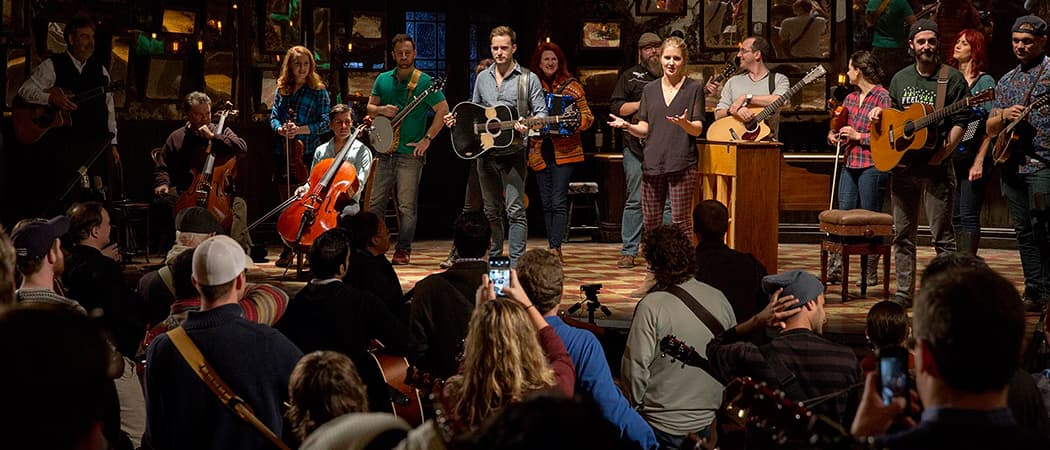 This article is more than 4 years old.
An all-walks-of-life group of 250 amateur musicians — mostly perfect strangers -- met up Wednesday to play and sing their hearts out at the Shubert Theatre.
The novel lunchtime event was billed as the largest U.S. gathering of guitarists to ever perform the gut-wrenching song, "Falling Slowly," from the Tony Award-winning Broadway musical, "Once." (A similar, show-tied powwow attracted some 900 guitarists in April in Toronto.)
The traveling "Once" production is wrapping up its North American tour this month at the Shubert (through Dec. 27). And it's a homecoming of sorts because the indie film-inspired stage work was developed at the American Repertory Theater in Cambridge.
Wednesday's massive, public guitar jam was organized to kick off the run at the Citi Performing Arts Center. Staff there said 242 musicians showed up to sign in, guitar cases in hand. First in line, well before the noontime call, was "Once" superfan Michael Maloney.
The 25-year-old physical therapy student said he loves the musical as well as the original film starring Irish singer-songwriter Glen Hansard and Czech musician Marketa Irglova. "I follow Glen Hansard," Maloney said. "The songs are just beautiful and heartbreaking. And my dad is from Ireland, so it's got that whole Irish thing going on."
Then the beaming musician pointed to the new posse of friends he made while waiting in line. "Say 'Hi,' friends!" he requested. They enthusiastically obliged, then he said, "Let's do this! Let's all fall," referencing the song they came to play and sing.
'Falling Slowly'
When asked to describe what he loves about "Falling Slowly," Maloney said, "It's not your typical love song. Just the melody and the harmony. When [Hansard] jumps up to that high note there's such tension."
Inside the theater the guitarists found their seats but stood facing the stage where the cast from "Once" was waiting. They took pictures and tuned their acoustic guitars. Some were well-used and beat up. Others were so shiny they reflected beams of theater lighting around the room.
There were also some outliers: At least two people had ukuleles.
Nancy Reed brought along her brand new Martin traveling guitar, made of blonde wood. The 62-year-old Belmont resident said she started strumming a ukulele as a teen before switching over. "I am passionate about music," Reed explained, adding that the Shubert performance was something of a celebration. She was recently forced to put her instrument down for months after a shoulder injury.
The youngest guitarist I met was 10. Rachel Block of Grafton said she's been playing for two years and called this "a good opportunity." Her mother loves "Falling Slowly"; Rachel said it was fun and easy to learn.
Retired bio-tech scientist Kevin Kelley said he saw the movie "Once" and fell in love with it from the first scene. "It blew me away," said Kelley, 62, who traveled to Boston from Plum Island in Newburyport to join the gathering.
3 Times A Charm
The roomful of guitarists stopped talking, tuning and picking to perk up for directions. "Once" cast members Stuart Ward, Dani de Waal and John Steven Gardner led the group through "Falling Slowly" three times. It was clear that most of the amateur musicians arrived with their own deep connections to the chords and the words.
Stephanie Aurenz, 16, came down with her father from Nashua, New Hampshire. She said she's been playing guitar since second grade. After the performance she gushed, "It was so amazing, I'm still shaking. It was fun to hang around with people who love the same thing."
On his way out Maloney — the guitarist who was first in line — smiled and said, "I was pretty close to crying, looking around. It was very moving. The music brought us all together."
Then Maloney and some of his newly made guitar friends headed toward the theater's exit to get to know each other even better at a pub down the street over a pint of beer.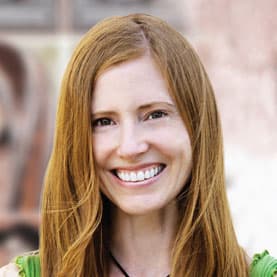 Andrea Shea Senior Arts Reporter
Andrea Shea is WBUR's arts reporter.