Where To See The Best Christmas Lights Around Boston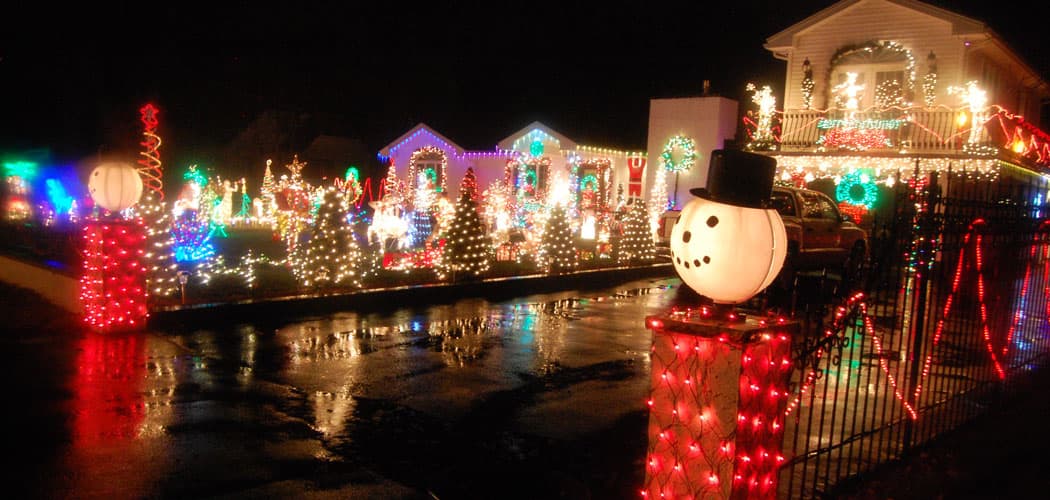 This article is more than 4 years old.
When it comes to Christmas lights, I'm of the opinion that more is more. Below is a guide to my favorite holiday decorations from Attleboro to Waltham to Danvers (listed by community, in alphabetical order), based on many nights of roaming across eastern Massachusetts. I'm always interested in finding amazing new holiday decorations. So if for some reason I've overlooked your favorites, please send your Christmas lights photos to share at gcook@bu.edu or tell me places I've missed in the comments.
---
Attleboro: 947 Park St.
At the National Shrine of Our Lady of La Salette, they celebrate the birth of the baby Jesus — "the Light of Life" — with some 300,000 lights illuminating more than 10 acres. This year-round Catholic shrine, with permanent monuments to Jesus' crucifixion and resurrection, offers perhaps the most sacred feeling light display in the area. Park and walk to the nativity scene with live donkey, the reflecting pond, the painted scenes and the International Crèche Museum.
---
Belmont: 441 and 429 Pleasant St.
Two neighboring houses are holiday landmarks along Route 60, at Munroe Street.
---
Beverly: 512 Elliott St.
---
Beverly: 48 Railroad Ave. at Hardy Street
---
Boston: 5 Greenhill St.
---
Boston: 26 Norton St., in Boston's Hyde Park neighborhood
For years, Kenneth C. Canale Sr.'s holiday decorations made his house a magnet in his neighborhood. Since he died in 2010, his son, Kenneth Jr., and his family have kept up the tradition — including handing out candy canes to children and hosting occasional visits by Santa Claus.
---
Beverly: 206 Savin Hill Ave.
---
Boston: 62 Tuttle St.
---
Danvers: Arthur Street
You can't have too much of a good thing at the display connecting these two neighboring houses. Decorations include gingerbread men lining a blue electric river that flows between the homes.
---
Danvers: 79 Elliott St.
This home is a landmark along Route 62 for marking each season with classic wooden decorations.
---
Malden: Bainbridge Street, just west of Rockwell Street
On Bainbridge Street, they go all out for the holidays. Over the past decade, Maryann Spinney and her daughter and son-in-law Evelyn and Mark Anzalone have lit up houses down the lane from each other. Several neighbors have also gotten into the act, so that it's become a whole glowing holiday neighborhood.
---
Malden: 20 Dale St.
The highlight here is the backyard, visible from the street, which features Christmas trees and the Bumble (Abominable Snow Monster) from the 1964 stop-motion animation TV special "Rudolph the Red-Nosed Reindeer."
---
Medford: 6 Everett St.
---
Medford: 56 and 60 Haines St.
---
Medford: 85 George P. Hassett Dr.
At Medford City Hall, a giant animated snowman displayed above the doors doffs his top hat.
---
Melrose: 223 Washington St. just south of Gould Street
---
Saugus: 7 Lynn Fells Parkway
---
Saugus: 16 and 22 Lynn Fells Parkway, east of Rivers Lane
The Amsden and the Guarino families, who share a driveway, have long been behind this show-stopping display—including a light-up reindeer pulling a sleigh over the bridge that spans the stream that runs in front of the homes. It's one of the many light extravaganzas along Lynn Fells Parkway in Saugus.
---
Saugus: 403 Lynn Fells Parkway, just east of Donna Road
Michael Conlon wishes visitors "Peace on Earth" at his Saugus home distinguished by its blue and white lights.
---
Saugus: 5 Laurine Road, just east of Lynn Fells Parkway
---
Somerville: 7-9 Ames St. at the corner of Robinson Street
---
Somerville: 141-143 Boston Ave.
---
Somerville: Concord Avenue and Springfield Street.
Several homes near this intersection are decorated — Nativity scenes are particularly featured here.
---
Somerville: 440-442 Medford St.
---
Somerville: 13 Melvin St.
---
Somerville: Otis Street, just west of Cross Street
"I've been doing it almost 30 years," said John Ragno, who decorates three houses he owns here, two side by side, and one across the street. "I started off with a manger outside, a small manger on the porch. And it grew."
---
Somerville: 25 to 42 Preston Road.
At least half a dozen houses decorate extensively along this street.
---
Somerville: 12 Raymond Ave.
---
Somerville: 320 Washington St.
---
Stoneham: 149 Pond St.
The Stone Zoo's wooded paths are lit up for its annual "ZooLights" nightly through Jan. 3. See a live reindeer and visit Santa's Castle for a sit down with the jolly old elf. Admission is $9 Friday to Sunday, $8 Monday to Thursday.
---
Waltham: 30 Albemarle Rd.
Much of this elaborate display has been hand-made by the Schueler family over three decades.
---
Waltham: 1369 Trapelo Rd.
---
Woburn: 219 Cambridge Rd.
____
Previously:
• Where To See the Best Christmas Lights — And A Lobster Trap Menorah — Around Boston (2014).
• Where To See The Greatest Christmas Lights Around Boston (2013).
• Your Favorite Christmas Lights Around Boston (2013).
---
Greg Cook, ARTery's Christmas lights reporter, loves to discuss holiday decorations on Twitter @AestheticResear or on the Facebook.