With 'The New Normal,' STL GLD Establishes Its Own Status Quo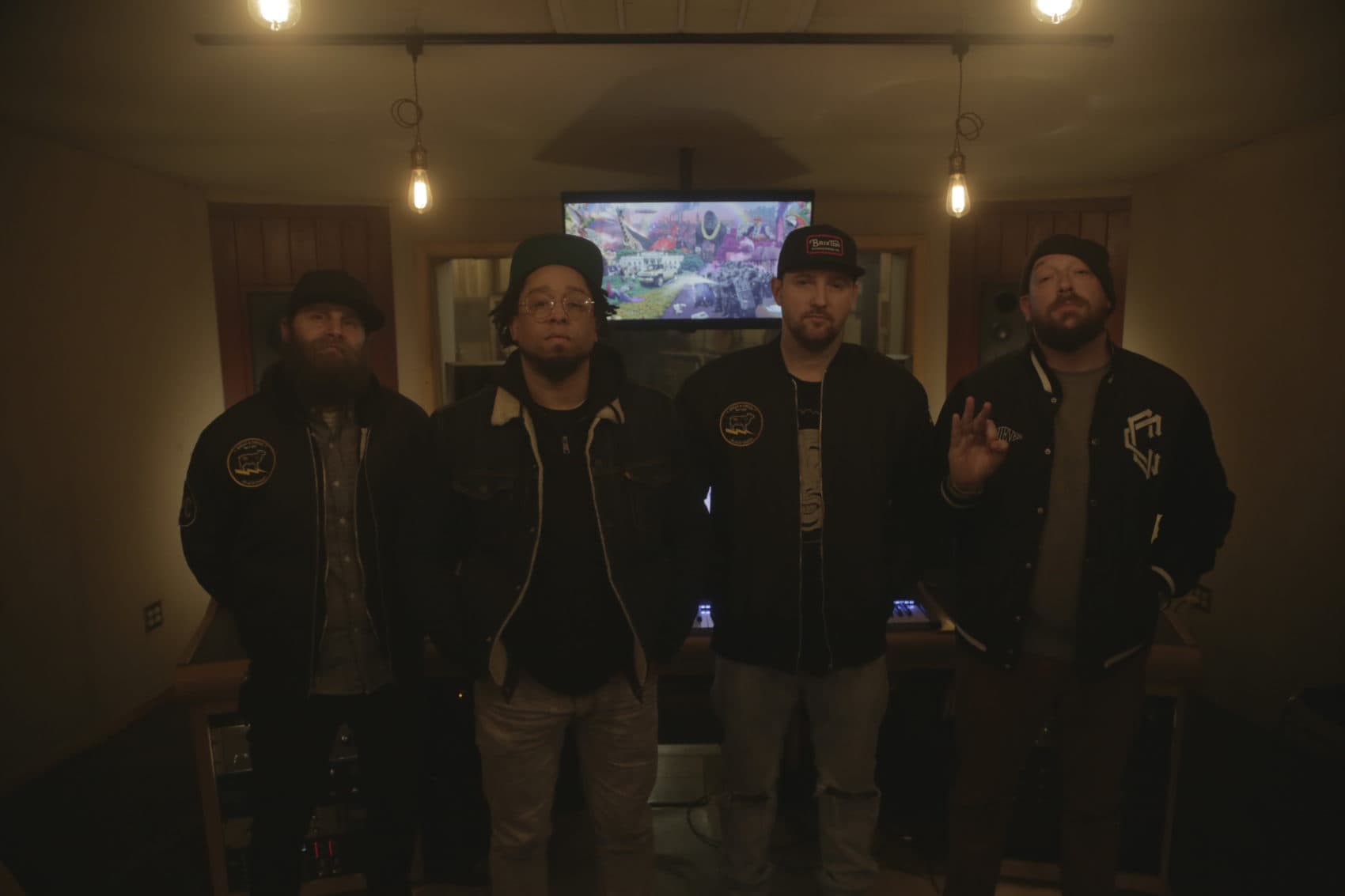 This article is more than 2 years old.
One month ago, a crowd gathered in a gallery at the Museum of Fine Arts in Boston. There was a large painting of George Washington hanging on the wall. But they weren't there to see that. Silent and sitting in chairs with headphones over their ears, the crowd listened to STL GLD's latest album "The New Normal." The Boston-based band hosted its listening session for the album at the MFA for a very specific reason: They wanted to disrupt Western culture's status quo.
"Hip-hop gets completely disrespected as an art form," said rapper Moe Pope. "That's part of the reason why we decided to have the listening for the album at the Museum of Fine Arts."
"The New Normal" is STL GLD's third studio album, premiering this Friday, Feb. 1, in concert at the Oberon in Cambridge. Helmed by Pope and producer/musician The Arcitype along with vocalist Christopher Talken and drummer Jonathan Ulman, the band is coming fresh off a Boston Music Award win for Live Artist of the Year.
---
Ahead of the album release, listen to our premiere of the track "Ashes":
---
Pope has been vocal in the past about the difficulty hip-hop has gaining a foothold in Boston's music scene. According to him, the listening session at the MFA was an arrow aimed at the heart of some of the things the museum is built on: wealth, infamy and racism. Creating a purposeful juxtaposition of American historical canon and hip-hop was the band's way of confronting the museum's problematic past to challenge what "normal" is — this is what "The New Normal" is all about.
"The 'new normal,' as a phrase, often has a negative connotation," The Arcitype said. It can indicate a drastic change or shift in how things regularly operate or a complete annihilation of the systems we're used to. For STL GLD, this phrase encapsulates the deep fissures in America, heightened by the Trump administration and the disenfranchisement and violence that followed his ascension to power. The album goes to lengths to point out that this "new normal" isn't really new. It's just been disguised beneath the veneer of American culture, a veneer now cracked enough to reveal the reality underneath.
Sonically, "The New Normal" bridges the musical landscapes that STL GLD has explored before. The project is hip-hop at its core, orbited by the gritty sounds of progressive rock and punk with the hard bounce present under The Arcitype's slick and meticulous production in its previous album, "Torch Song." Boston-based rappers Oompa, Latrell James and AB Soarin lend their politically-centered bars to songs on the album and STL GLD tapped GHOST GRL, Nina Lee and previous collaborator Hite for vocals.
While "Torch Song" had a heavy focus on personal trials and tribulations, touching on political issues like police brutality in "I Can't Breathe," "The New Normal" is a markedly different and inherently political album. It's a heavy lift to address racism, queerphobia and classism in 13 tracks but "The New Normal" does, drawing from all the other Boston artists on the album to paint a fuller picture of living life at the margins. "We've made it a point to have Boston artists prominently feature on our projects," said Pope. "Ultimately, it's the sound of the region, we want people to hear our music and get a genuine feeling of what Boston sounds like."
Besides it being a politically charged project, part of "The New Normal's" effectiveness lies in how STL GLD is distributing it. "The way culture consumes music is very different now," Ulman pointed out. "The attention span is non-existent." The band decided to forgo some of the traditional methods of announcing and releasing a new album. "We could've just announced it and let that be that," said The Arcitype. "But this album is more than speaking about change — it's putting it into action."
Part of that action means inserting hip-hop into spaces where it's not traditionally seen. The MFA wasn't the only space STL GLD utilized — the band hosted their New York listening session at a feminist witch shop called Cult Party. Because hip-hop is a genre seen as being steeped in machismo and misogyny, STL GLD's choice to have their listening in a feminist space makes a statement. "Many people are used to industry parties hosted in studio spaces," said Pope. "But to listen to a hip-hop album in a feminist witch shop surrounded by rainbow dildos — that's a different experience and it brings up different types of conversations."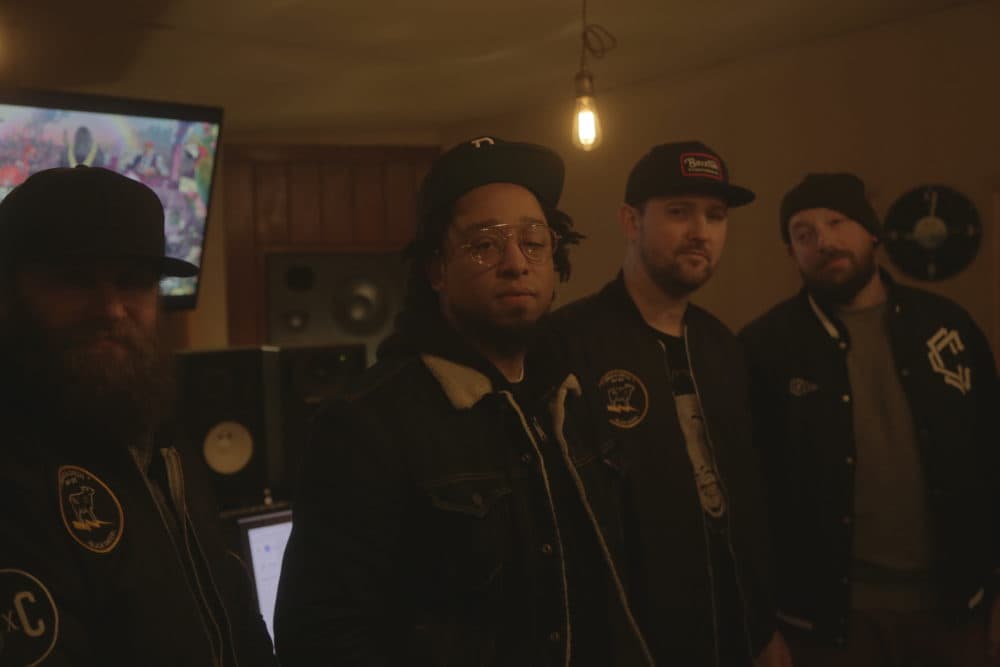 For Pope, hip-hop represents the inclusivity and the potential for togetherness that is lacking in so many cultural spaces. "It spans from rappers and artists who are literary and educational geniuses to people who may have a first grade education," he said. "And that's important. That's how culture should be."
Ultimately, "The New Normal" is a project that vocalizes the yearning for unity. The power of hosting 80 people in a room at the MFA, who sat and listened to an album in silence, is one that challenges how we consume music. The album release show on Friday night at Oberon in Cambridge is another opportunity for STL GLD to gather a community to establish the "new normal." "We're creating moments that we're proud of," said Pope. "And in these moments, we can inspire the togetherness that society at large is lacking right now."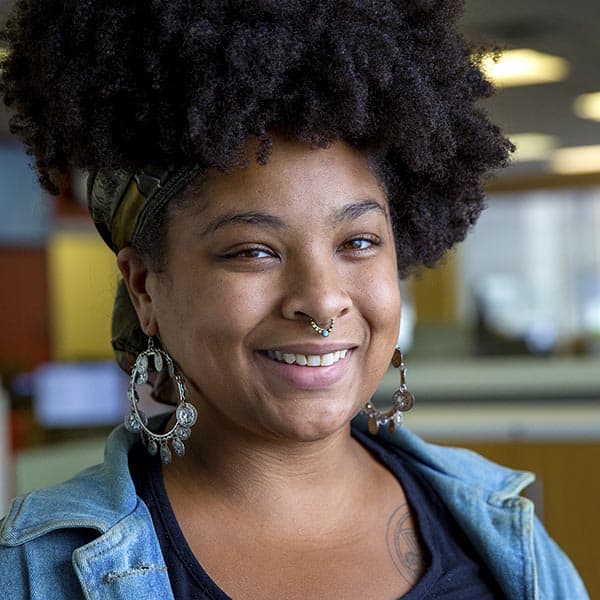 Arielle Gray Arts Engagement Producer
Arielle Gray is the Arts Engagement Producer for The ARTery. She manages its social media, events and curated content.