In '/peh-LO-tah/' At ArtsEmerson, Soccer Is A Portal To Larger Societal Questions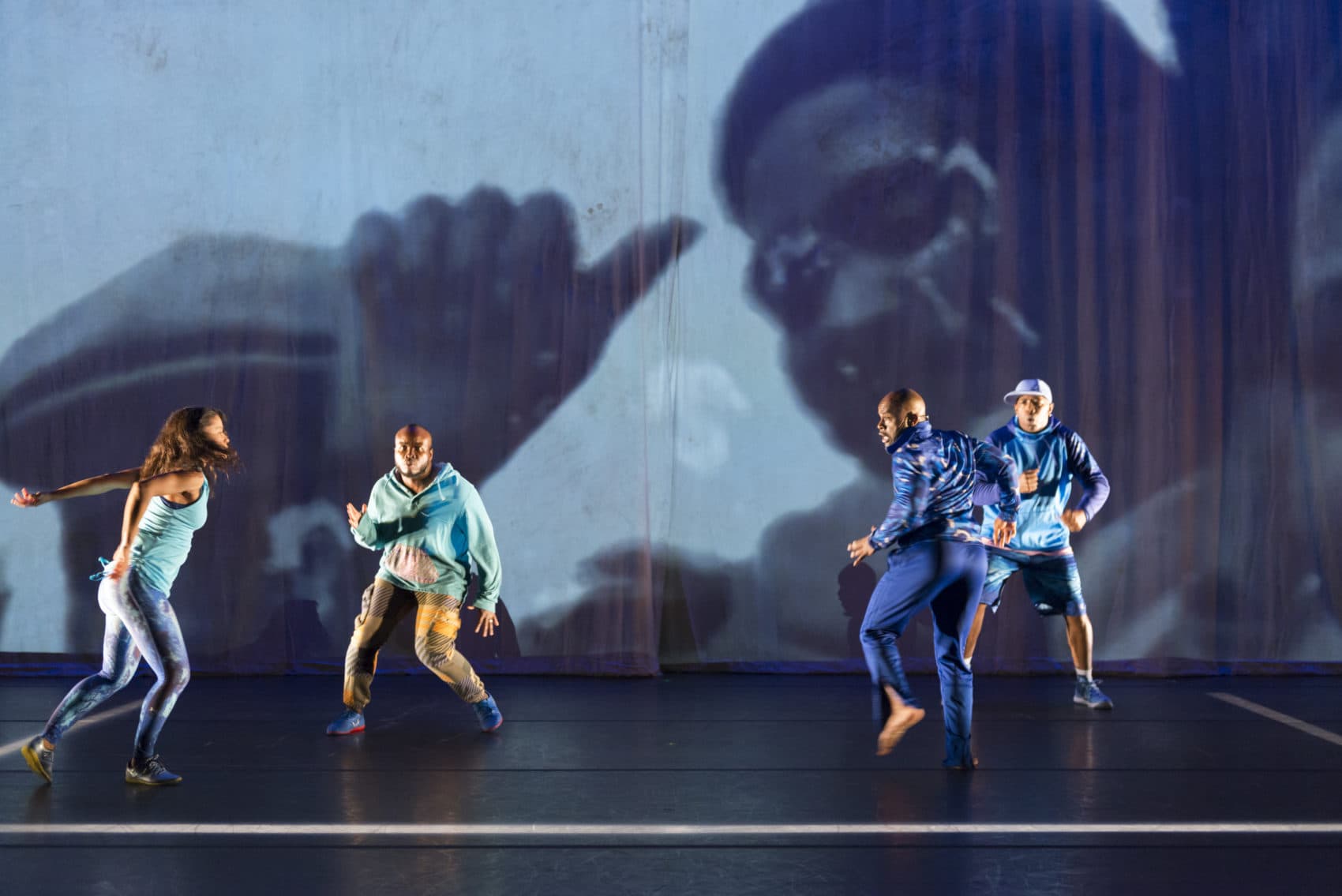 This article is more than 1 year old.
Spoken-word artist, dancer and playwright Marc Bamuthi Joseph has had an intimate relationship with soccer for as long as he can remember — and even longer.
"Some of my first memories are of the game," Joseph told the Dorchester Reporter in an interview. "Before I even had memory, or a more developed consciousness, I have these loosely formed memories of my dad listening to soccer on the radio."
This lifelong bond with the sport inspired Joseph, who was born in New York in the 1970s to Haitian parents, to create his latest production: "/peh-LO-tah/," a "fútbol-framed freedom suite."
The show, which will run from Wednesday, May 1, through Sunday, May 5, at the Emerson Paramount Center, uses song, dance and the spoken word to explore how the world's most popular sport intersects with freedom, immigration and racism. Joseph describes his performance as "a love letter from black joy"; for him, joy and soccer are naturally and inextricably linked.
"A lot of those same early memories are framed in terms of what made me happy," he said. "The first time I had a sense of electricity in my body was after scoring a goal."
Joseph later realized that the same sport that brought him happiness as a boy did the same for countless other immigrant and first-generation American children who found freedom in the safe haven of a soccer pitch.
"Soccer was a means for my immigrant family to foster a sense of normality," said Joseph in a 2017 TED Talk monologue wherein he described the game as an "affirmational tool" that helped him ground himself in an identity that is both Haitian and American. Soccer runs deep in Haitian culture, and, as such, he said, it acts as a cornerstone for many Haitian-Americans beginning life in a new place.
"As my parents moved from Haiti to the U.S., what were the stabilizing forces in their lives, what were places of joy, of entertainment? Church, soccer and church-related activities were really the things that brought us together outside the workplace," he explained.
The show examines the crucial cultural role soccer plays in Haiti, as well as across the globe in places like Brazil and South Africa. Joseph's experiences at the World Cup tournament when it was hosted by those two nations in 2014 and 2010, respectively, inform his narrative. After seeing money pouring into South Africa in the lead-up to the competition, Joseph questioned how its effects would play out.
"In South Africa, I was noticing how a lot of the investment was furthering a kind of isolation, further solidifying the kind of marginalization and economic hierarchy that decades of apartheid had fostered," he said. "How is this thing that has brought me joy — how can this thing also be used as a tool to divide?"
The divisiveness of soccer has entered the spotlight in recent years, as black players across Europe have been continuously harassed and abused by racist haters despite a high-profile anti-racism campaigns by FIFA.
But for Joseph, soccer merely reflects the world around it. "The way race plays out in soccer is only a symptom of how white supremacy plays out across the world. I mean, there have been fans ejected and banned in Boston for saying things," he said, referring to incidents at Fenway Park and TD Garden when fans shouted racial slurs at black players. "This behavior is just symptomatic of a larger pathology we're experiencing around the world."
Racism has also played a role in how soccer is perceived in the U.S., where traditionally "American" sports like football and baseball have long taken precedence. But even that perception is no longer accurate, says Joseph.
"That's an outdated way of looking at it, in the same way people talk about the 'Real America' in an attempt to erase the immigrant," he said. "Commercially, soccer is on a really profound trajectory where we can see the popularity of the sport is growing, not waning, and it's becoming even more popular as demographics of the country change."
Just as America has changed, so, too, has its relationship with soccer, he explained.
"Soccer is as American as the immigrant experience ... if we embrace the porousness of our borders, and our role as part of a global network, we could embrace the pervasiveness of soccer as a driving force in the American cultural canon."
In addition to delving into the politics of soccer, "/peh-LO-tah/" also celebrates the art inherent in the sport; for example, the way Brazilians dance to samba is often compared to their free-flowing play style. Joseph's own dance background and his New York upbringing ensured that hip-hop and dance would be be central to his show.
"I started dancing when I was 10, and so most of the way I think about movement patterns are through a choreographic lens... I see soccer players move on a field, and it just looks like dance to me."
For as much as soccer provides an escape to many, it is nevertheless shaped by the environments that surround it. Joseph is aware that his audiences, by engaging with the show, engage with much more.
"Soccer is just kind of a portal for these larger societal questions ... which makes '/peh-LO-tah/' noteworthy, and worthy of exploration and engagement because it kind of takes all these things, this crazy compendium of interests, beliefs, ideologies and human behaviors, and uses soccer to discuss them all."
---
"/peh-LO-tah/" is at the Emerson Paramount Center, via ArtsEmerson, through Sunday, May 5.
WBUR and the Dorchester Reporter have a partnership in which the news organizations share resources to collaborate on stories.