Pop Culture Care Package: Finding Comfort In The Weird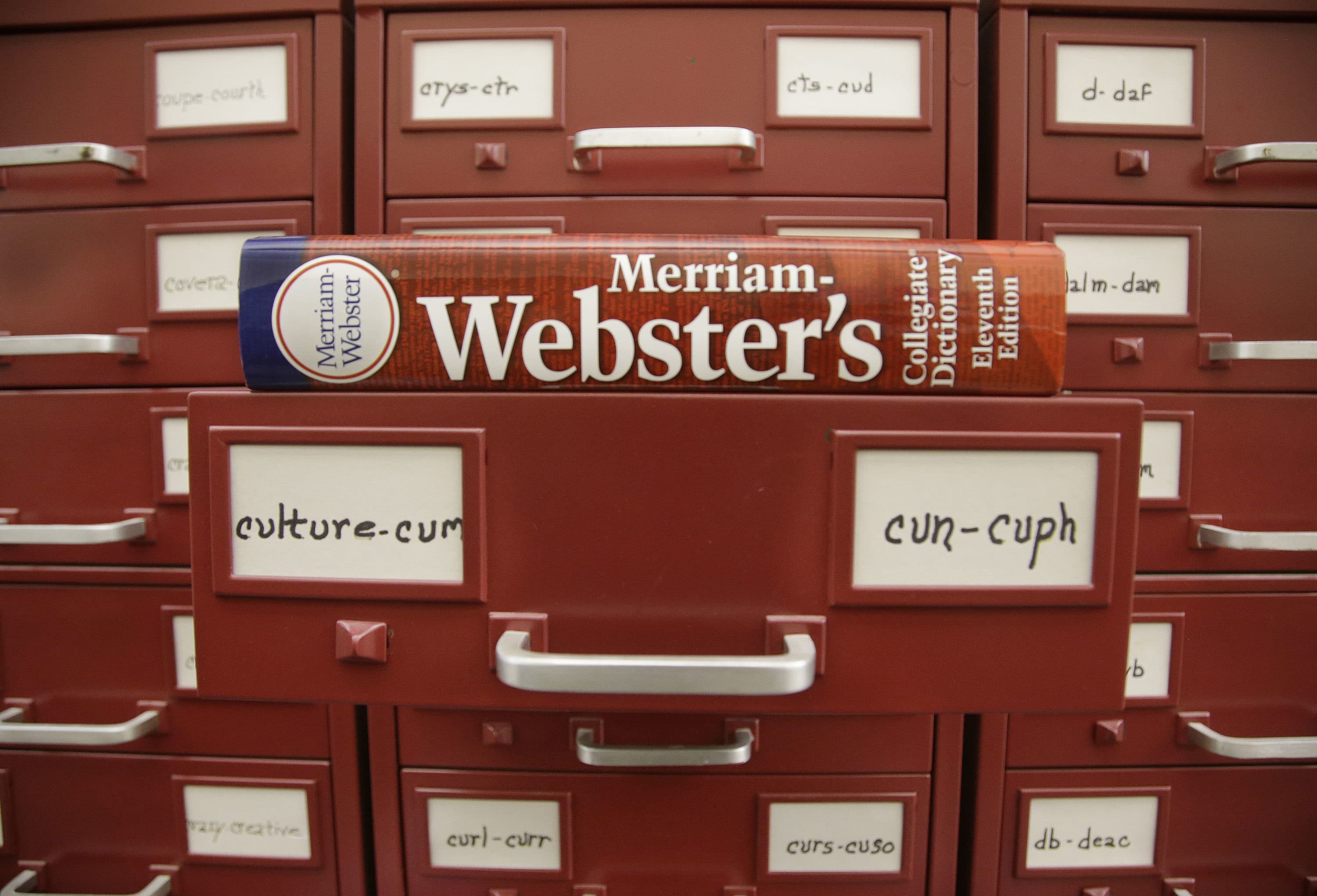 As we spend less time with other people, and more time with our selves, screens and families, we're getting a little... strange. The activities and small moments that are bringing us comfort during the day may seem a little odd to others. But when there's no one around to keep us in check, we lean in hard on those small moments. From Merriam-Webster's weekly words to watching an endless stream of dog rescues to ASMR videos of people (and pets) gorging on food, we're sharing the weird ways we're finding joy.
Watching and Listening to ASMR Mukbangs
Normally, I loathe the sound of someone eating. It's like nails on a chalkboard. For some weird reason, I've become obsessed with mukbangs. What's a mukbang? It started in South Korea around 2010 and quickly went viral across the globe. It's technically an "audiovisual broadcast" which is just a fancy way of saying it's a video (with high-quality audio that captures all of those lovely chewing sounds) of someone eating food. And I mean a lot of food. Mukbang videos easily garner millions of views on the web and prominent mukbang-ers have amassed huge followings. One of my favorites is B. Love, whose specialty is seafood boil. Pluses are her elaborate manicures and lipstick that stays on even after 30 minutes of eating. Why do I like mukbangs if I hate hearing people eat in person? I could say its the ASMR (autonomous sensory meridian response, for those of you who don't know) or living vicariously through mukbang-ers without dropping loads on UberEats. But the real answer is: I just don't know.
Tip: Don't want to watch videos of people eating? There are some pretty adorable ones of pets chowing down.
-Arielle Gray, Arts Engagement Producer
---
Dog Rescues with The Dodo
Every video has a happy ending and every dog gets a home! That's the joy in watching videos from The Dodo. Are they cheesy? Yes. Is the storyline simplified? Of course. But do the videos make me cry? You bet. A couple of years ago, I finally was in a position to adopt a dog of my own and since then, my heart has grown 10 sizes larger and my love for all animals has expanded and exceeded what was before a rather massive amount. I'm the type of person who tries to rescue any and all animals. My mom can tell endless stories of the number of stray cats I brought home, begging through tears "they just need to stay for a little while until I find them a home!" (Spoiler alert: two out of every three cats found their home with us.) With so much out of my control right now, I know the outcome of these rescue videos and there is great comfort in watching a scared dog transform into a playful pup when it finally gets a forever home.
-Dianna Bell, Producing Editor
---
Consuming Criminal Content
I love crime. No, I'm not a criminal. I've just always had an affinity for illegal activity. Since I'm a goody two shoes and generally suspicious of everything and everyone, I obviously would never commit a crime. I am terrified of getting into any kind of trouble. I instead put that energy into criminal content. I'm talking "Law & Order." I'm talking a bevy of true-crime podcasts. I'm talking "Killing Eve" style assassin stories. Right now I'm all about "Crime Junkie," a podcast hosted by Brit Prawat and Ashley Flowers. (This show was originally suggested to me by fellow ARTery cool kid, Arielle Gray.) Each episode, they take us through a different crime. From kidnapping to murders, solved and unsolved, I now know so much about random sprees of heinous activities. I guess it's my way of feeling on edge for 45 minutes a day from the comfort of my locked room.
-Christian Burno, Arts Reporting Fellow
---
Merriam-Webster's Weekly Words
I'm not sure how weird this new obsession actually is, but it's been oddly amusing — and incredibly satisfying — to observe how excited I get when a newsletter from Merriam-Webster arrives in my email box. The response is similar to the feelings I have while cracking open my CSA farm share box to see what goodies are inside. I think what fascinates me most is the fact that Merriam-Webster is tracing the arc of the pandemic, in real-time, through the words we use. The folks there are consistently tapping into the zeitgeist by surveying our chatter and the news, then they distill it into their "Words of the Week" report — and gosh darn it, their efforts to capture the week that was so deftly never fail to put a kick in my step.
Go back to the week of March 27 and "hoarding" — a.k.a. "the practice of collecting or accumulating something (such as money or food)" — was trending. According to the word gods, its use can be traced to before the 12th century. In early April, "ventilator," "epicenter" and "zoom" popped up, along with "cocoon." Also "comorbidity" and "stockpile." At the end of that month, the Merriam-Webster editors felt the need to clarify the spelling of "cancelled" versus "canceled" (both are acceptable, they say). More recently "contact tracing," which dates to the 1930s, joined our daily lexicon.
It might sound like a gloomy pursuit on my part, but Merriam-Webster's deliveries are not only COVID-19 related. There are regular doses of fun for word geeks like me, including the difference between "flare" and "flair" or the question over whether you "hock" or "hawk" a loogie. In case you're wondering, Merriam-Webster says they both work but warns, "If you're in public the answer should be: neither."
-Andrea Shea, Senior Arts Reporter
---
Bathing in Singing Bowl Sounds
There are some sounds I just find soothing. Rainsticks. Wind chimes. Birds chirping early in the morning outside my window at my abuela's house. Sound baths, if you will. I won't say singing bowls are Tibetan because numerous well-written and reported pieces have noted this is a Western construct. (I recommend reading this article from The Tricycle Foundation and this one from The Toronto Star on the topic.) But there is something about that sound that does seem to center me. It isn't serene per se. It's just constant. What's perhaps a bit weird is the fact that I play this so-called sound healing music so loudly that my neighbors are probably wondering what on earth is going on. You know how you sometimes figure that maybe the person who lives upstairs is bowling? Or dropping a bunch of marbles on the floor? Or seemingly obsessed with blasting music? I'm the third one except my music literally sounds like a pulsing monotone rhythm that you can feel beneath your skin. But, on my most anxious days it does settle me. When I'm doing yoga, I appreciate something meditative in the background. Do I need to play it as loudly as I do? Probably not. Who blasts relaxing music anyway? But apparently this is the stage of quarantine I'm in.
-Cristela Guerra, Arts & Culture Reporter