Presenting 'You And The Beanstalk': An Interactive Audio Story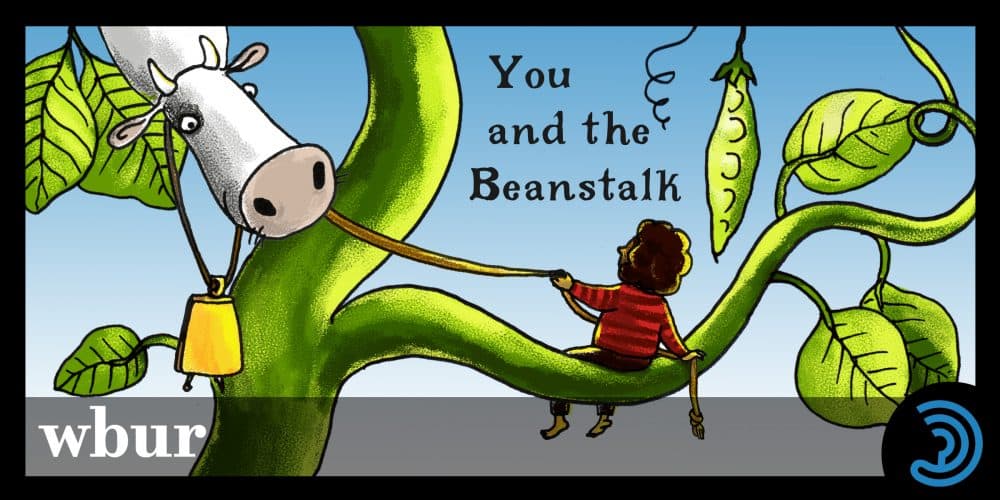 Just ask Alexa to "Climb the Beanstalk!"
Earplay and WBUR have co-produced "You and the Beanstalk," an interactive audio story for kids ages 6-12. The new Alexa skill for Kids releases May 9th, 2018, available to owners of the new Echo Dot Kids Edition or FreeTime Unlimited subscribers with an Alexa-enabled device.
TO LEARN HOW TO ACCESS 'BEANSTALK' ON YOUR ALEXA DEVICE, CLICK HERE.
"You and the Beanstalk" is a whimsical interactive version of the classic fairy tale about a cow, a giant, and an imaginative child whose magic beans start an unexpected adventure. It includes hallmark Earplay features: dramatic character interactions, multiple story outcomes, and high-quality voice acting, sound effects, and music. The story and design by Earplay (Dave Grossman, Eddy Webb) was produced in collaboration with the creators of Circle Round, the leading storytelling podcast for children by WBUR, Rebecca Sheir (narration, direction), Eric Shimelonis (sound design, music), and Jessica Alpert. With distribution through the new Echo Dot Kids Edition and FreeTime Unlimited on Alexa, children will love to "climb the beanstalk" as the main character in an immersive, voice-first adventure to find Mom's birthday present above the clouds.
As a platform, Earplay provides interactive audio experiences to a variety of audiences with a commitment to age-appropriate content.
"For the first Earplay experience for Kids, we sought the perfect opportunity to work with both the leading voice service and a trusted audio brand like WBUR, whose expertise in children's storytelling and entertainment has achieved national recognition," says Jon Myers, CEO of Earplay. "We are proud to be
invited to work with Amazon on cutting-edge kids-focused content, now and in the future." Amazon Alexa announced the launch of the Echo Dot Kids edition on May 9, 2018, will include the release of carefully curated Alexa skills for kids to play.
"You and the Beanstalk" is the result of a first-time collaboration between Boston startup Earplay and WBUR.
"At WBUR, we continue to seek out new channels to bring our award-winning programs to listeners where they are getting their audio content," says Jessica Alpert, managing producer of program development at WBUR and executive producer of Circle Round. "We view Earplay's cutting edge technology and interactive audio services as leading an exciting new medium that mixes podcast-style storytelling with a more immersive voice experience. We are excited to co-produce this interactive adventure for children to encourage them to use their imaginations with the help of a highly engaging audio platform."