Send us a voice memo, video or photo: circleround [at] wbur [dot] org.
Created and produced by parents of young children, WBUR's Circle Round podcast  adapts folktales from around the world into sound- and music-rich radio plays for kids ages 3 to 103. Each episode explores universal themes like friendship, persistence, creativity and generosity, and ends with an activity that inspires a deeper conversation between children and grown-ups.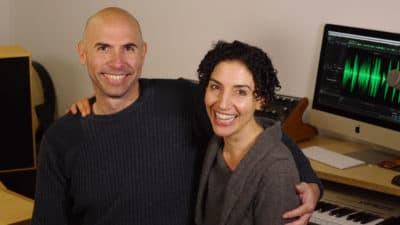 Beloved voices from the stage, screen and podcast/public-radio worlds bring these stories to life with the help of narrator, writer, and veteran public radio host/reporter Rebecca Sheir.  Eric Shimelonis, composer for the stage and screen, creates original music for each story.
Circle Round has earned numerous honors, including a Parents' Choice Gold Award, a Webby nomination, and featured spots at the The UK International Radio Drama Festival and HEAR Now Festival. Circle Round was also the recipient of a major grant from the Henry Luce Foundation.
Find Circle Round On: Apple Podcasts | Stitcher | RSS | Facebook | Twitter
Rebecca Sheir has brought thousands of stories to life as a public radio reporter and host, appearing on such shows as Morning Edition, All Things Considered, Here & Now, The Splendid Table and Marketplace. She's hosted several weekly news programs, including AK (Alaska Public Radio Network) and Metro Connection (WAMU 88.5), along with podcasts for the Folger Shakespeare Library and Slate Magazine. Rebecca holds an MFA in Creative Nonfiction from the University of Iowa. Her first book, Onions and Garlic, was adapted from a Circle Round episode and published by PJ Library. She's also the author of the Circle Round picture books series, published by Storey Publishing.
Eric Shimelonis is a composer, musician and audio producer whose work has been heard on stage, screen and over the airwaves. Audiences have enjoyed his classical compositions at the Juilliard School, the Rattlestick New Music Series, the Kennedy Center and at a sold-out concert at Carnegie Hall. With more than 300 sound designs in the theater, Eric has won a Helen Hayes Award, and has been nominated for Drama Desk, Lucille Lortel, Big Easy and Henry Hewes Design Awards. Film highlights include the features International Falls and Winter Passing, for which he performed a duet with Will Ferrell.