Newspapers Are Making Short-Form Audio News: What 'Papercasts' Mean For Public Radio
The newscast — a short, hourly, multitopic news brief — is public radio's bread and butter.
NPR's newscasts are the most-listened-to programming in public broadcasting. They compress an array of top news stories into a coherent, digestible package, usually 10 minutes or less. They also help frame the deeper news dives to come on shows like Morning Edition. National and international updates from NPR pair with the thousands of locally produced newscasts that air across the country each day.
Nobody does newscasts like public radio.
But recently, dozens of major metro newspapers — from the Los Angeles Times to the Miami Herald — have gotten into the newscast business.
Some Context: Why The Newscast Format Matters For Digital Platforms
It has been written over and over again that we're witnessing a "golden age" of audio — particularly on-demand digital audio. Podcasting continues to explode, voice-enabled devices like smart speakers offer a promising new platform for audio, and radio is realizing that, when it comes to digital nimbleness and reusability, the newscast is a true Swiss Army knife.
A Ready-Made Flash Briefing
Smart speakers emphasize concise news. Therefore, it makes sense that radio newscasts have emerged as a low-lift fit for the platform: they're hourly, they follow a predictable format, they're short. Many public radio stations (WBUR among them) have recognized this and simply repackage their local newscast into an Alexa flash briefing.
Newscasts are also a key component of "segmented streaming" experiences — at least at this relatively nascent stage. Take NPR One, for example, where national and local newscasts are the first segments a user hears each new session. NPR also releases its latest newscast via RSS, which allows more hands-on users to create playlists via apps like Spotify and Overcast. Some member stations have done the same.
NPR is also doing some interesting things with its national newscast on smart displays, providing a multimodal experience.
What Newspapers Are Doing
Big-city newspapers across the country have started publishing daily audio news briefings, following a decidedly public-radio template. The move fits into the well-documented trend of newspapers shifting their focus from their printed product to digital. Some, like the New York Times with "The Daily" and the Washington Post with "Post Reports," have already made audio a major part of that push.
But these "papercasts" represent something different: not highly produced deep dives, but quick-and-simple news updates.
Papercasts are generally a round-robin of local stories, plus a bit of weather information. They also frequently begin with a host-read preroll ad (I've heard spots from Starbucks and Verizon, to name a few). Notably, papercasts are one and done. They are released in the morning but, unlike public radio newscasts, aren't updated throughout the day.
Pivot To Audio?
Papercasts are an investment in — and a clear play to capitalize on the growth of — new platforms. Some are specifically targeting the growing smart-speaker audience (take this Philadelphia Inquirer page, for instance). The audio is, of course, portable: Some papercasts are simultaneously being integrated into personalized audio news experiences like Google's Your News Update and Spotify's Your Daily Drive.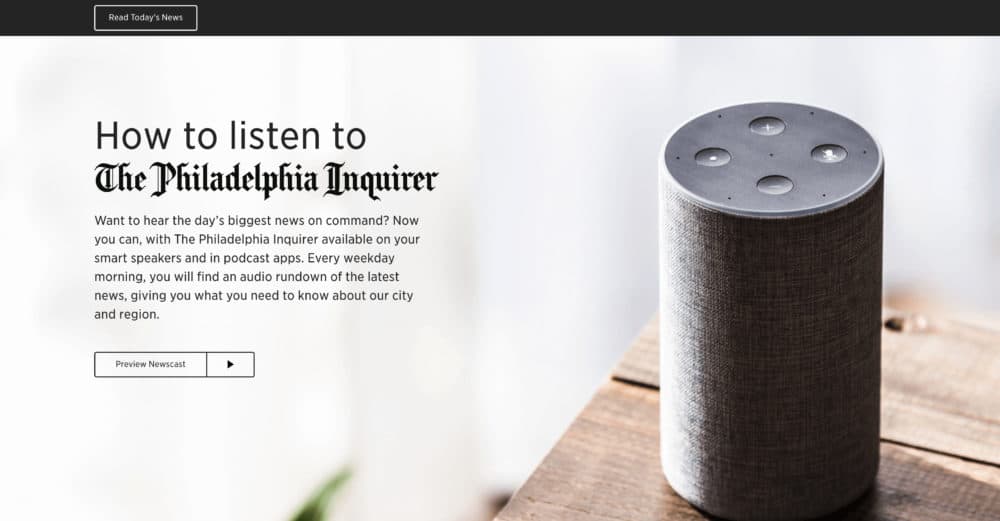 Papercasts point to the persistent need for publishers to be accessible wherever their audience chooses to be — whether that's reading, listening, watching or talking to Alexa.
The One Company Behind This
As I dug deeper into papercasts, I began to notice they were all uncannily similar. They sound the same; the episode descriptions always follow the same template; the naming conventions are the same; the cover art and logos are all designed in a similar style.
It all seemed a little too coincidental.
Meet SpokenLayer
SpokenLayer is an end-to-end audio production company with an impressive client list, including two of America's largest newspaper publishers: Tribune and McClatchy.
It provides the soup-to-nuts framework powering practically every papercast, from voice talent to advertising to analytics. Contracting out the production process helps newsrooms that lack audio-production capacity conserve resources. Also, it undoubtedly provides a safeguard if digital audio news becomes an organizational white elephant.
How Do Papercasts Sound?
Given that most of these papercasts are produced by the same company, it's unsurprising that they all sound pretty much the same. The copy is read by professional voice actors from SpokenLayer's network of contractors, though publishers are able to choose a voice that meshes with their brand.
Papercasts are positioned to take advantage of both the intimacy of audio and metro newspapers' regional specificity. But they miss both marks.
As someone who's listened to thousands of hours of public radio content, there's just something amiss about the papercast finished product. The delivery sounds stiff and sterile, like someone making a podcast out of reading newspaper articles aloud. Radio newscasts sound much more natural, urgent and off-the-cuff. They sound, in other words, like the way people talk.
There's also the occasional scripting gaffe, like this "weather insert" inclusion.
The rotation of outsourced hosts — many of whom are not based in the cities they're reading news from — leaves little space for listeners to develop a meaningful relationship. This is difficult to square working at a public radio station where a beloved host's hiatus was a panic-inducing event. (One local audio news briefing that does capitalize on the medium's uniquely personal nature is AL.com's "Down in Alabama with Ike Morgan." Give it a listen and you'll hear what I mean.)
The Bottom Line
The headlines get delivered: Papercasts are generally well-produced. They are useful and practical. If I lived in one of these cities, I could see myself adding one to my morning routine.
A low bar? Do big news corporations expect their various audiences to not care about the voice delivering the news, as long as it's at least a human voice?
Better than a robot: Papercasts are the next step up from having Alexa read the headlines. While it's an important step, it's far from inspiring.
Freshness seal: Due to how infrequently papercasts are updated, their expiration date is effectively late morning. Breaking news shrinks that window even further.
A foot in the door: This is a first iteration — and first iterations are generally rough around the edges. Maybe there's more to come. One papercast, for instance, recently featured a throw from the SpokenLayer host to a newsroom reporter for a quick segment on local events. Incorporating journalists' voices in that way could offer an improvement, as could regular updates during the day.
What Does This Mean For Public Radio?
Simply put, this is a wake-up call.
Public radio stations hold a near-monopoly when it comes to high-quality, digitally accessible, local audio news. But if you're, say, KCUR in Kansas City, you now have to look over your shoulder for the Kansas City Star (at least in the short-form digital space).
While we've witnessed surprising synergies of hitherto siloed media (e.g., NPR producing original video; CNN making podcasts; The New York Times making a TV show), papercasts represent a new wave. We aren't talking about "Serial" here: sweeping, painstakingly produced documentaries that win Murrow Awards. This is short, daily, no-frills information — more commodity and less art (exactly the kind of audio that, given this new digital landscape, public radio should be producing more of).
The Newscast As A Smart-Speaker Foothold
Papercasts mean more competition for metro public radio stations, which of course can be a good thing. At the very least, it should motivate these stations to distribute their newscasts via smart speaker and RSS.
We at Project CITRUS are developing best practices around repurposing broadcast content (more on that soon). But, in the meantime, we can't deny radio newscasts' usefulness, particularly for smaller stations that may be interested in creating a proof-of-concept flash briefing, for instance, or for those that lack the bandwidth to create bespoke smart-speaker experiences.
Perhaps newspapers' efforts in this area will be a catalyst for more stations to gather around the drawing board and determine what kind of presence they want to have on new platforms that favor on-demand audio. In that way, papercasts could be a tide that lifts all boats.
Listen To Some Papercasts
The Atlanta Journal-Constitution
Austin American-Statesman
The Baltimore Sun
Boston Herald
Note: Currently "on hiatus."
The Charlotte Observer
Chicago Tribune
The Dallas Morning News
The Denver Post
Note: Currently "on hiatus."
Fort Worth Star-Telegram
Hartford Courant
Idaho Statesman
Note: Currently "on hiatus."
The Kansas City Star
Los Angeles Times
Miami Herald
New York Daily News
The Philadelphia Inquirer
Note: Currently "taking a break."
The Sacramento Bee
The Seattle Times
South Florida Sun Sentinel
The Oregonian
Note: Not produced by SpokenLayer.
The Virginian-Pilot
USA Today
Note: Not produced by SpokenLayer.