Thirty Years On, A Leading Ambassador For Women's Distance Running Keeps Going
This article is more than 8 years old.
Thirty years ago today, on August 5, 1984, a young woman from Cape Elizabeth, Maine, made history. Joan Benoit crossed the finish line ahead of everyone else and won the first-ever women's Olympic Marathon. Benoit bolted out to the early lead that day in Los Angeles and held onto it. Her winning time was 2:24:52. The Gold Medal belonged to her.
They watched Joan leave them behind three miles into the race. They knew she had a knee injury. They thought she would eventually crumble. She didn't.
Her victory launched a women's running boom similar to the one that happened in men's running, after American Frank Shorter won the Olympic Marathon in Munich, West Germany, in 1972. It's worth remembering that 1972 was actually the first year that the Amateur Athletic Union bent its strict rules and allowed women to register for marathons. Five years before that, in 1967, a woman named Kathrine Switzer had registered for the Boston Marathon, under the name K.V. Switzer, so officials wouldn't know she was a woman. Switzer was running in the marathon when race official Jock Semple saw her and tried to knock her off the course. Kathrine's boyfriend blocked Semple, and she was able to finish the race. Switzer and many other pioneers of women's running set the stage for the history that was made in 1984.
Today, Joan Benoit is Joan Benoit Samuelson, and she's still following in the footsteps of the women who made what she did possible. She's one of the leading ambassadors of the sport of women's distance running. This past Sunday saw the 17th edition of the Beach to Beacon 10K, a race she founded in her hometown.
In 1984, she was already a well-known runner, a two-time Boston Marathon champion. But she had endured knee surgery just three weeks before the first women's Olympic Trials Marathon in May. Somehow, she won that race and then trained like crazy, with several 100-mile weeks, to get ready for the Olympic Marathon in August. Joan Benoit toed the starting line for that historic marathon along with the pre-race favorites, Grete Waitz and Ingrid Kristiansen of Norway, and Rosa Mota of Portugal. They watched Joan leave them behind three miles into the race. They knew she had a knee injury. They thought she would eventually crumble. She didn't.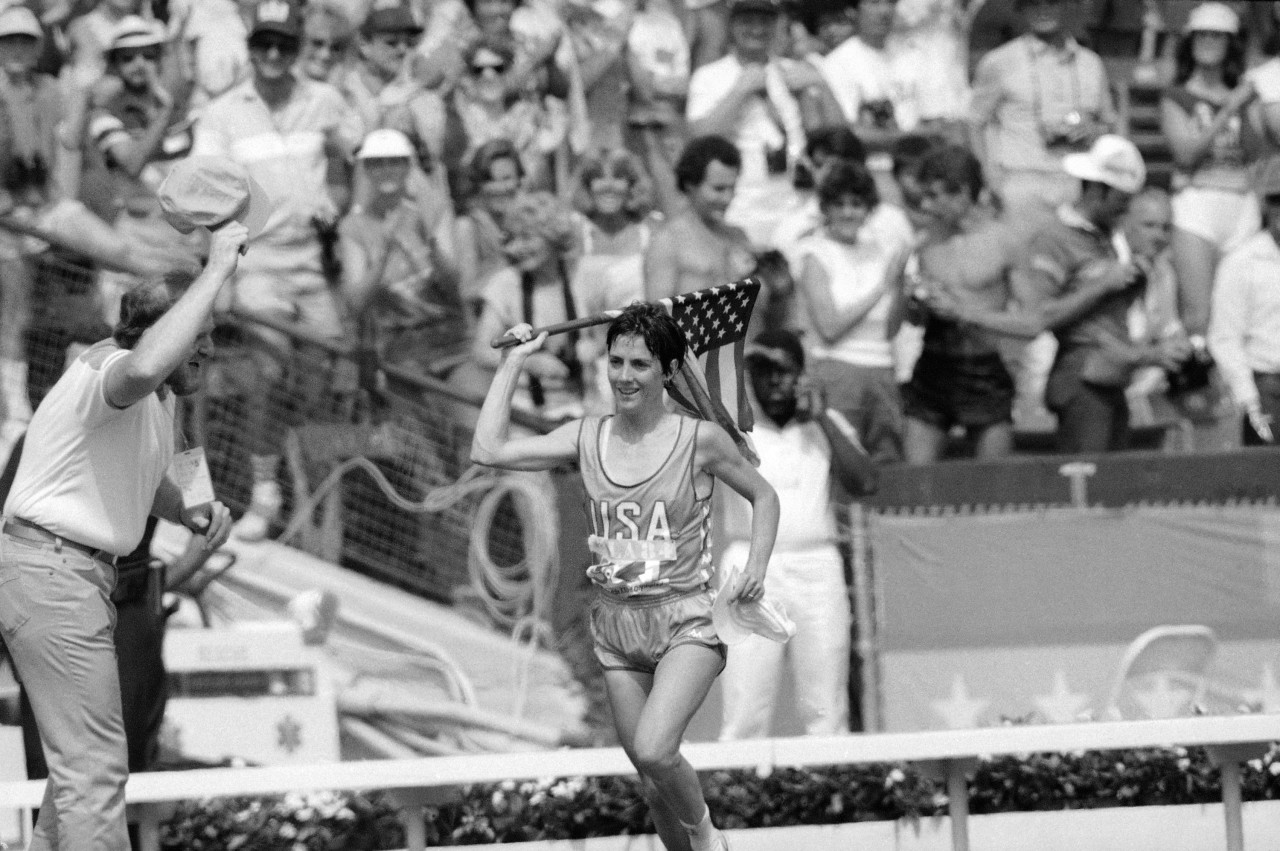 Joan Benoit Samuelson was 27-years old when she won that first Olympic Marathon. Thirty years later, she's still one of the country's top runners for her age group. In April, she ran the Boston Marathon in 2:52:10, which won her first-place among women aged 55-59. She also met her goal to run within 30 minutes of the women's marathon world record she set when she won the 1983 Boston Marathon (2:22:43). In 2008, she set another record for her age group in the 2008 Olympic Trials Marathon. That race was run in Boston. She grabbed a Red Sox hat from a fan on the course and wore it as she crossed the finish line.
I've had the good fortune to speak with Joan several times. Before this year's Boston Marathon, she talked about being inspired by some of the survivors of the 2013 bombings at the finish line. She spoke of running with her children. She talked about resilience. And she recalled her race in Los Angeles three decades ago. "It's important to have aspirations and dreams," she told me, "because those aspirations can occur, and those dreams can come true."
That's what happened at the 1984 Olympics. On that Sunday morning, she started the marathon with 49 other women runners on the track at Santa Monica College. Twenty-six miles later, she entered the Olympic Stadium alone.
---
Related: